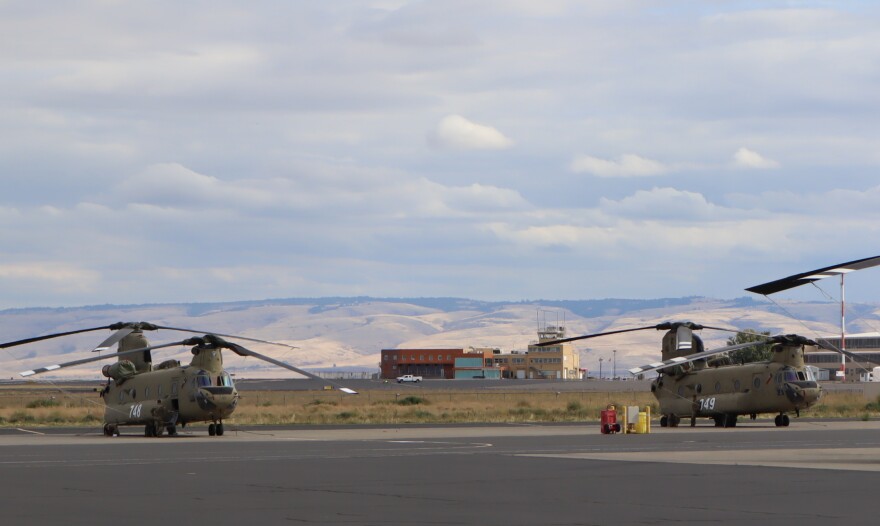 Santa's Reindeer To Get Competition: Amazon Flight-Testing Package Delivery Drones In Pendleton
E-commerce giant Amazon confirmed to public radio that it has begun flight testing of package delivery drones at a test range in Pendleton, Oregon, as well as continuing near Seattle and elsewhere. Routine delivery of online orders to consumers by aerial drones remains a long ways off, though.
Amazon has been fairly tight-lipped about its progress toward a goal of 30-minute delivery of customer orders by aerial drones. The Prime Air division tipped its hand that it expanded flight test operations to the unmanned aerial systems test range at Pendleton's airport by posting five openings for drone operators with the full-time job location listed as Pendleton.
"We're always looking to add great talent to the team," Amazon spokesperson Smita Saran said in an email. "The Pendleton-based Prime Air positions we have open are a reflection of that."
In 2013, Amazon founder Jeff Bezos unveiled the company's drone delivery vision in a TV interview and created buzz with a video showing the first battery-powered prototype in flight with a small package. Initial optimism about an aerial fleet being ready in four to five years has crashed into the reality of slow-moving regulatory bodies and the complexity of airspace and destinations.
"It will take time and more hard work before our operations are ready to scale," the Prime Air drone program now says on its website. "We are testing many different vehicle designs and delivery mechanisms to discover how best to deliver packages in a variety of operating environments. The look and characteristics of our drones will continue to evolve over time."
Amazon is not doing customer deliveries by drone anywhere in the U.S. yet. The company made what it called its first aerial delivery to a real customer in late 2016 outside Cambridge, England, which was a primary overseas location for its trials. Competing drone delivery projects by Walmart and a subsidiary of Google parent Alphabet have launched on a limited scale with select consumers in small towns in Arkansas and Virginia, respectively.
The city of Pendleton's economic development director said he is bullish that autonomous technology is "on the verge of huge leaps." Steve Chrisman said the city-operated Pendleton UAS Test Range has been busier than ever this year with more than 6,500 civilian operations completed – an "operation" defined as a drone takeoff or landing,
"I'm very proud of the stable of clientele that we've assembled here and we anticipate continued growth in the years to come," Chrisman said in an interview.
Among the selling points the FAA-approved Pendleton UAS Test Range pitches to drone companies are uncrowded airspace over diverse terrain, favorable flying weather much of the year and a control tower experienced with mingling manned and unmanned aircraft. The range managers also tell aircraft developers the location in rural northeastern Oregon allows for "discreet" testing of new designs.
In 2019, the city-owned airport broke ground on a publicly financed unmanned aerial systems industrial park adjacent to a dedicated runway at Eastern Oregon Regional Airport. The industrial park project is a key piece of Pendleton's goal of building up a drone industry in the Round-Up City.
Chrisman said the infrastructure construction for the UAS industrial park was recently completed, and leases have been signed with the first tenants. Earlier customers of the aerial test range took over airplane hangars on other sides of the airfield. Among the previous users was Airbus, which tested a pilotless air taxi for several years in Oregon.
As for when the average consumer can order dinner or presents and have the purchase swiftly delivered by drone, it will probably be a while yet, according to Pendleton UAS Range Manager Darryl Abling. He estimated it will take hundreds of millions — or billions — of dollars for government and industry to perfect the low-altitude radar, air traffic control overhaul, on board sense-and-avoid technology and aerial corridor mapping for drones to fly safely beyond the sight of the pilots.
Abling compared it to a "crawl, walk, run" process.
"We're still in the crawling stage," he said in an interview. "But we're crawling pretty fast. I think it will be pretty soon that we see the first steps."