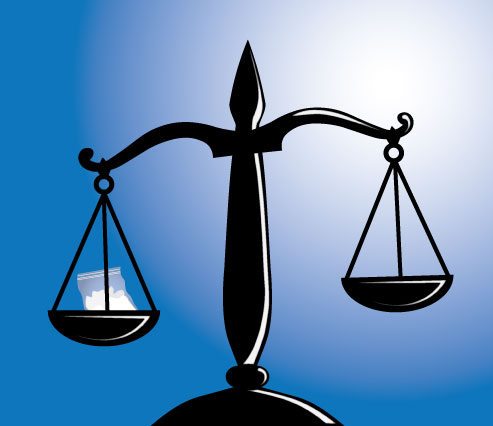 Clear Your Record Of Simple Possession? Not That Easy But You Should Try
In February 2021,  the Washington State Supreme Court ruled that the State's felony drug possession statute was unconstitutional. This decision, known as State v. Blake,  has far-reaching impacts that affect anyone previously convicted of simple possession of a controlled substance. 
Simple possession refers to possession of small amounts of controlled substances, indicative of personal use. It does not affect people convicted of other charges such as intent to distribute.
The case hinges on knowing vs. unknowing possession. It started when a woman named Shannon Bowman (nee Blake) borrowed a pair of jeans from a friend. In the coin pocket of the jeans was a small amount of methamphetamine. 
Through the process of appeals, the case eventually came before the Washington State Supreme Court. The 5-4 decision found that because the law did not require prosecutors to prove that defendants knowingly had a controlled substance on them, it was unconstitutional. Since going into effect in 1971, no iteration of the law (RCW 69.50.4013(1), RCW 69.50.401(d), RCW 69.50.401(c)) has required knowing possession. Anybody convicted under this series of statutes in the last 50 years could be eligible to have their conviction vacated – or eliminated – and their sentence reduced. If somebody paid court ordered fines, those are also eligible to be refunded.
Many Ripple Effects

Chris Dow, Deputy Prosecutor for Benton-Franklin Combined District says the impact of this ruling is far reaching. Washington State uses offender scores in sentencing. Convictions for misdemeanors and felonies in Washington can act as points on a person's record. The more points a person has, the heavier their sentencing could be. Under the Blake ruling, if one of those points came from a simple possession charge, a person could potentially get their sentence for an unrelated, subsequent conviction reevaluated.
"So if you have six points because you stole money four times, and were caught with drugs on your person twice, your sentence on your current case…would be based on your offender score of six. So if we are vacating convictions, we also have to amend the sentences that would have been affected by that offender score," explained Charlie Dow.
Washington state also uses predicate felonies for other kinds of crimes. A notable example of this is a certain felony gun possession charge. 
Dow said, "If somebody was in possession of a firearm, and they were a felon, that's a crime in the state of Washington. And if the basis for their felon status was unlawful possession of a controlled substance, that case would have to be readdressed as well."
Petition For Clemency

To apply  for clemency under this ruling, a person must fill out a petition form, which can be downloaded here, and return it to their corrections officer, who will then route it to the Governor's Office through the Washington Office of Public Defense.
Charlie Dow said there is no deadline or time limit for people to file their petitions, however, people should try to get their petitions in as soon as they can.
Financial Stakes

The first reason for that is financial. Currently, the state has a fund set up to repay people. But it is not clear if this fund is large enough to repay everyone who is eligible. If that money runs out, it is unclear where money for repayment would come from. It is possible that repayments could come from county coffers, which could leave some counties strapped for cash.
Identifying the Eligible

It is not known exactly how many people are eligible for clemency or repayment.  Many convictions took place between 1971 and 1999, when most counties started digitizing and consolidating convictions into a docketing system called SCOMIS – Superior Court Management Information System – although some started digitizing as early as 1982. According to the Director of Legal Services of Washington Defender Association, Ali Hohman, the American Equity and Justice Group – which tracks conviction data – has identified around 126,000 cases eligible for clemency.
Many Cases Make For A Long Process

Checks started going out the first week of December to people eligible for repayment. But according to Hohman, it could take a long time, possibly several years, to get through the entire stack of cases. COVID-19 related slow downs are not helping. 
"What we've seen is a lot of Blake orders, or motions, sitting in prosecutors offices not being able to be processed. And then the flip side is, even when you get an order, the state patrol saying, at this point, it's going to take them seven years to process all the Blake orders," Ali Hohman said.
The refunding of LFOs, or legal financial obligations, is multi-layered and a multi-step process.
Hohman says it is uncertain whether clemency can be granted for somebody being held in pretrial or repayments can be made for civil forfeitures. 
Hohman posed some questions, "Does that include when somebody is held pretrial and all the money they spent in jail? What about collection agencies? What happens if you lose your car in a civil forfeiture? Do you get that back? There's still a lot of questions that are uncertain because, like I said, the system just hit Ctrl Z, and is just trying to delete all this, but it's not that simple."
An Unconstitutional Deportable Offense

Simple possession is a deportable offense under US immigration laws, and according to Annie Benson of the Washington Defender Association, it is one of the most frequent crime-related grounds for people with lawful status to be deported. She said it also renders undocumented people ineligible to obtain lawful status. It is unknown how many people have been deported on these grounds over the last fifty years but a safe estimate, according to Benson, is in the thousands. 
For somebody without lawful status who was deported for simple possession in Washington State, there is no clear or easily accessible path for return to the United States. For lawful permanent residents, the path is narrow and has a lot of caveats.
"If the drug possession conviction was the only basis for their deportation, and if they were able to get an order from the criminal court that vacated their conviction per Blake, and if they were able to hire a very experienced immigration lawyer, their lawyer could file a motion to reopen their immigration proceedings with the Board of Immigration Appeals. There is no requirement that the Board reopen the case – it is up to their sole discretion," said Benson
Benson explains the overwhelming majority of people deported for a simple possession conviction will never be able to legally return to the US.
Not a Magic Wand
Clemency under Blake is an unconditional commutation. Which according to the petition itself, simply waives the remainder of supervision and legal financial obligations on the conviction. It does not remove the conviction from court files and does not grant people with these convictions the legal authority to state they have never been convicted of a crime. It notes that filers may wish to seek legal advice before requesting clemency.
Defense Counsel is Recommended

Ali Hohman said there are a few reasons a person may want to hire a defense attorney to assist with their clemency petition. First, clemency still leaves a lot to unwind. There are over 700 collateral consequences or impacts of convictions that have been identified, said Hohman. Those include access to housing and impacts on job searches. 
Additionally, If a person made a plea deal and pleaded out to a simple possession charge, it is highly recommended they speak with a defense attorney before filing a petition. This is because some in counties, like Clark county, prosecutors may elect to refile dismissed or withheld charges. Hohman did point out that there are only a handful of counties taking this approach, because Blake clemency outcomes are handled on a county by county basis.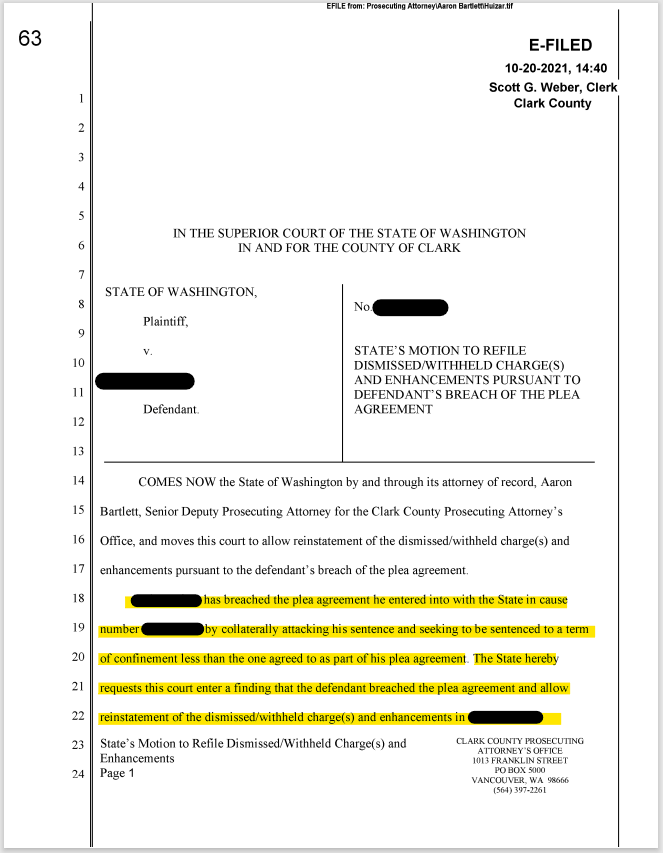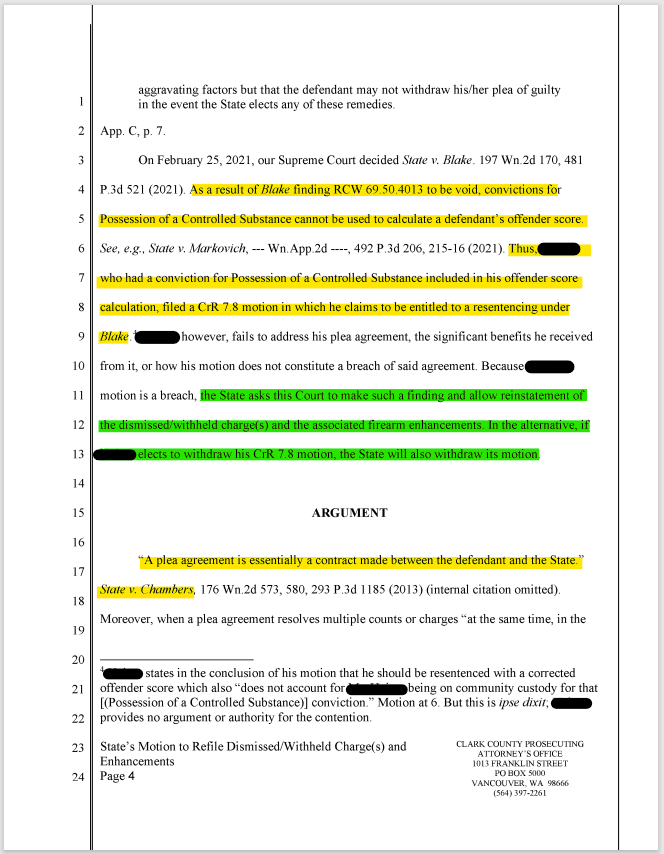 "At this point, the concerns defense counsel has [is] really about getting access to counsel, making sure those convictions are properly unwound, making sure it doesn't matter that if you're in Ponderay County to Pacific County that you're treated the same," said Hohman.
The unwinding of 50 years of convictions is a huge undertaking. Anybody who has been convicted of simple possession prior to the law being rewritten earlier should apply, and it is highly recommended to speak with defense counsel, who can help guide you through the process and negotiate resentencing.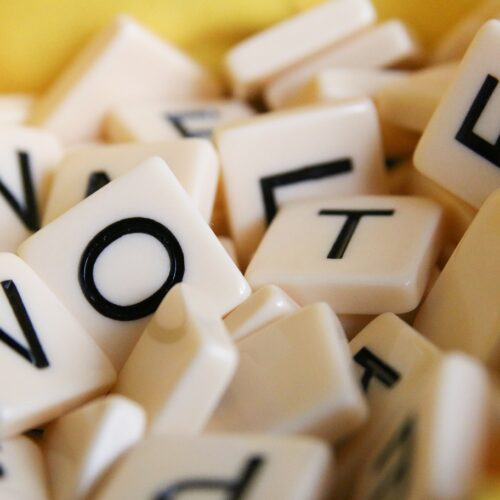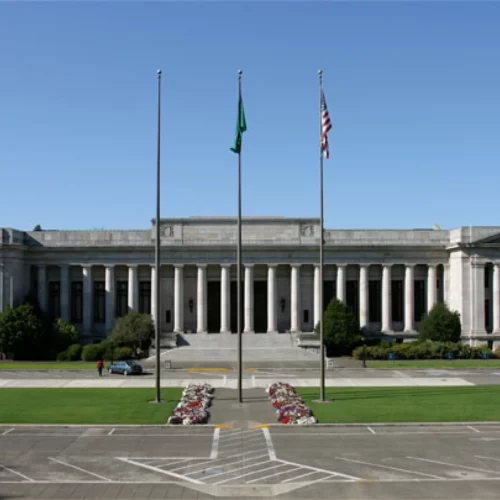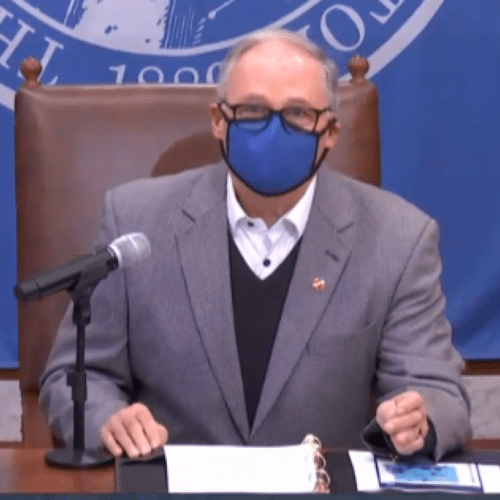 For the second time, Washington lawmakers are suing Gov. Jay Inslee over his use of the veto pen. In a lawsuit filed Monday in Thurston County Superior Court, the Legislature asserts Inslee exceeded his veto power earlier this year when he line-item vetoed parts of the state transportation budget and eliminated a subsection of a low carbon fuels bill. Continue Reading Once Again, Washington Lawmakers Sue Inslee Over Vetoes