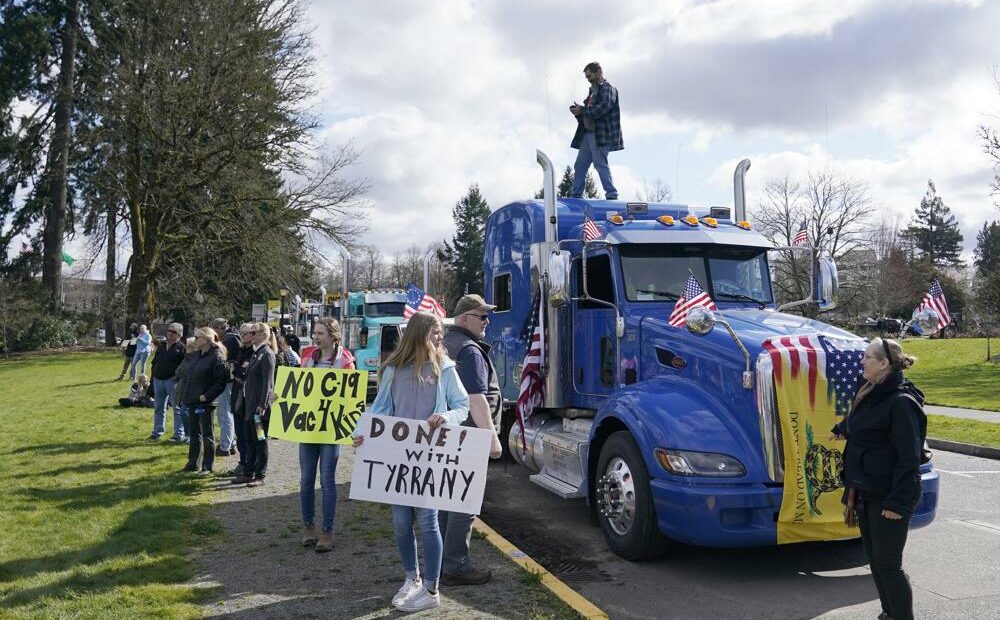 Rally Against COVID restrictions at WA State Capitol
Washington's mask mandate will lift next Saturday. But that didn't stop hundreds of people from rallying at the state Capitol Saturday in opposition to COVID-related restrictions. 
There was music, and a small convoy of honking big rigs.
But not the large crowds of earlier COVID protests. Instead this event drew several hundred flag waving and sign carrying protestors and had more of a festival feel. There were food trucks and tents hawking political merchandise. Conservative candidates for Congress were also on hand. Among the speakers were Joey Gibson of the group Patriot Prayer and Matt Marshall of Washington Three Percenters.
 "We will never back down and we're going to everything that we can to make sure that they know that we are the ones in charge," Marshall said.
In advance of the rally several organizations including the Anti-Defamation League, the League of Women Voters and labor unions issued a statement. It accused the organizers of being anti-democratic and trying to mobilize resentment toward publicly supported government safety measures.