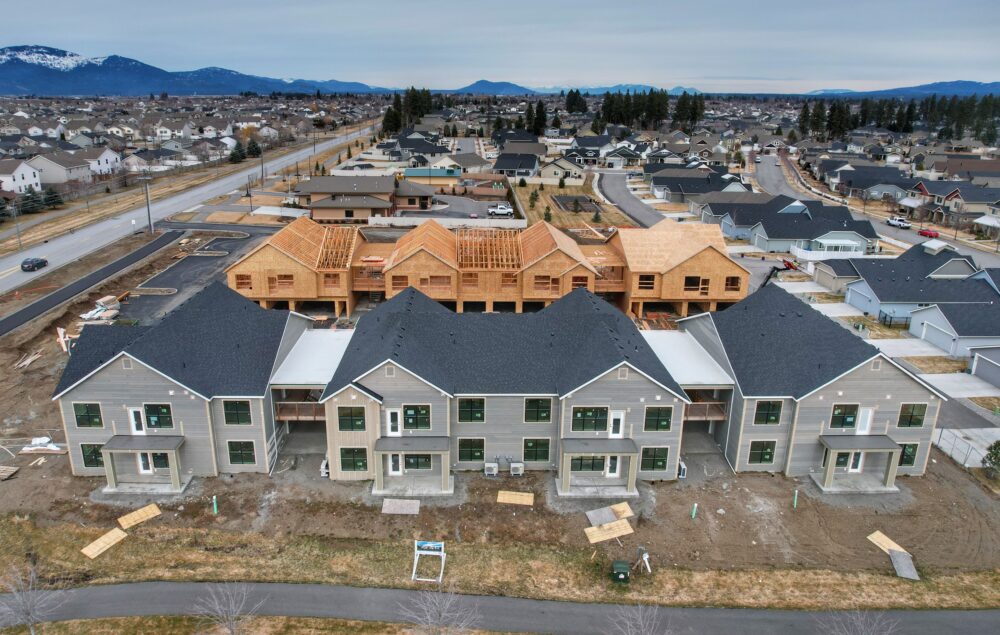 Multiple Agencies Working To Solve Coeur d'Alene Housing Crisis
In the second of a two-part series on the housing crisis in Coeur d'Alene, NWPB's Lauren Paterson looks at the efforts being made to mitigate the problem / Runtime – 5:16
"It's pretty crazy to see how elevated prices of real estate have gone up, and to a point where it almost seems kind of unobtainable, even for somebody with a college degree in engineering," says Chad Dunkel.
Dunkel is a research support scientist at the University of Idaho who grew up in Sandpoint. He's been looking for housing in both Bonner and Kootenai county for over two years.
"Ideally, I'd stay in the Pacific Northwest, but I've really kind of broadened my search to wherever my job takes me. It's less about where I want to live and where I can make a living," he says.
Dunkel says he's noticed the huge discrepancy between income and the cost of living, and says it only seems to be getting worse in north Idaho.
A recent study released from the University of Idaho showcases the challenges of the housing market in Kootenai County, and concludes it's only getting worse.
Steven Peterson, the economist who led the study, says houses in Kootenai County went from being affordable to unaffordable in just five years.
"And it's the speed by which these housing prices increased that took me quite by surprise," he says.
Gynii Gilliam is president and CEO of the Coeur d'Alene area Economic Development Corporation.
The organization helps local businesses create jobs, and address critical community issues like housing and infrastructure. She says it's very difficult for businesses to grow when there are not enough homes for people to move into.
Before the 2008 recession wiped out the construction industry in the United States, Gilliam said spec building, or building move-in ready homes, was common.
"They would go build a housing subdivision and people would come and buy homes, right. And then the 2008 recession hit. And from that point on, a lot of developers wanted to pre-sell an X percentage of their homes before they even started building," she says.
"Because nobody could afford to take that gamble that they were taking prior to the recession."
Gilliam said it's one of the reasons the Couer d'Alene community, and others around the country, continuously fell further and further behind in home construction.
She and the groups involved in the study are trying to stress to developers the importance of continuing to build homes working people in Kootenai County can afford.
"Otherwise we're pricing out our nurses, our policemen, our firefighters, our teachers," she says.
Coeur d'Alene mayor Jim Hammond says he plans to speak with other mayors in the area to come up with strategies to create more affordable housing.
"Now, the current housing crisis is not just a crisis lack of inventory, it's a crisis of affordability," says Hammond.
Hammond said on the west side of Coeur d'Alene, a large swathe of farmland has recently been sold to a developer. He says if the developer comes to the city, Hammond will work with them to ensure there is affordable housing within the residential development.
Hammond has personal reasons to do that. He says his grandchildren are finishing up college and also want to live in the area.
"But I don't know how they're going to be able to do that. So, the motivation is just as personal for me as for anybody," he says.
Maggie Lyons works for a non-profit focused on bringing housing to low income residents of North Idaho. She said a shocking revelation of the study was that low income for Kootenai county means the local workforce.
She says, "Workers who are making anywhere between $26 up to $52 an hour can't afford a home."
Lyons is involved with other organizations working to bridge the divide between the working poor and affordable homes, and says the problem goes even deeper.
"It's really an education on how we don't understand poverty. We're not poverty-informed as a people," Lyons says.
Lyons said the problem of poverty is complex, and the same solution won't work for everyone. The purpose of the study, she says, was to give the group a non-agenda driven, factual data report on what is happening in the Coeur d'Alene community.
"So it's just really important, I think, you know, when we're talking about these solutions, this is homeownership solutions," she says. "We have to figure out how to build $200,000 to $350,000 priced homes. We just have to."
Lyons said solutions are already in the works. Her organization is currently purchasing land from landowners willing to sell at cost rather than market rate, so they can write off the difference as a tax deduction. Community land trusts, where the leases are tied to the homes, and the appreciation of the home value is tied to the Consumer Price Index, might be another solution to affordability in perpetuity, she says.
"So that's a private solution to providing the land for this public housing effort."
Another important part of the solution, says Lyons, is the outreach.
"We're presenting to councils, we're presenting to rotaries, we're presenting to different municipalities, everybody that we can think of, anybody that's willing to hear and listen, right? Employers, we're talking to as much as we can, because we're trying to educate now."
Gilliam says many members of the community think putting a stop to building new homes will prevent more people from moving in.
"But what that really does is hikes up the prices for the few that are available to be purchased," says Gilliam. "And because the dollar price keeps going up, people's property taxes keep going up."
Gilliam says this is most hurtful to residents who are on fixed incomes, like social security or disability, who risk losing their homes when they can no longer afford the high property taxes, driven up by the short supply of housing.
"So this community does have, it does come together," she says.
"And so I have hope that this is one of those times, and we will help solve this problem together."