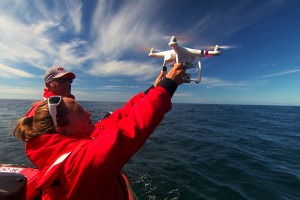 Drones Flown For Commercial Purposes Face New Registration Requirement In Washington State
NWPB's Geoff Roth reports on an upcoming registration deadline for commercial drones in Washington State / Runtime – 1:07
People who fly drones for commercial purposes in the State of Washington are facing an upcoming deadline. 
In the U.S., most drones must be registered with the Federal Aviation Administration, and people who fly drones for commercial purposes must be licensed by the FAA.
Starting April 1st, those drones must also be registered with the Washington State Department of Transportation. It was part of a bill passed in last year's legislative session.
Eddy Hensley is the State Unpiloted Aircraft  Systems Coordinator.
"The bill created the unpiloted aircraft systems coordinator position and also the commercial drone registration program," Hensley said. "The drone registration is an integral component of this initiative as it is designed to help advise the users and shape the responsible use of drone technology."
The money raised from the yearly $15 registration fee is earmarked to study integrating new technologies in transportation as well as developing the drone industry in Washington State.
For now – registration is on the honor system, but Hensley said some penalties for not registering may be put in place down the road.
Registration is done online using a portal on the Washington DOT website. Click here to get to the portal.