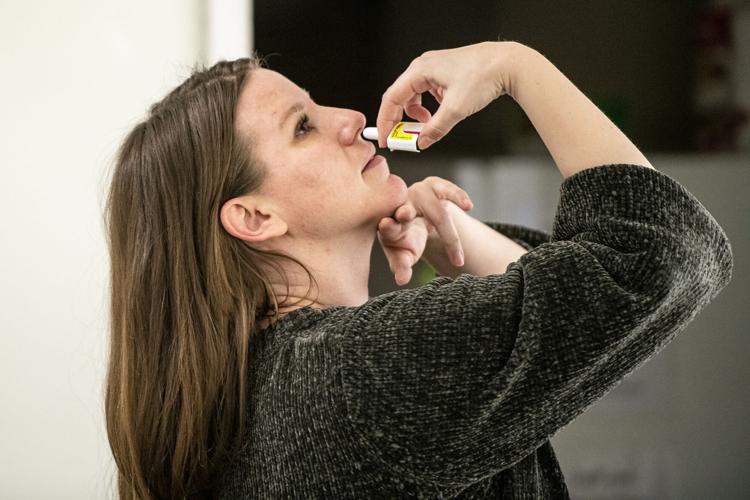 Idaho Adds Naloxone Training As OD Deaths Rise
Caitlin Rusche, a health education specialist in North Central Idaho, spends her days teaching people how to reverse an overdose.
She says the nasal spray Naloxone, also known under the brand name Narcan, is easy to use. But it's just the first step.
Rusche: "The thing to remember about this is that it's a bridge to another level of care. It will only last thirty to sixty minutes. So you have to call 9-1-1."
Josh Hall, the Nez Perce County Coroner, says overdoses from fentanyl first came onto his radar in 2019, and increased drastically in 2021. Fentanyl is especially dangerous because it's fifty to one hundred times stronger than morphine. Other synthetic opioids are even stronger.
Hall: "Even our overdoses just doubled in 2021. And six of those were fentanyl."
Naloxone itself does not pose any health risks even if someone has not used opioids. Those who administer the drug are protected by Good Samaritan laws in Washington and Idaho.
In Idaho, anyone can get Naloxone for free without a prescription from the Idaho AIDS coalition and the Idaho Harm Reduction Project. The Idaho Department of Health and Welfare supplies the drug to organizations. In Washington, it is available at any pharmacy without a prescription and covered by Medicaid.
This report is made possible by the Lewis-Clark Valley Healthcare Foundation in partnership with NWPB, the Lewiston Tribune, and the Moscow-Pullman Daily news. Produced with assistance from the Public Media Journalists Association Editor Corps funded by the Corporation for Public Broadcasting, a private corporation funded by the American people.