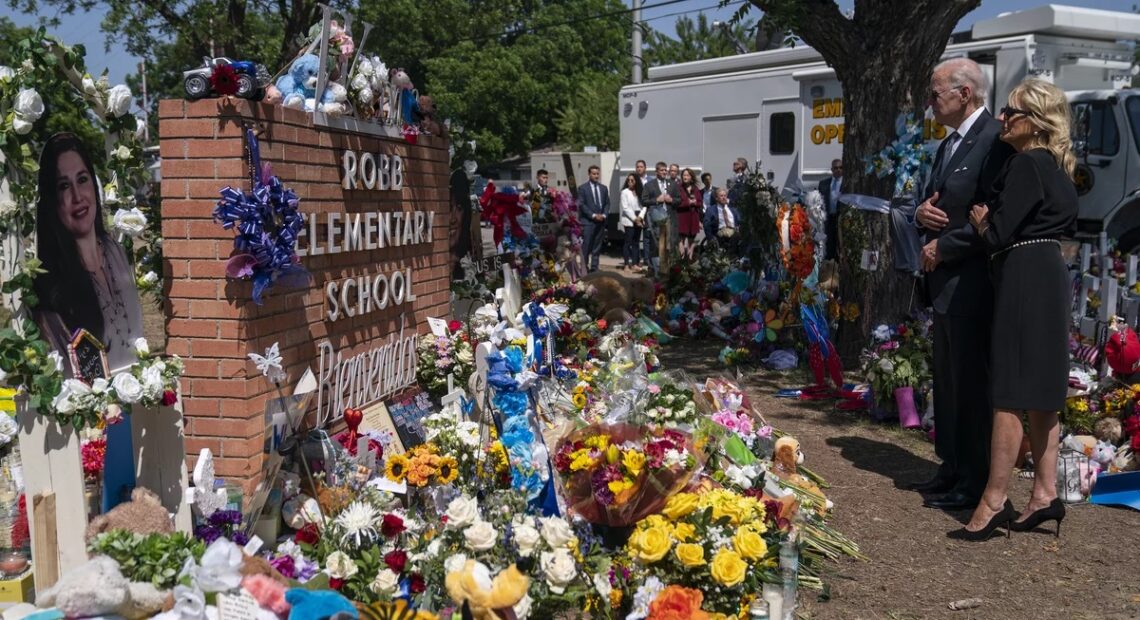 After Uvalde, Yakima Neighborhood Health Says It Is Time For Action
The Yakima Valley community feels the pain of the Uvalde families. Members of community organizations in Central Washington are sending messages of support. They also highlight the need for action to protect children and youth.
Rhonda Hauff and her team felt they needed to do something. They wanted to help. Now, they are preparing care kits for the Community Health Development center in Uvalde.
"We're going to send notes to them (…), sending our thoughts because, knowing again, what the community must be going through and if this was us, if this was our community with so much tragedy right now, we would be in the middle of it. A community health center is at the heart of the community," she says.
Hauff is the CEO of Yakima Neighborhood Health Services, which helps people in Yakima, Sunnyside and Granger. Like many in the nation, she felt the personal tinge of the Uvalde tragedy and is looking for answers.
"Everybody needs to understand that this isn't just something that's happening on the other side of the country because it could happen to us today. I think the very first thing is everybody has to care, and everybody else and the people that can make a difference," says Hauff.
Cristina Ortega, Statewide Manager for Civic Engagement and Advocacy at Latino Community Fund, says she went through a mixture of feelings.
"The first thing that went into my mind was sadness because I'm a mother. You think that you're sending your child to school because that's the second safest place that your child can be".
The sadness turned into anger and then Ortega went "into work mode". She says conversations need to become actions.
"Now it's a time for collective voices. The thing is, it takes a community to raise a child, would also take an entire community, an entire nation, to save our children. And that should be our priority right now, is putting policies in place that are going to protect our children".
Central Washington has experienced gun violence firsthand in the last months. Not on the scale of the shooting that hurt the Texas families last week. Still, it causes concern.
At least five incidents involving young victims and shooters happened in the Yakima Valley. The Cinco de Mayo shooting in Sunnyside left a man and four children injured. A 13-year-old was charged.
In Yakima, a 16-year-old boy died, and another who was 18 was injured after the shooting at the Eisenhower High School in March. The suspect is 15.
Last Sunday a 16-year-old was shot during a drive-by shooting in Yakima.
It seems like more and more youth are getting involved in these incidents, says Hauff.
"They're teenagers, they're children. And the question is, how do we get on top of this? How do we make sure that we don't get numb to the fact that these are children that are shooting each other, that are dying? We don't just turn our backs to this," she says.
Like many in the country, Hauff and Ortega seek answers. They agreed that listening to youth and responding to their needs is an active part of the solution. Youth programs around the state and the funding for them are critical.
But for Hauff, there is another decisive step.
"Everybody needs to either write or call the policymakers that can make a difference, and they need to tell them that they care about this. And that's really what's going to have to make a difference," says Hauff.
Produced with assistance from the Public Media Journalists Association Editor Corps funded by the Corporation for Public Broadcasting, a private corporation funded by the American people.