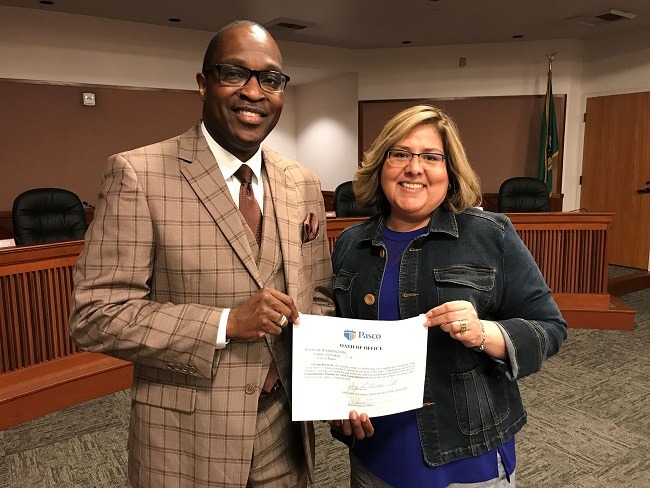 Brown's Appointment As Pasco's City District 3 Rep Upset Some Latinos
The selection of Irving Brown, Sr. as the City District 3 representative is causing controversy in Pasco. David Cortinas, a supporter of Leo Perales—a former candidate who ran for that position in 2021— said Brown's appointment goes against the Latino communities' efforts to ensure representation.
Cortinas expressed his opposition during the Pasco Council meeting last week. 
Also, he says Brown's appointment contradicts the 2016 lawsuits that got Latinos fair chances of electing and being elected. He says people in District 3 "are not happy".
"The will of the people was ignored in the appointment of Irving Brown. (…) He [Brown] ran for office and only received 472 votes; (…) he didn't make it pass the primary. And he was allowed to get an interview, and he was appointed to the position going against the will of district three. The Latinos went backward," says Cortinas.
Eleven candidates applied to replace Nikki Torres. She was elected in November 2021 and resigned in May to run for the 15th Legislative District. 
Irving Brown Sr. was one of four who got an interview with the Council. Perales was not part of them.
In the election, Perales was the strongest opponent of Nikki Torres. She won by 120 votes. 
About the selection, Pasco City Manager Dave Zabell said previous election participation was not a requirement.
"Having run for city council previously was not a criteria for the city council's appointment process," says Zabell.
Zabell also clarified what the Council considered.
"They were registered voters. They actually lived in the district and had lived in the city for the required amount of time. (…) They looked at what your civic involvement has been, what kind of activities have you been engaged in at the community level, whether that's for a nonprofit or if you serve on a board or commission or some of those other types of activities,"  says Zabell.
Candidates for Torres position filled out a form that was available on the City of Pasco's website.
Brown is the first African American appointed council member in 15 years. He was preceded by local Black leaders, such as the first black council member Arthur Fletcher and the first black Mayor, Joe Jackson.
Even if the term of the position is until December 31, 2025, state law requires to open the District 3 Council seat for election in 2023 because of the vacancy.
The black population in Pasco is estimated at 2.4 percent.