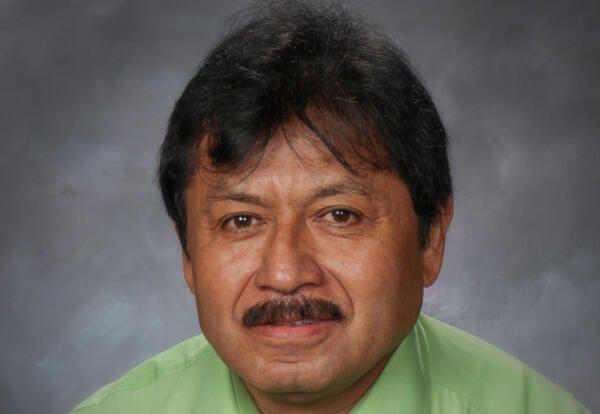 Lifelong Educator Is The Hispanic Link To Wenatchee Schools
The Wenatchee School District wants stronger relations with the Latino community. Alfonso Lopez will make the connection a reality. He is the new District's Director of Hispanic/Latino relations. 
Lopez is a living picture of the American dream.
He reflects the path of many immigrants who make a place for themselves in the U.S. And he proves it's possible to get to the top. 
Lopez was born in Oaxaca, Mexico. In his native country, he went to the Escuela Normal. That was a teacher-training institution common in the past in Latin America. He became a teacher at the age of 19.
"I spent two years working in elementary and three years at the secondary level. During this time, I was still taking classes to become more proficient in social studies, which is similar to a master's degree in the U.S.," says Lopez.
At 24, he decided to come to the United States to learn English. It was a six-month trip, but it didn't turn out as he imagined. 
"We all know, those of us who have learned a second language, that it takes a long time to learn it. Six months was not enough, nor did I end up in an environment where I listened or went to school to learn English. I ended up working to make ends meet in the United States, working in the apple and pear orchards, doing everything that people do when they come," says Lopez in his native Spanish.
Seven years passed before Lopez was able to resume his teaching career. 
He worked in the cattle industry, where he became the ranch manager. At the same time, he studied English in the evenings.
"My idea was always to go back to school in the United States and get my certificate as an educator, as a teacher, so all along that was my dream," says Lopez.
And sooner or later, he would find a way. 
He took a program sponsored by the Wenatchee School District and Heritage University. That was 27 years ago. Then, like now, the number of Hispanic students was growing in Wenatchee. 
Lopez started as a paraprofessional at Lewis & Clark Elementary. Then he worked as a bilingual classroom teacher and, until last month, he was the school principal.  
Now, he will be the first person to lead the relationship between the school district and Hispanic communities.
A role he sees as important.
"When you see someone that is educating you; someone that is teaching you, and he or she looks like you and speaks like you and behaves like you, that makes a big impact in your life …With these high numbers of Latinos, we need to have that representation as well, " says Lopez. 
In Wenatchee, 53% of the District's students identify themselves as Hispanic or Latino. Expanding diversity in the school district shows the kids what they can grow into, says Lopez.
"Several people have become what they are now because they had role models in their lives. And those role models many times are teachers. Right, there is one of the big aspects, why we have to have diversity also with our staff," added Lopez.
Lopez advocates for bilingual education and is recognized for leading the only dual-language school in Wenatchee. The program unites all students around language and culture. 
For Lopez, it's an opportunity to preserve and share who they are.
"When you lose your culture, when you lose your route, then you're not yourself anymore. And there is nothing wrong with any culture. Every culture brings great things. If we put them together, we can become stronger and more beautiful," says Lopez.
Lopez says his challenge is to be a voice for Hispanic families in the school district.
"I hope that looking at people like me, can be more encouraged to bring those ideas. If Mr. Lopez was able to do this, I can do that, too. 'Look, listen to his broken English, and he's able to do these things. That means I can do that too'. Hopefully, that would be something that they can do, but if not, people like me are right there to help them," says Lopez.
Creating the position and appointing Lopez is the district's response to calls from parents to improve the connection and build trust among Hispanic communities. It's all part of the school district's revised Equity Program.