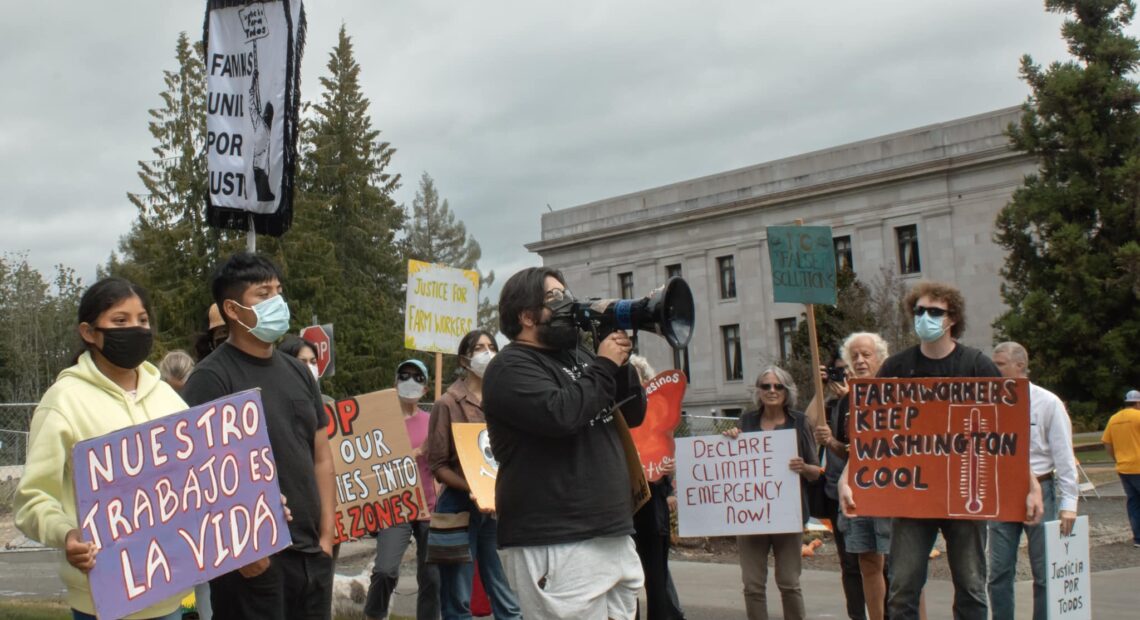 Farmworkers Call For Climate Emergency Declaration in Washington
Farmworkers and environmental justice advocates want Washington Governor Jay Inslee to declare a climate emergency in the state.
Alfredo Juarez is a farmworker in Skagit County. Juarez was one of the demonstrators who gathered in Olympia on Friday to call for better regulations to protect farmworkers from heat and wildfire smoke.  
"The key rule should apply when temperatures reach 75 not 89. Because to everybody in the community, 75 is already hot, but to us in the field, 75 feels like 90 or 100 degrees," says Juarez.  
Workers also asked for hazard pay when the temperature reaches 80 degrees and to be able to go home to cool down when it gets up to 90 degrees. Farmworkers also want to get paid for the rest of the hours they should have worked.  
The president of Familias Unidas por la Justicia Ramon Torres delivered the petitions to the governor's mansion. 
The executive director of Front and Centered, an organization that works for climate justice, is Aurora Martin. She says climate change is hitting frontline communities such as farmworkers, and regulations must respond to it.  
"We cannot take this crisis that is affecting all of our communities lightly, and we cannot stand aside with just poor policies," says Martin, 
Farmworkers want resources to support workers affected by climate change and accountability of state agencies with the guidelines issued by the state Environmental Justice Council.  
Farmworkers also want to close the legal loopholes allowing companies to offset their environmental responsibility by trading carbon credits. 
According to an email from the Governor's Communications Office, "We are always looking at more options to be even more aggressive in our progress against this threat to our livelihoods. At this point, however, a 'climate emergency' declaration is not on the table. We are confident the Legislature will continue working with us in further advancing the fight against climate change in Washington." 
A report for the University of Washington Climate Impact Group showed the unequal risks faced by communities due to climate change. The report says nearly  80 percent of farmworkers experience heat-related illness, and it can cause accidents, traumatic injuries and even death.