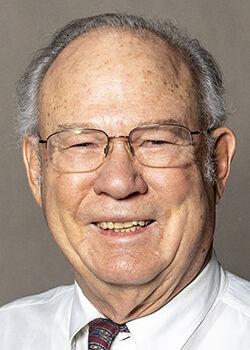 Ophthalmologist Facing Allegation of Unprofessional Conduct, Could Potentially Lose Medical License
When Richard Eggleston started writing Opinion page columns about COVID-19 for the Lewiston Tribune in early 2021, his writing garnered strong criticism from readers for claims that went against the guidelines of public health agencies. Now, his license could be in danger.
Eggleston, a retired ophthalmologist, was charged by the Washington Medical Commission for unprofessional conduct after a complaint was filed regarding several allegedly false statements he made in the columns, where he identified himself as a medical doctor. 
Should Eggleston fail to defend against the charges or be found guilty, he could be subject to discipline including fines, monitoring, revocation or suspension of his license, or other sanctions, according to Washington state code. He has one month to respond to the charges.
The charges allege that in his columns, Eggleston minimized the deaths caused by COVID-19 and made false claims about the accuracy of testing, vaccine safety and efficacy.  
The report further alleges Eggleston promoted the antiparasitic drug ivermectin as a treatment for COVID-19 despite a lack of evidence supporting its use to treat the virus.
Those claims are a matter of public health, according to the statement of charges, because they could lead people to delay effective treatments for COVID-19 in favor of ivermectin, or to decline COVID-19 vaccines assuming they can take ivermectin and be protected in the case of infection.
Eggleston's lawyer, Todd Richardson, wrote in a statement to the Lewiston Tribune that Eggleston, whose license is considered retired active-in-state, did not attempt to diagnose or treat anyone in his editorials, but provide "sound alternative medical information."
"(Eggleston) has tried to promote patient-health-literacy and advance the education and access to a range of available information so that patients and their doctors can make the best decisions," he wrote. "He believes that a patient has a right to accept or reject any treatment offered but that to do so they must be fully informed and be able to intelligently discuss it with their provider."
In a July 11, 2021, column, Eggleston wrote that because the CDC was reporting roughly 94% of COVID-19 deaths at the time listed other comorbidities, only 6% were "actual COVID-19 deaths."
The report pointed to the fact that between 40% and 50% of the United States population has at least one risk factor, such as diabetes, high blood pressure, old age or other comorbidities that would increase their risk of negative outcomes.
"This means that having an underlying condition, including being an older adult, is associated with increased risk of death from COVID-19," according to the report. "It does not mean these individuals died from their underlying disease and SARS-Co-V-2 was accidentally found during their illness."
In the same column, Eggleston made several claims about the COVID-19 vaccine the report contested, including the claim that mRNA vaccines could alter human DNA, and that they do not confer long-term immunity.
For COVID-19 vaccines to alter DNA, the virus itself would also need to be able to alter DNA, the report stated. That claim has never been made or established, according to the report.
Eggleston's claim that the vaccines do not confer long-term immunity is also false, according to the report.
"Cells that denote long-term immunity have been identified in vaccinated people, even prior to receipt of booster doses," according to the report.
In a March 17, 2021, column, Eggleston claimed polymerase chain reaction COVID-19 tests are inaccurate.
"This statement is harmful to the public because it suggests that symptomatic persons should not test for COVID-19, and persons that test positive by PCR should not assume that they are contagious or need to seek care if unwell," according to the report. "(PCR tests have) been shown to be accurate, even in different types of transport media and in a variety of samples shown."
In the same column, Eggleston touted the antiparasite ivermectin as a safe and effective treatment for COVID-19. He also cited a clinical trial from Egypt that was retracted in July 2021.
"There have been numerous clinical trials conducted with ivermectin in people with SARS-CoV-2," according to the report. "The results have been closely related to the quality of the studies, with the best conducted studies showing no effect on any of the outcomes of interest."
Richardson, Eggleston's attorney, characterized the complaint filed against his client as a product of "cancel culture" and a "keyboard warrior attack" based on political biases.
"Dr. Eggleston is a former member of the commission now investigating him. He is a man of integrity and who has stood strong to defend his name and his beliefs. He refuses to be intimidated," Richardson wrote.
Eggleston's columns drew several critical letters to the editor in the Tribune, as well as some letters of support, as well as two response columns from other medical professionals who were critical of Eggleston's views.
Though each case is decided individually, those where practitioners fail to respond at all typically face more severe disciplinary action, said Stephanie Mason, legislative liaison and public information officer for the Washington Medical Commission. License suspension, revocation or fines are less common. 
Eggleston has until Oct. 9 to respond to the allegations and will have the chance to request a hearing. If he does, it would typically be scheduled roughly six to nine months out.
"As Dr. Eggleston's attorney, I have engaged with the process," Richardson wrote. "I trust that truth will have out, and Dr. Eggleston will be vindicated; just as many of his stated positions in the editorial pages of the Lewiston Tribune have been vindicated."
This report is made possible by the Lewis-Clark Valley Healthcare Foundation in partnership with Northwest Public Broadcasting, the Lewiston Tribune and the Moscow-Pullman Daily News.