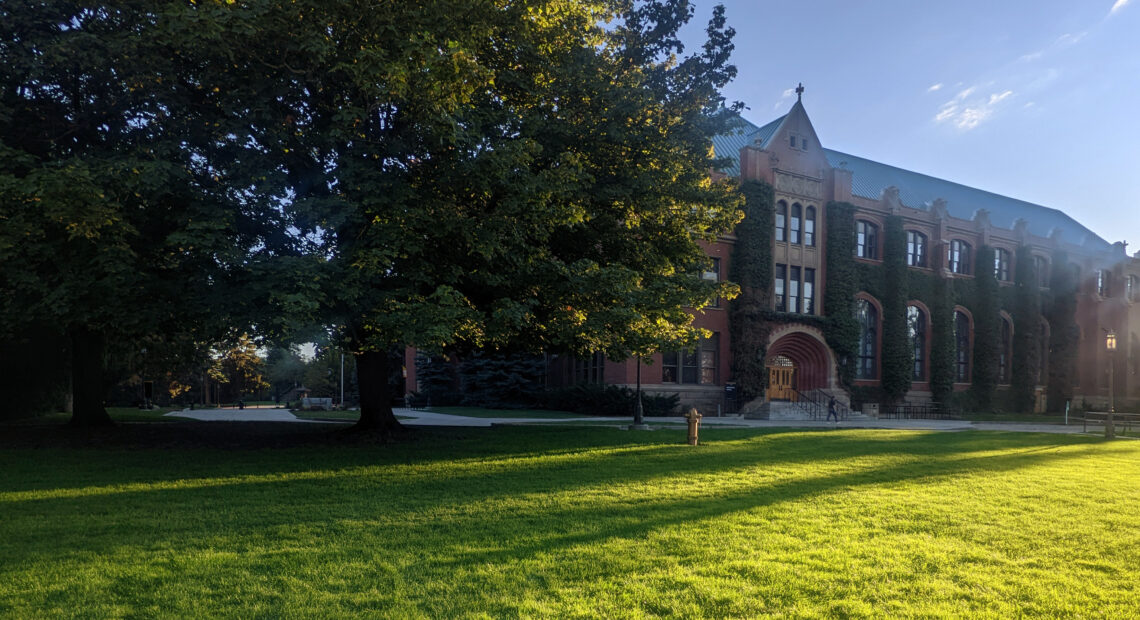 UI employees say memo on abortion, contraception creating chilling effect in classroom
The University of Idaho is facing backlash from employees after a memorandum from its General Counsel sent to staff Sept. 23 directed them to avoid language that could be seen as counseling in favor of, referring for, or promoting abortion as a response to the No Public Funds for Abortion Act.
The memo also advised employees to not counsel on, or provide, birth control based on a 1972 statute that bars anyone except licensed physicians from "advertising medicines or other means for preventing conception or facilitating miscarriage or abortion." The memo specifies that employees can provide condoms for the purposes of preventing STDs, but not as birth control.
The Vandal Health Clinic, which provides birth control through clinicians contracted from Gritman Medical Center, will not change its services as a result of the memo, according to a statement from Gritman.
The memo was sent to help employees "understand the legal significance and possible actions of (the No Public Funds for Abortion Act) passed by the Idaho Legislature," according to a statement from Jodi Walker, executive director of communications at the U of I.
It continued, "The section does not specify what is meant by promoting abortion, however, it is clear that university employees are paid with public funds … While abortion can be discussed as a policy issue in the classroom, we highly recommend employees in charge of the classroom remain neutral or risk violating this law."
Malachi Witherwax, a U of I student working for the university's peer-assisted study program, said it seemed unclear how the penalties listed in the memo would apply when the email first started circulating.
The email stated that employees who do not follow the law could be subject to misdemeanor or felony convictions, mandatory reimbursement of funds used in violation of the law, mandatory loss of state employment, and permanent bar from future state employment. It also states that employees "must remain neutral on the subject of abortion."
"Nobody was totally clear on whether or not this was a 'Yes, this will happen, you will be charged and fired if this happens,' or if it's like, 'We don't know, this might happen and we're just covering our bases," they said.
Richard Seamon, a University of Idaho law professor, said although the memo itself could be criticized as an overly conservative interpretation of the law, it's not an unusual strategy for legal counsel to take. 
The memo is advice, and not law, he said — though how the law is interpreted could have a chilling effect for some faculty.
"(It) could cause individual faculty members, frankly, particularly those who don't have job protection like tenure, to be very, very careful. To refrain from saying things they might otherwise say," Seamon said. That they might very well have a First Amendment right to say."
Witherwax said in some classes, particularly those that deal with subjects like family planning, that's already happening.
"We just recently were working on a project that involves studying people's decisions with contraception, and right now, basically, we've been told, (the professor is) going to give everybody the same grade on it because she can't be perceived as biased any one way," Witherwax said.
Jennica McClelland, a sociology major who works in the university's Women's Center, wrote in an email that she doesn't blame the university for its interpretation — but the law itself is negatively affecting her education.
"I am a Sociology major and in many of my classes these topics do come up, and now that my professors have been made aware of these laws, they are scared to even mention the word abortion," she wrote. "I am missing out on learning opportunities because of the State legislature. And so are many of my peers."
While the "neutrality" asked of employees can be a subjective term, Seamon said, any investigation stemming from a complaint would need to be cautious to avoid infringing on already-established constitutional rights.
"I would hope and I would expect that considering academic freedom, there would be a lot of care to make sure that a student remark doesn't necessarily automatically lead to some kind of sanction against the faculty member," he said.
But even if employees are not in actual danger of losing their jobs or criminal prosecution, the possibility that it could happen, or that employees might have to go through a process to prove they didn't say anything against the rules, is enough for them to avoid the subject completely, Witherwax said.
"I'm sure as hell not going to talk about it," they said.
Witherwax also worries how the law could be weaponized against professors, they said.
"If you're pissed at a professor or want to make things difficult for them, you could definitely get them tied up in a bunch of crap," they said. "Just by saying, 'Oh, yes, I heard this discussion going on,' regardless of whether or not it turns into any criminal proceedings or loss of job, you can make their life a whole lot more difficult for a while."
Ellen Dennis is an alumna of the university who graduated almost two years ago. She said it felt surreal to see the memo coming from a publicly funded university that she remembers championing itself as an advocate for free speech.
"I've seen speakers allowed to host events on campus who I personally did not align with either ethically or politically, but I still respected that the university gave them space to speak because I think that's a really important aspect of higher education," she said. "So seeing staff and kind of students warned to not even discuss certain topics seemed really antithetical to the philosophy of higher education."
On Friday the nonprofit MayDay Health began a mobile, digital billboard campaign to crawl across the U of I campus with messages including "Be conservative: use birth control" and "You can still get abortion pills by mail" along with a URL for MayDay's website and a threeforfreedom.com, which links users to mail order birth control and emergency contraception.
Mayday Health states on its website that its mission is to "share info about how to access safe abortion pills in any state." The digital billboard will follow a route through Deakin Avenue, Narrow St, Idaho Avenue, Blake Avenue, 6th and 7th St., Campus Drive and Rayburn St. It will also be parked outside of the football stadium during the game this Saturday night.
According to an article by the Argonaut, members of the Faculty Senate characterized the memo as an assault on academic freedom, with one professor saying she was "pissed off" and "appalled" by the email.
John Wyatt Coil, a Lewiston resident who was planning to apply for the university's law program, said he is no longer considering the university because of the memo. 
Coil said he's concerned how the guidelines will affect classroom discussion. He's also worried how the memo could affect students seeking behavioral health care who've had an abortion.
"Some of these students don't have the type of insurance that allows them to go to private counselors," he said. "They rely on the student counseling center. And if the student counseling center is employed by (the University of Idaho), they're not going to feel comfortable going to them, because they're not going to be allowed to be validated by their choice in any way."
According to the memo, licensed professionals in the Counseling and Testing Center "are being addressed separately through the CTC director."
Coil, who graduated from Lewis Clark State College with a degree in psychology and political science, said he thinks the memo also puts counselors in an ethical bind.
"(The university is) basically saying, 'You have a choice of being an ethical counselor and talking to your clients about this, or keep your job," he said. "That's why I ultimately decided I don't want to be involved with an institution that decides to stifle its staff members, and stifle its counselors in that way."
Dennis said she's worried that the memo could also make it harder for students to access important health care information about abortion and birth control. Programs like the university's Women's Center do a lot of work to provide sex education, part of which, in the past, included providing students with health care resources.
"Taking away the opportunity for discourse, I think, just makes it more dangerous for people who could get pregnant because they don't know what safe options they have, and they might resort to unsafe options for abortion," she said.
The memo will not affect the WWAMI Medical Education classes or students at the U of I said Jeff Seegmiller, the director and regional dean for WWAMI.
Some classes require education on procedures used in abortion, because they are also used for treatment in miscarriage and stillbirth, he said. But students are not asked to endorse or participate in something they're morally against, and do not provide care.
"Almost all of the methods used to manage pregnancy loss for miscarriages and stillbirths, are identical to therapeutic abortions," he said. "We have to teach them certain things. And part of that is managing pregnancy loss and the procedures associated with that."
Richard Seamon said he would expect there could be legal challenges to one or both laws cited in the memo.
Other cases, such as United States v. Williams in 2008, interpreted the wording of "promotion," as was used in Idaho statute, in a very narrow and specific usage, Seamon said. That makes it less likely the law can legally be used to limit classroom discussion, but any challenges to the No Public Funds for Abortion act would likely still point to the general counsel's interpretation as proof of why  the law needs to change.
On Tuesday, the Foundation for Individual Rights and Expression issued a statement saying the directive could limit protected speech.
"It's a new law," Seamon said. "So it remains to be seen how courts will interpret it, and maybe even more to the point, how people who have to obey it will understand it."
This report is made possible by the Lewis-Clark Valley Healthcare Foundation in partnership with Northwest Public Broadcasting, the Lewiston Tribune and the Moscow-Pullman Daily News.