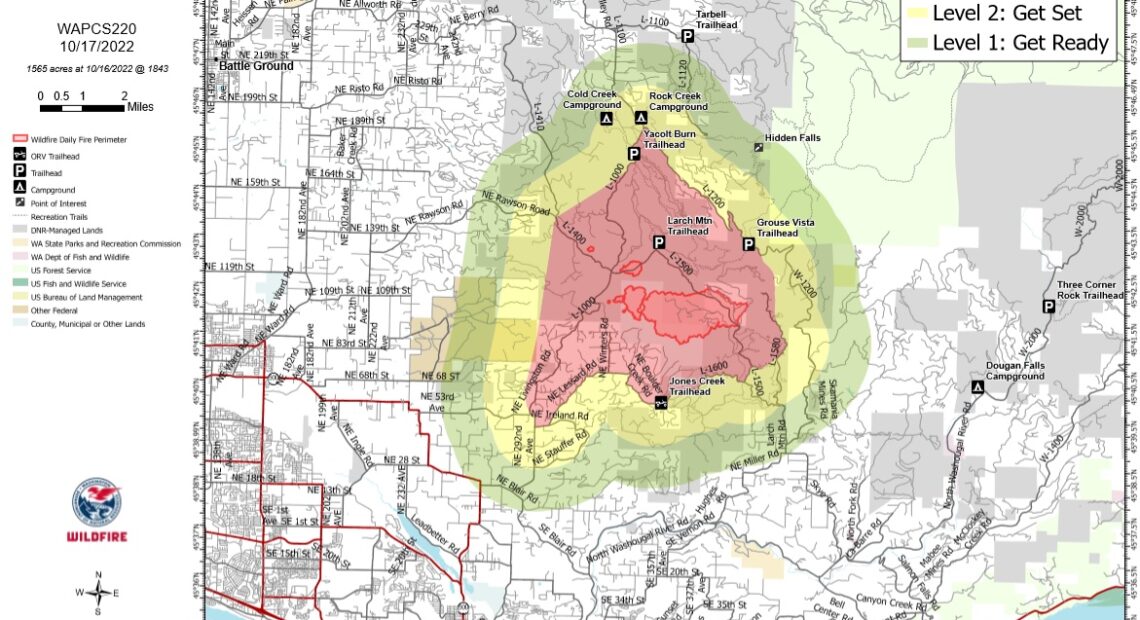 Nakia Creek fire grows to just under 1800 acres
Firefighting crews continue to build containment lines on the Nakia Creek fire, burning in southwestern Washington in Clark County.
More than 28,000 homes in Clark County are still under level three, or go now, evacuation orders, which haven't changed since Monday.
Moisture in the mornings has helped firefighters limit the blaze's growth, said Natalie Weber, public information officer for the Oregon Department of Forestry Incident Management Team Two. 
"Our first priority right now is containment. We want to keep this fire as small as possible," Weber said. "The first thing we need to do is build that perimeter around it to keep it at that size."
The fire has grown to just under 1,800 acres, which Weber said was expected as crews work to establish containment lines.
Fire activity crept along yesterday, Weber said. Moreover, crews didn't see running fires, which Weber said is a good thing.
However, the steep terrain could cause debris to fall on firefighters working downhill. Crews are taking precautions with these new hazards, Weber said.
In addition to the Clark County homes under go now evacuation orders, incarcerated people at the Larch Mountain Correctional Facility, which can house up to 240 men, were evacuated on Sunday to alternative Washington Department of Corrections facilities, according to the department's website. 
Staff at the facility worked with the Clark Regional Emergency Services Agency and Clark County to get everyone to safety on Sunday, said Rachel Ericson, deputy director of communications with the Washington State Department of Corrections. 
"The Larch Correction Center is still currently, and was being impacted by the nearby Nakia Creek wildfire in Clark County," Ericson said. "Incarcerated individuals from Larch Correction Center have since been safely evacuated to temporary alternate housing."
Until the county's emergency services agency says it is safe to return, Ericson said incarcerated people will stay in alternative facilities. Family members were notified of the evacuation, Ericson said. 
As fire fighting continues, crews hope they'll get some help from Mother Nature later in the week, Weber said.
"We do have some rain in the forecast, which is expected to come in Friday night," Weber said. "That will be a huge help to firefighters."