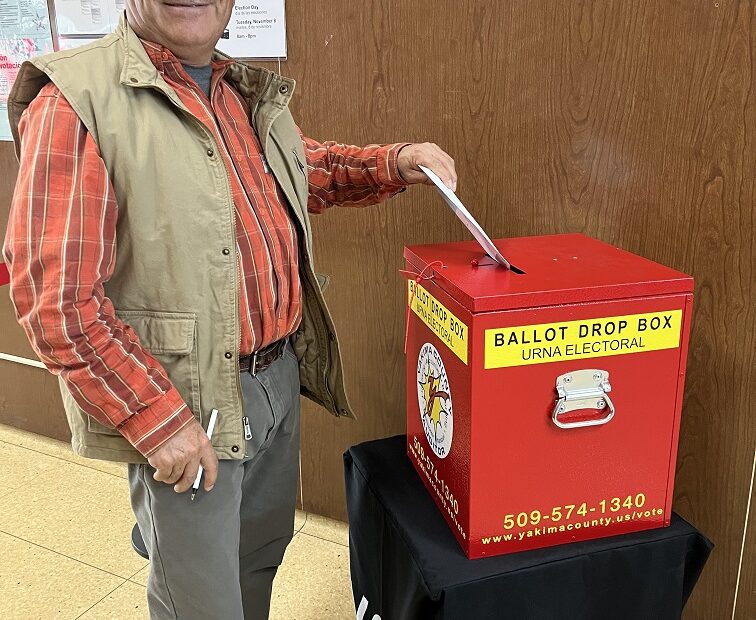 Becoming a new citizen and a first-time voter on the same day
Becoming a citizen and voting for the first time on the same day is unusual. But Gabriel Gomez of Yakima wasted no time exercising his new right to vote.
After 40 years of living in the U.S., Gomez received his naturalization certificate on Monday morning, Nov 7. Then he registered and voted at the elections office in Yakima.
"I was happy that the first day I received my citizenship certificate, I was able to vote," said Gomez in his native language, Spanish.
Bilingual Program Coordinator for the Yakima County Elections Office Martha Jimenez said, "It was really exciting to be able to take part in that."
Jimenez said this is the first time she's seen someone vote on the same day they received their citizenship.
"I stepped out with them and explained more about the election process alongside two staff members of La Casa Hogar, and he cast a ballot," Jimenez added.
Gomez studied for his citizenship test for five years before going to La Casa Hogar, right across the street from his home. The non-profit organization, which offers legal naturalization services, helped him with his application.
La Casa Hogar Citizenship Legal Services Director, Eilish Villa, said Gomez's case is unique. He was one of the few to receive his citizenship certificate quickly after approval.
"Sometimes they will give them a certificate the same day, or they'll have them come back," said Villa, adding that some people receive their certificate immediately, but many have to wait for their oath ceremony and must pick up their certificate a different day.
Villa also said that new citizens often prioritize ensuring they can travel outside the country.
"They become citizens, and the first thing they're worried about is not voting, but their passport," she said.
In Washington, voters can register to vote on election day. Also, there is nothing to restrict new citizens from voting on the day they receive their naturalization.
"In Washington, individuals have up until 8 pm on election day to go in person to an election's office, register, receive a ballot and cast their ballot. In Yakima County, voters can either go to our Yakima office or the satellite office in Sunnyside," Jimenez said.
Gomez said people who can become citizens should do it, so that more Hispanics can vote.
According to the University of Southern California, at least 184,000 people in Washington are eligible for naturalization. More than 12,000 live in Yakima County.