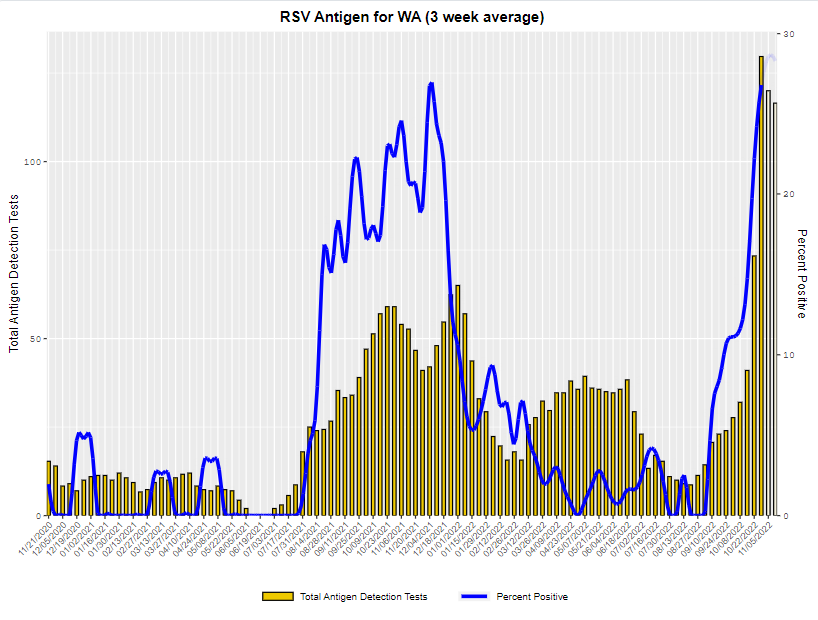 Experts urge public to get vaccinated as communities face respiratory triple threat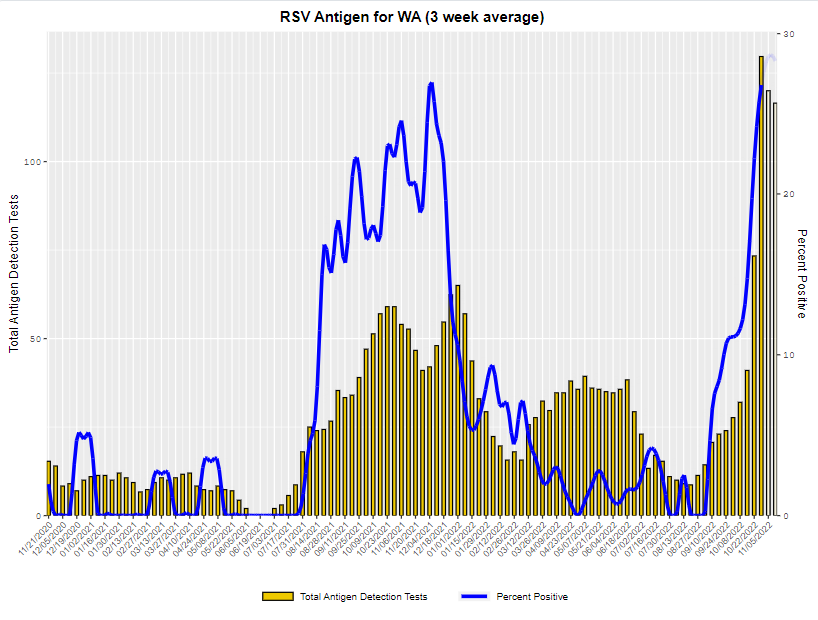 As the frequency of respiratory illnesses rise, more hospitals are filling up their pediatric beds.
According to healthdata.gov, November data showed 1,713 out of 1,990 total inpatient pediatric beds in Idaho are occupied. Washington had 9,078 out of a total 13,751 filled.
Both Washington and Idaho have seen a rise in cases of respiratory syncytial virus (RSV). Influenza activity is "moderate" in Idaho and Oregon, but "high" in Washington. COVID-19 transmission is either moderate or high in most of the Inland Northwest.
Those most at risk for hospitalization from RSV are children ages zero to 6 months, and especially those younger than two months old, said Dr. Summer Day, the pediatric medical director at Gritman Medical Center in Moscow, Idaho. RSV is also one of the most common reasons young children are hospitalized, though death is rare. 
"Avoiding the winter birthday party with your infant," that's a good idea, Day said. "But I still think choosing those social functions and other things in the winter that are important to you is still OK."
For most parents, Dr. Day said keeping children completely isolated won't be an option. She does recommend precautions like vaccinations, hand washing and masking in crowds to reduce risks.
"It is OK to have, you know, 2 to 6-month-olds in day cares," she said. "It's something that just has to happen in our society where people work, and parents should not feel bad or guilty about having their children in day care."
Some hypotheses have suggested that an "immunity debt" caused by lowered exposure from isolation and masking has led to an increase in hospitalizations. But Mike Larson, a nurse for Public Health — Idaho North Central District, said it's not clear if or how much masking and isolation might have affected children's immunity.
"Obviously, we're not going to recommend that people go out and intentionally expose their children to a known virus. RSV is going to be one of those illnesses that does circulate through schools, child care, all of those different types of places," he said. "I think people — children especially — were still exposed, especially the younger ones [who] quite often couldn't wear masks effectively."
Dr. Day says the timing for outbreaks have also changed during the pandemic, which could be why hospital beds are now filling up.
"RSV is a virus that is common and, even before the pandemic, was one of the leading causes of hospital stays for children under the age of 1," she said. "This year, and in the last year specifically, it's been coming earlier in the year and affecting more children all at once. So we're seeing a rise in hospital stays from RSV."
COVID-19 and influenza are also still a risk, and upcoming holiday travel is likely to increase their spread, said Whitman County Public Health Director Chris Skidmore.
"We have the students that go home for Thanksgiving and then also for Christmas. And those are two key time points where influenza is pretty active," he said. "There is some concern that they could drag it back with them, or … we could have an outbreak here, and they can all drag it home with them when they go home for the holidays."
Despite this respiratory triple threat, some places have actually seen a decrease in vaccination rates, seemingly because of increased vaccine hesitancy and misinformation during the pandemic, Skidmore said.
In Whitman county, a community health needs assessment found that vaccination rates for children 19 to 39 months decreased from about 80% coverage in June 2019 to 63% coverage in December 2021.
"We're seeing that in other age groups as well," he said. "The Washington state average is only a 5% decrease. So we saw about triple what the state average was in decrease of immunizations. So that's a bit of a concern."
Getting vaccinated for both the flu and COVID-19, including the updated bivalent booster shots, is one of the best things people can do to protect themselves and their families, Skidmore said.
People should also be avoiding large crowds if possible, and masking if crowds can't be avoided or if someone thinks they may be sick. Regular hand washing is also important, as RSV and many other illnesses can spread through both respiratory droplets and surface contact.
"Wash your hands; if you're ill, stay at home; if you have to go out, wear a mask; cover your cough when you cough," Larson said. "Even though it could be a minor illness for you, it could be a profoundly significant one for someone who was a little bit more challenged and had a lower immunity than you do."
If children do get sick, Dr. Day said a runny nose, congestion and sometimes a fever are normal symptoms of RSV. Parents should call their doctor if their child starts having more labored breathing.
"Kids are actually pretty good at telling us when they're sick," she said. "They might start looking like they're having labored breathing or working harder to breathe. And most babies under 1 will tell us they are in trouble because they won't eat very well. So they're normally breastfeeding or bottle feeding, and then they stop doing that. And those are the times to call your doctor."
Sun may be contacted at [email protected] or on Twitter at @Rachel_M_Sun. This report is made possible by the Lewis-Clark Valley Healthcare Foundation in partnership with Northwest Public Broadcasting, the Lewiston Tribune and the Moscow-Pullman Daily New