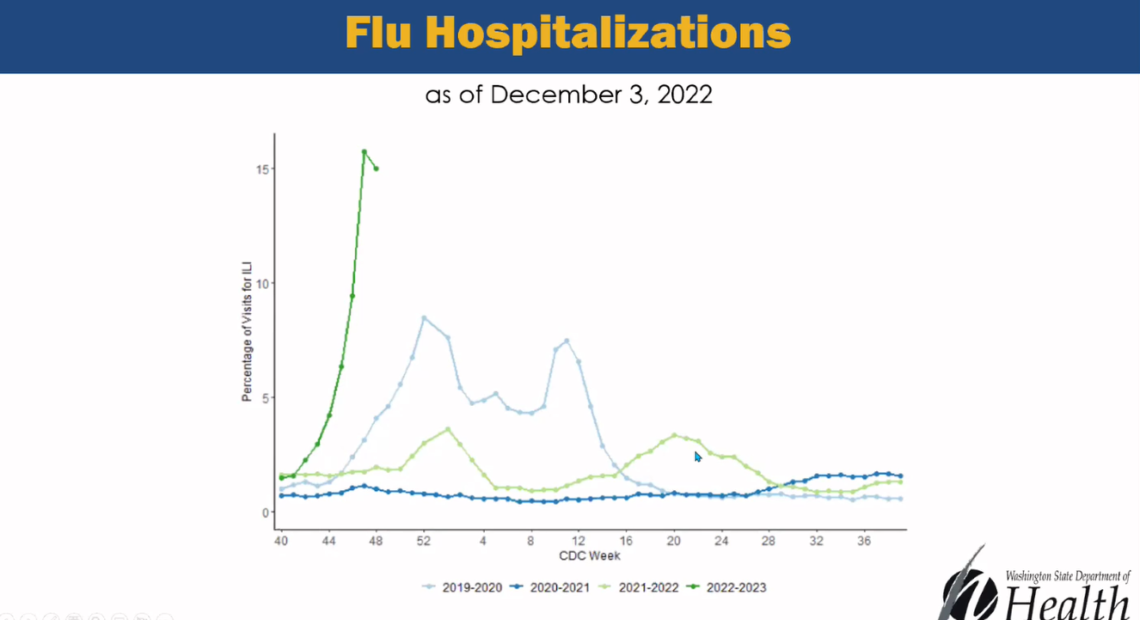 Health department: 'Now is the time to get vaccinated'
Officials at the Washington State Department of Health urge the public to get their updated COVID-19 bivalent booster shots and influenza vaccines as soon as possible. 
Dr. Tao Sheng Kwan-Gett, chief science officer at the department, said in a Tuesday news conference the state has seen an increase in hospitalizations in recent weeks related to respiratory viruses including influenza, RSV and COVID-19. 
"It's really important not to let our guard down, especially as people prepare for celebrations and prepare to travel to spend time with family and loved ones during the holiday season," he said.
Although RSV cases, which are usually most dangerous for children and elderly patients, seem to have peaked, influenza is still on the rise. COVID-19 also is still present in communities.
Lacy M. Fehrenbach, chief of prevention, safety and health the department, said both pediatric and adult care patients feel the strain on health care providers. That strain led to more patient transfers.
"The strain on the health care system is real," she said. "(It) has been driven by pediatrics up until recently. There's now a lot of strain even in the adult system as well. And we're seeing that in terms of wait lists for people to be admitted."
Currently, overall influenza vaccination rates are slightly higher than last year and continuing to grow, said Michele Roberts, assistant secretary for prevention and community health at the department.
However, most of that increase is because of higher vaccination rates in people 65 and older, she said. Children 6 months through 4 years and 5 to 12 years old had a lower vaccine rate than previous years in the state.
"We're really concerned about these gaps we're seeing in different age groups," she said. "We've got significant disparities between the different ages."
Just across the border in Idaho, Moscow Middle School closed for a long weekend on Dec. 9 because of 30% of its student body stayed home sick. School officials said most parents reported flu-like symptoms. 
Washington has 26 lab-confirmed flu deaths so far for the 2022-2023 season, including three children.
"The figure is likely an undercount, because each year many flu deaths in the elderly go unreported," Sheng Kwan-Gett said. "But it's important to remember that people of all ages can get the flu and chronic conditions, as well as not being vaccinated, puts you at higher risk for severe illness."
The current vaccines offer good protection for the dominant strain of Influenza A that's circulating. However, it does take roughly two weeks to see maximum protection from the flu vaccine, Roberts said.
"As you're considering your holiday plans, put getting your flu shot on the list," she said. "It's completely safe to receive your seasonal flu shot and your COVID-19 vaccine dose at the same time."
Health officials also have seen a similar disparity in vaccine rates in children for the updated bivalent COVID-19 boosters. 
Though roughly 80% of Washington residents have gotten at least one dose of a COVID-19 vaccine, which is higher than most states, only 27% of the eligible population has received any dose of an updated COVID-19 booster, Roberts said. That number is even lower in children.
"Only about 18% of children aged 5 to 11 have received the updated booster," she said. "We cannot stress enough how vital it is right now to insure the children in your life, and everybody in your life, have this crucial protection against serious illness, hospitalization or death."
Most people who've received their primary COVID-19 vaccines, including children 6 months or older, are eligible for a booster shot, with some changes in guidelines unique to children. 
Health officials also are recommending masking in crowded or confined settings and frequent hand-washing or use or hand sanitizer. There is no plan for a mask mandate, said Umair A. Shah, department secretary of health.
Officials also recommend people use at-home COVID-19 tests when they feel sick, before and after traveling, and before gathering in large groups, especially if it includes people at a higher risk for serious illness. Parents may also now use at-home tests for children 2 years and younger.
Doctors recommend frequent testing for people who may be at a higher risk for serious complications from a respiratory illness. Washington residents can get up to 10 COVID-19 tests per month through Dec. 31 at sayyescovidhometest.org. Starting Jan. 1, the program will ramp down to five tests per month.
As of Thursday, the public can order free at-home COVID-19 tests through the mail at COVID.gov/tests. In Idaho, residents can find COVID-19 testing locator at healthandwelfare.idaho.gov/find-covid-19-testing-locations. A COVID-19 therapeutics locator is available at covid-19-therapeutics-locator-dhhs.hub.arcgis.com.
If people need to purchase tests, most insurers are required to cover eight home tests per covered member per month.
Children's COVID-19 bivalent booster guide
Children ages 6 months through 5 years who received the original (monovalent) Modern COVID-19 vaccine are now eligible to receive an updated (bivalent) booster two months after completing the primary series.

The Pfizer COVID-19 vaccine for children 6 months to 4 years will now include two monovalent Pfizer doses, and one bivalent Pfizer dose. 
Children 6 months to 4 years who already completed the previously authorized three-dose primary Pfizer series are the one group that is not eligible for additional booster doses at this time. 

Children aged 6 months to 4 years who have

not

begun the previously authorized three-dose primary Pfizer series, and who have not received the third dose of their primary series, will now receive an

updated

Pfizer series with the new COVID Booster.