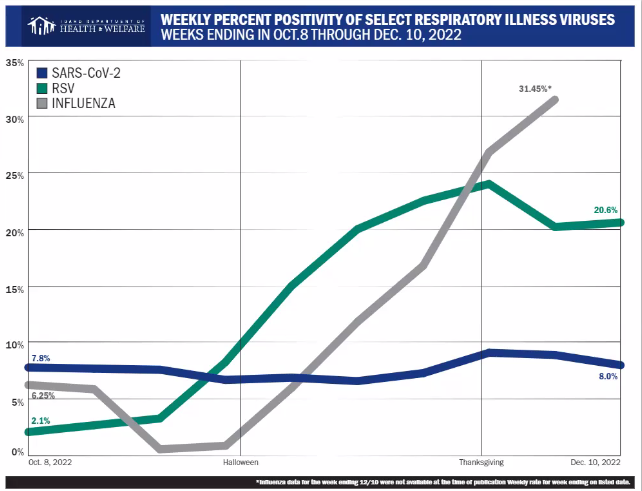 Some hospitals in contingency operations, pediatric units rationing drugs
Idaho's hospitals are feeling the strain from the "tripledemic" of RSV, flu and COVID-19, officials said in a press conference Thursday.
Dr. Jim Souza, chief physician executive at St. Luke's Health System in Boise, said St. Luke's providers moved to a contingency level of care, and patients will likely wait longer for treatment or hospital beds.
In the pediatric wards, Souza said, the hospital had to cancel elective surgeries, move some bigger children to adult ICUs, manage some children at home with oxygen and oximeters, and ration several types of drugs. Those drugs aren't being withheld when necessary, he said, but doctors are asked to look into alternative options when possible.
"It just blows me away that we're struggling with things like this, but (we're low on) children's liquid Tylenol, ibuprofen, amoxicillin, augmentin, albuterol, and a handful of antibiotics," he said. "I mean, these are common drugs."
Both adult and pediatric wards are feeling the strain from an upswing in influenza cases, said Kathryn Turner, deputy state epidemiologist. Meanwhile, RSV cases, which began rising earlier in the year than usual and are most dangerous for young children, have slightly plateaued since last month. However, they still remain high at roughly 20%.
"It's great that it isn't increasing rapidly," she said. "But at 20%, it does indicate there's pretty substantial virus circulation at this time."
Since November, hospital admissions of patients with confirmed influenza increased by roughly 100 fold, and admissions for patients with COVID-19 increased by roughly 70%. 
Souza said for St. Luke's, as well as many other hospitals across the state and the country, patient volumes have been higher than average since the spring.
"This isn't just our issue," he said. "Hospital census across the Pacific Northwest has been at or near capacity over this same period of time. And over the past few months, our health system has had transfers in from as far away as Sitka, Alaska — multiple from there — from the Oregon coast and from Northern California."
Hospitals are also strained due to an increase in patients with substance use disorder and withdrawal, as well as behavioral health diagnosis as either primary or secondary diagnoses from the pandemic, Souza said.
"It's a pretty well known fact that alcohol use, for example, went up in a very significant and very unhealthy way during the pandemic, and it doesn't appear to be coming back down," he said. "So all of these things are driving basically a capacity that's closer to the top."
Although hospitals are not yet enacting crisis standards of care, it is possible that could be necessary, said Idaho Health and Welfare Director Dave Jeppesen. 
"It's not quite (crisis standards), but we're doing things that are not normal. And that always puts us at risk," he said. "We hope we don't, but we're prepared to act if we do (see a surge in hospitalizations)."
Elke Shaw-Tulloch, administrator for the Division of Public Health, said it's important everyone 6 months and older get vaccinated for influenza and COVID-19, which will help protect from serious illness. She said it's also important to wear well-fitting face masks to prevent spreading any of the three respiratory viruses in crowded indoor areas.
"And those who are eligible for an updated COVID-19 booster should get it," she said. "It's not too late."
People should stay home if they're sick, even if they don't feel bad, said Dr. Christine Hahn, Idaho state epidemiologist. They should also wash their hands frequently. 
Testing for COVID-19 is also valuable for people to know if they're sick before exposing others, she said, and for high-risk patients to know if they should seek antiviral treatment.
"These medicines work best if they're taken early in the course of illness," she said. "So if you wait too long, you wait till it gets too bad, too severe, you've been coughing for a couple of weeks, by then those medicines will not be effective. So that's why we're emphasizing early and quick treatment."
People at high risk for developing serious complications from COVID-19 or influenza include people with chronic obstructive pulmonary disease, heart disease, asthma, diabetes or obesity. It also includes people who have a weakened immune system from things like cancer treatment or people who are pregnant.
As of Thursday, the public can again order free at-home COVID-19 tests through the mail at COVID.gov/tests. There is also a COVID-19 testing locator at healthandwelfare.idaho.gov/find-covid-19-testing-locations and a COVID-19 therapeutics locator at covid-19-therapeutics-locator-dhhs.hub.arcgis.com.
This report is made possible by the Lewis-Clark Valley Healthcare Foundation in partnership with Northwest Public Broadcasting, the Lewiston Tribune and the Moscow-Pullman Daily News.