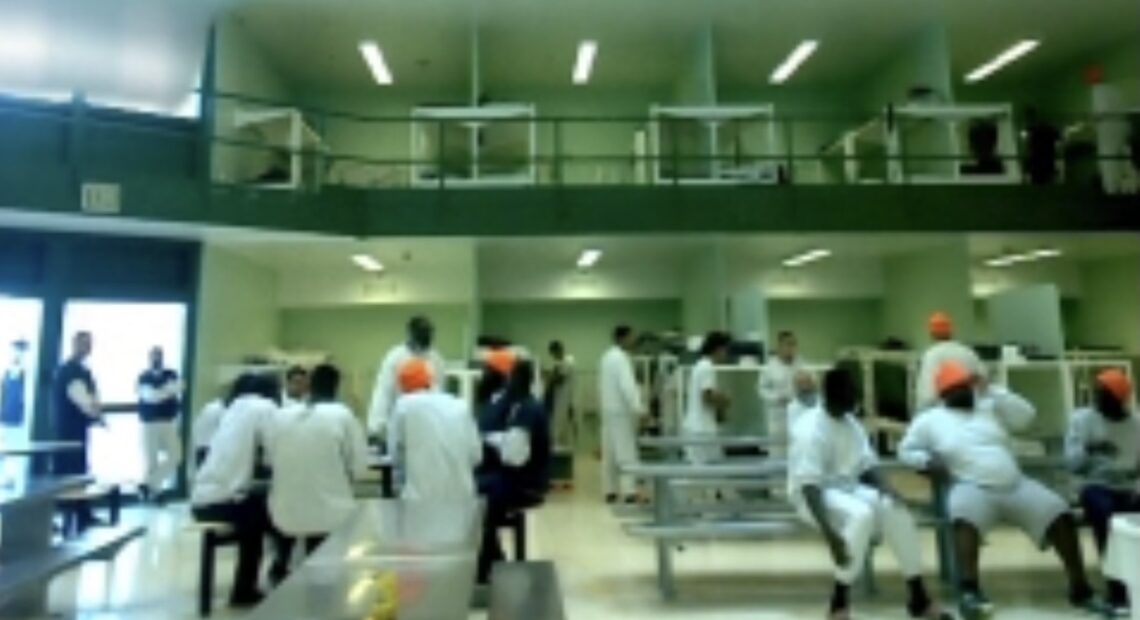 Washington bill seeks to regulate solitary confinement
Maria Leónides Pérez's son, Santiago Ortuno Pérez, has been detained in the Northwest ICE Processing Center, also known as the Northwest Detention Center, in Tacoma for a little more than three years.
During his time in detention, Ortuno Pérez has spent at least 10 months in segregation from the general population. During a Jan. 5 call he had with Maru Mora-Villalpando, with the immigrant advocacy group La Resistenica, he said he'd been in segregation for 51 days.
Leónides Pérez spoke with her son at the end of November.
"Porque a él ahorita está en el hoyo voluntariamente," Leónides Pérez said in Spanish. "Porque él no quiso estar cerca de las demás personas."
Mora-Villalpando translated to English, "He's in solitary confinement voluntarily because he didn't want to be close to other people."

He fears he will get sick with COVID, so he's chosen to isolate himself from others. 
Ortuno Pérez is not the only detainee who has chosen to go into segregation because of fears of catching COVID, Mora-Villalpando said.
But that's not the only reason people are in segregation at the facility. Being placed in isolation at the detention center can happen voluntarily or involuntarily.
Detainees have to submit a verbal or written grievance to be moved to a segregation unit away from the general population, Mora-Villalpando said. Immigration and Customs Enforcement, or ICE, has procedures for Special Management Units at its facilities. 
Katherine Niall, with the immigrant advocacy group AID Northwest, said she knows of a handful of people who have chosen to go into segregation while detained at the center.
"They get tired of the drama and decide that they want to be up by themselves or be alone," Niall said.
Spending time in isolation takes a toll on people, and advocates worry it's not really a choice for people like Ortuno Pérez if the health conditions are bad enough to force him into isolation.

Leónides Pérez said her son said there are so many people in his unit that it's difficult to sleep, and many people stay up through the night talking. In isolation, at least there's quiet.
The Northwest Detention Center has a reputation for detaining people in segregation from the general population for a long time.
Two years ago, the University of Washington Center for Human Rights analyzed ICE's own data on solitary confinement at the Northwest Detention Center.

The analysis raised concerns about the use of solitary confinement there, including that the center detains people longer in segregation than any other detention center in the nation.
According to the report, time in solitary confinement averaged 70 days at the center. The national average at detention facilities during the analysis time period was 30 days.
The United Nations has declared 15 consecutive days or more of solitary confinement as prolonged, which it prohibits and defines as torturous, in its "Standard Minimum Rules for the Treatment of Prisoners." 
Lawmakers are reintroducing legislation in Washington state this upcoming session that seeks to regulate how solitary confinement is used at state correctional facilities, and now, at immigration detention centers, like the Northwest Detention Center. The legislation would ensure oversight and limits on how much time someone can spend in isolation.

Right now, there's no legislation regulating the use of solitary confinement in Washington. Some lawmakers here are trying to change that.
In the 2022 legislative session, Rep. Strom Peterson, D-Edmonds, was the primary sponsor of a bill that would have placed restrictions on solitary confinement in the state's correctional facilities.
"The effects of solitary confinement have long term serious long term effects on people's mental health," Peterson said. "To me, the basic humanity is really the driving force behind why I've been working on this bill because it is just an inhumane treatment of people."
Washington isn't the only state attempting to change solitary confinement procedures. In 2019, New Jersey passed legislation that prohibits an inmate remaining in solitary confinement for more than 20 consecutive days.
In 2021, New York passed a law restricting solitary confinement to no more than 15 consecutive days. 
But both those pieces of legislation govern state and local facilities. Not federal facilities.
Gov. Gavin Newsom, D-California, vetoed legislation in September that would have restricted solitary confinement to 15 days in all prisons, jails and immigration detention facilities. At the time, Newsom said the restrictions were overly broad and could result in risks to inmate and staff safety.
In Washington, Peterson's proposed bill would be similar to the bill Newsom vetoed in California, but Peterson said he's confident that if he can get the bill through the house and senate, it would have the support of Democratic Gov. Jay Inslee. 
In addition, Peterson said putting restrictions on solitary confinement could make correctional facilities safer for everyone. 
"Solitary confinement makes for a much more volatile workplace or prison system," Peterson said. "People that ultimately come out of solitary confinement tend to be much more volatile because of that isolation. So it's kind of helping to reduce the incidences of violence within the prisons." 
The Washington State Department of Corrections said it will not comment on pending legislation for ethical and lobbying reasons. 
If this legislation passes, there's some confusion over what its impact would be on a facility like the Northwest Detention Center, since it is a private entity, contracted to a federal agency. 
The Northwest Detention Center is run by the private company GEO Group, which contracts with ICE. Washington state has passed legislation to outlaw private detention in the state, but similar legislation in California was recently overturned by the United States Court of Appeals for the Ninth Circuit. This could impact the facility's scheduled closing in 2025. 
In response to an interview request, a GEO Group spokesperson said in an emailed statement that all ICE Processing Centers have performance-based national detention standards, which include solitary confinement, or "special management units" that house segregated detainees.
"Under no circumstances is assignment in a special management unit used in a retaliatory manner or without careful adherence to the performance-based national detention standards and their ICE notification procedures," spokesperson Christopher Ferreira wrote. "As a service provider to a federal agency, GEO is required to meet DHS policies and standards and plays no role in creating them."
According to the GEO Group, ultimately, it's the federal agency that has discretion over their facilities. And, ICE does not  use the term "solitary confinement" for the practice at its detention facilities and instead uses the terms "administrative segregation," and "disciplinary segregation." 
Whatever you call it, advocates argue it's the same practice.
Angelia Godoy, senior director of the UW Center for Human Rights, published the 2020 report. She said the experiences of previously detained people who talked to the researchers matched the definition of solitary confinement.
"It's not unusual that they [ICE] prefer a term that sounds more sanitized," Godoy said. "But the term that I think you and I, and most people, understand is solitary confinement. And so we're trying to speak in plain language."
It's not just advocates raising concerns over ICE's use of segregation at immigrant detention facilities. 
The Office of the Inspector General and the United States Government Accountability Office published separate reports one year apart, highlighting problems with segregation at immigration detention facilities.
The Office of the Inspector General released its report in October 2021, issuing three recommendations to ICE to improve oversight of the use of segregation at its facilities. The report found there was not enough transparency over the use of segregation and that there was limited federal regulation for its use. ICE concurred with the recommendations.
In October 2022, the United States Government Accountability Office published a report that analyzed data from fiscal years 2017-2021. The report cites similar concerns with a lack of oversight in reporting the circumstances that led to someone's placement in segregation and a lack of documentation of vulnerable people's placements in segregation. The Department of Homeland Security, which oversees ICE, concurred with these recommendations and said it was in the process of implementing changes that would address the concerns.
ICE directed NWPB to the reports in response to requests for comments on the progress of these changes.
As the 2023 regular session draws closer, Peterson has amended his previous bill.
He said he amended the bill after consulting with the Washington Department of Corrections and advocacy groups. He said he's seen a growing coalition of groups like the League of Women Voters to people from faith communities uniting around this issue. 
"Anytime that that starts to build, I get a little more excited about the opportunities," Peterson said.
After conferring with activists, Peterson said he decided to amend this 2023 bill to apply to immigrant detention centers.
"We're still in the drafting phase," Peterson said. "Basically, it will say … if this is our policy as a state,  the detention center would have to follow our state policy."
Peterson acknowledged there may be some constitutional challenges to that point.
In addition to restricting how long someone can be held in solitary confinement, the bill also would require that people held in isolation would be properly evaluated for mental and physical health concerns while they're in solitary confinement. It also would require timely investigations into incidents that may have caused someone to be moved to isolation. 
The 2023 regular legislative session begins Jan. 9 and will last 105 days.