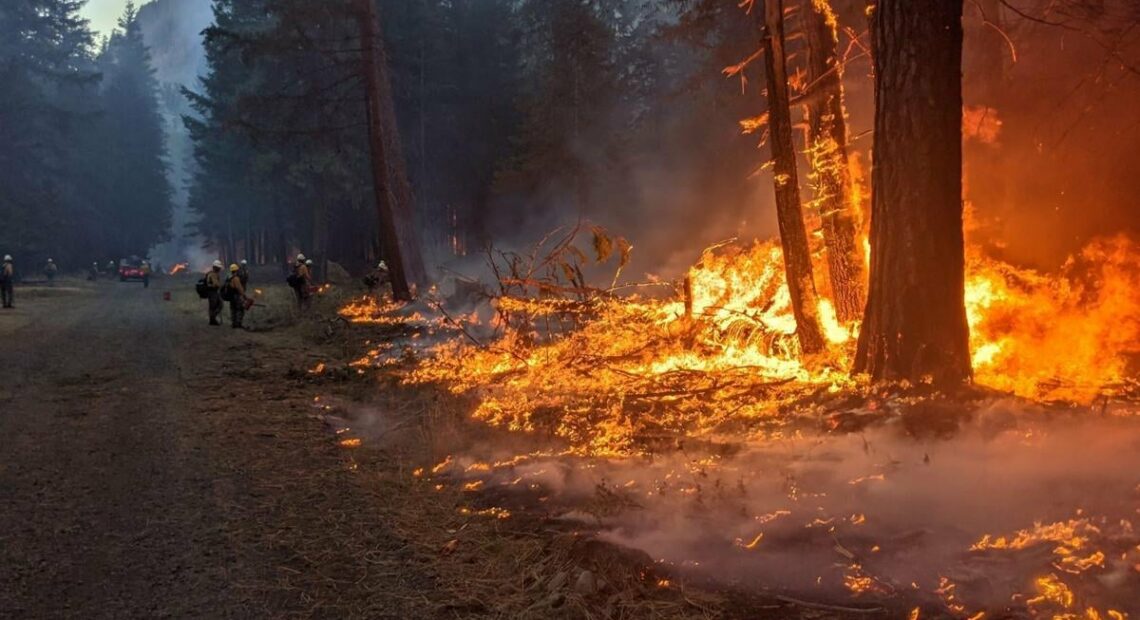 Federal government allocates over $6 billion to wildfire technology and management
Lawmakers are allocating over $6 billion this fiscal year to support the Department of the Interior and the United States Forest Service in wildfire response.
It's an increase of 14% from last year's funding, and will support wildfire suppression, operations and a new research hub to aid fire management. The forest service will see an increase of $576 million this fiscal year in available funding for wildfire response.
Jon McMillan, director of the office of communications and community engagement for the U.S. Forest Service Pacific Northwest Region, says the funding addresses the complex, extended wildfire years the agency responds to.
Right now, it's hard to get a granular accounting of how each state and county will benefit from the funding, beyond the broader net of support coming from the big arm of the feds. But, Washington state Commissioner of Public Lands, Hilary Franz, is hopeful that the federal appropriations will have an impact in the Evergreen state.
Washington, like other states, relies on federal response to wildfires. As wildfires increase, Franz says states are forced to compete for federal resources.
"So these investments, I can't say enough how critical they are," Franz said
The U.S. Forest Service is getting $913 million for maintaining, training and recruiting federal wildland firefighters and support staff.
Rising Intensity
The toxic pairing of warmer, drier weather and unhealthy forests in the past decade brought about a perfect storm for more intense wildfires and fire seasons that last longer. States are adding restorative and preventative measures to their toolboxes, like prescribed burns, to keep forests green and growing.
In Washington, Franz is focused on repairing forest health to try and get on top of wildfires amidst a changing climate. The state's federal lands are where a majority of the forest health crisis lies, Franz says.
"Those federal lands have seen a lot of challenges with [the] increasing dying off of forests, and then obviously increasingly catastrophic fires," she said.
Facing the Challenge
Through the state's 20-year forest health strategy, Washington has committed to restore 1.25 million acres of forest land, 525,000 of which is federal. The Washington Department of Natural Resources is working with the U.S. Forest Service to complete forest health work on federal lands.
"We are actually one of the largest state, federal lands forest health programs in the country," Franz said.
Through House Bill 1168, signed into law in 2021, the legislature dedicated $500 million for forest health and firefighting on state and tribal lands over the next eight years.
Washington state has also worked to minimize wildfire risks through separate budgeting for mitigation efforts, something a recent report on wildfire funding by the Pew Charitable Trusts highlighted as important to adequately address the issue.
Last year, Washington enjoyed its least-destructive fire season in a decade — only 140,300 acres burned, in comparison to 2021's record-breaking 679,761 acres. Still, the Bolt Creek Fire in King and Snohomish counties gave Seattle the worst air quality in the world last fall.
What Comes Next
Receiving monetary commitments from the federal level to support the work means all lands in Washington are better prepared to prevent fire, Franz said.
The omnibus appropriations include $7 million that will be used to develop a fire weather research program through the National Oceanic and Atmospheric Administration (NOAA.)
Daniel Nietfeld is with the Global Systems Laboratory in Boulder, Colorado. He says he hopes this hub of research will help incident commanders and emergency responders make informed decisions about evacuations and how to deploy resources, with the help of calculated predictions about fire and smoke behavior.
"We know that they get a lot of their information from weather forecasters," Nietfeld said. "Our goal then is also to make sure that the weather forecasters have the tools, applications, again, the information that they need to provide that."
Nietfeld says with a changing climate and growing population, the issue of wildfires is more pressing than ever.
"We are seeing these really long drought periods where we just have environmental conditions that are really conducive for fires," Nietfeld said. "We have subdivisions and cities that are really expanding into the forest areas more now than they had before, just because of population growth."
Predicting not just where a fire might spread, but where the smoke from it will settle, will also be a key part of the technology– an important tool for creating healthier communities.
"There is a big impact on people's health when they have to breathe in smoke for days and days," he said.
Nietfeld says the fire technology can also be used in prevention efforts, to predict weather for optimal times to conduct prescribed burns.
The research facility will be located in Boulder, but most users will access it virtually–helpful when fighting fires 1,200 miles away in the Methow Valley.