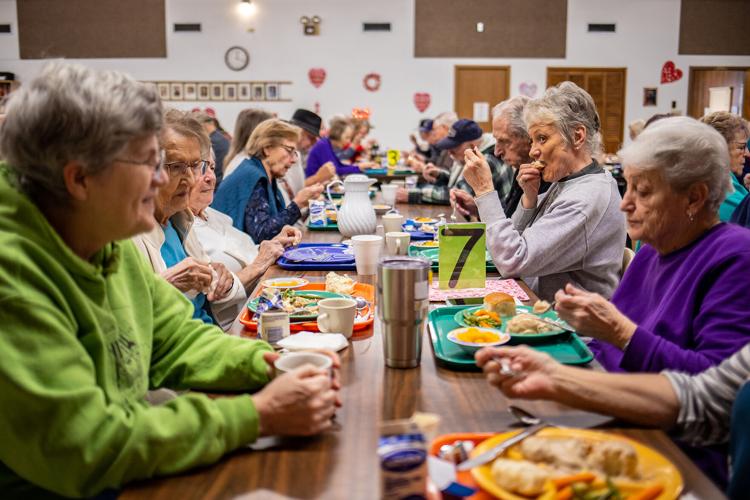 'The Florida of the Northwest': Lewiston-Clarkston Valley is one of the region's oldest population centers
It might not be balmy or strewn with palm trees, but there is one thing the Lewiston-Clarkston Valley has in common with Florida: Seniors account for roughly 20% of its residents.
According to a census analysis by Interlink Inc., a Clarkston nonprofit organization, the valley is the oldest population center of all communities over 50,000 in Washington, Oregon, Idaho or Montana.
As of 2020, people 65 and older accounted for 23.3% of Asotin County residents and 19.8% of Nez Perce County residents. By comparison, seniors accounted for just 15.9% of the entire state of Washington and 15.4% of Idaho.
A growing cohort
For years, the warm weather, low cost of living and access to health care and recreation has drawn retirees to Lewiston and Clarkston. But the community isn't just old — it's going to get older. Age groups between 45 and 64 accounted for another 25.6% of Nez Perce County and 26.6% of Asotin County.
If trends continue as they are, one in three adults will be seniors by 2040, said Mark M. Havens, executive director of Interlink, which provides volunteer transportation, minor home modifications and ramps to help people stay independent.
"I consider this the most consequential thing that the valley is going to have to deal with, because of its certainty," he said. "This is definite, and this is determinative. And that's why we want the community and community leaders to pay attention to it."
Without planning ahead of time, Havens said, organizations that serve senior populations, including Interlink, won't be able to keep up with their needs. The people he's recruiting to design the future of senior living for the valley? They are the same people who will be retired in 20 years.
"The ideal group of people to talk about is in that cohort, 45 to 64," he said. "And to ask them, 'Within 20 years, you'll be retired — what do you want the community to look like? What services and resources do you want to have when you are a retiree?' Let's start planning for them now.'"
Health services, transportation
One need that's expected to grow with the L-C Valley's aging population is health care. Hospitals and other health care facilities already struggle to hire and retain staff, said Ashley Contreras-France, director of business development at Elite Home Health & Hospice. Her own agency has been trying to hire a palliative care nurse for roughly seven months.
"We haven't had interest in it. We are having to recruit from outside of the community to try to make it an option for somebody that is desirable for them to move into the community," she said. "And that has been a challenge."
Contreras-France said although her company has tried incentives like loan forgiveness and sign-on bonuses, it's still hard to find employees. As the population ages, she said, employers may need to look beyond the jobs they're offering to things that will entice a younger workforce.
"What's enticing? Do we have housing? Do we have activities?" she said. "You know, what is bringing somebody in there? And I think it's a much bigger picture than just, 'Do we have a job [for them]?'"
Some seniors Contreras-France works with through Elite's home care service have already faced difficulty accessing specialty care. In one case, she said, several seniors were in need of care only one specialist in the valley could provide. Those individuals had to transfer out of state because the provider was off — having already put in a seven-day workweek.
Part of the hiring problem may also be that roughly two-thirds of high school graduates leave the area, Havens said. However, those residents aren't leaving right after high school.
"The exodus is in their 30s and 40s," he said. "Probably better job opportunities. They leave the valley, and they don't come back. … [So] how do we retain more of our own graduates who are from here, and they know the community?"
Bethany Enter, account executive for St. Joseph Family Hospice, said she believes the community will need to emphasize health and wellness programs for seniors, as well as educational resources on issues like exercise and nutrition.
"The focus needs to turn, especially in our health care agencies, on preventative medicine, on how to allow people to stay healthier longer, stay active longer," she said. "If there's one truth I've learned in my time in health care, it's that when the body stops moving, it stops wanting to work."
Part of that wellness emphasis needs to include mental health, Havens said, including more opportunities to socialize through volunteering.
Transportation is also important for elders to access health care, Contreras-France said. Although the valley has some limited public transit and ride services, including Interlink, there isn't always enough available.
"It's limited, and for some people it's not timely enough," she said. "Maybe you're able to get into your doctor's [office] tomorrow. Well, that doesn't give the ride service enough time. And there isn't a lot available to get you to that appointment."
Housing needs
In the coming years, more seniors will need access to housing that's affordable and suits their needs, said Loren Beauchamp, the operations manager and volunteer recruiter who collected the data in the Interlink study.
Many seniors live in housing that isn't accessible for people with disabilities or mobility issues, Beauchamp said. Others live in homes too large and difficult for them to maintain.
Building affordable housing for seniors could also benefit the whole community, Beauchamp said.
"If we build seniors-specific housing, that will free up homes for younger people to live in," he said. "The homes will be designed for safety. Not a ton of stairs, low yard maintenance. And if all the money and partners came to the table, you could have many assistant services on site."
Looking for solutions
Havens said the community still needs to figure out how it will address the needs of a growing senior population. Interlink has hosted several "Senior Summits" to kickstart that process, with a fourth scheduled for February. Those meetings are invite-only, but individuals who wish to attend can contact Interlink.
Adding specialized food deliveries, home modifications like ramps, and increased transit will all be necessary as the population ages, Contreras-France said.
Enter from St. Joseph Family Hospice said she'd like to see more opportunities for seniors to get involved in their community and improve their emotional and physical wellness. For that to happen, she said, leaders need to plan now.
"This little term that Mark [Havens] had coined was, 'Planning is an act of love,'" she said. "Old age [is] inevitable — for all of us lucky ones, of course. We do a disservice to ourselves and our family members if we don't plan for that. As a community and as a city, we do a disservice to our community if we don't plan and start planning now."
Sun may be contacted at [email protected] or on Twitter at @Rachel_M_Sun. This report is made possible by the Lewis-Clark Valley Healthcare Foundation in partnership with Northwest Public Broadcasting, the Lewiston Tribune and the Moscow-Pullman Daily News.