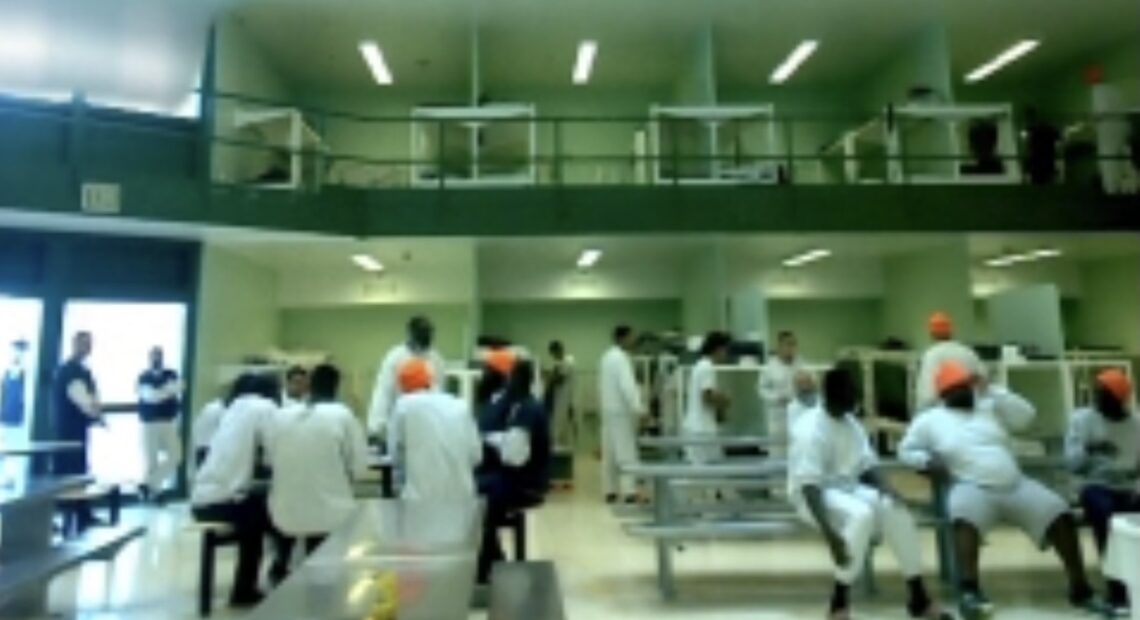 Obtained documents reveal years of unsanitary conditions at the Northwest Detention Center
Correction, Feb. 15: The original audio version of this story did not include a statement from GEO Group. The print version has been updated to include a response from a GEO spokesperson. 

Over 100 people participated in a hunger strike last week at the Northwest ICE Processing Center in Tacoma, known colloquially as the Northwest Detention Center.
The strike ended on Feb. 5 after four days, according to detention abolitionist group, La Resistencia.
Maru Mora-Villalpando of La Resistencia said worsening conditions, including delayed meals, higher commissary prices, and dirty clothing and living spaces spurred the strike.
"We knew that this would happen sooner or later because things just keep worsening in the detention center," Mora-Villalpando said.
Both Mora-Villalpando and Katherine Niall of Advocates for Immigrants in Detention Northwest, another nonprofit helping those detained and those formerly detained at the Northwest Detention Center, said they were told pepper spray was released inside the facility. Sources inside the facility said officials retaliated against hunger strikers.
Strikers sought improved cleaning, including clothing and bedding, and better medical treatment. These demands are some of the same demands voiced by previous hunger strikers at the detention center.
The University of Washington Center for Human Rights recently obtained correspondence between ICE officials describing similar issues dating back to 2018. The Center for Human Rights obtained these documents through a Freedom of Information Act (FOIA) request and subsequent lawsuit, and published a summary of the findings last week.
GEO Group is a private company that owns and operates the Northwest ICE Processing Center. In the obtained emails, ICE officials mention GEO's duty to fulfill its contract obligations for hygienic conditions in the facility.
"One of the key demands of the hunger strikers is around cleanliness," said Angelina Godoy, director of the University of Washington Center for Human Rights. "This is not a new demand. It's been made for years, and these emails specifically show that it's also a demand of ICE employees working within the facility."
The emails detail a number of sanitation concerns in the Northwest Detention Center, such as full trash cans and unsanitary bathrooms. ICE employees noted a lack of janitorial services and questioned if they needed to contact the local health department to motivate GEO to comply.
ICE has denied sanitation concerns at the Northwest Detention Center previously, Godoy said. These documents give additional credence to what people who were or are detained there have been reporting for years, Godoy said.
"All this time when folks who are detained have been saying cleanliness is a problem inside the facility, ICE and GEO have maintained this public stance that, 'No, this is a top notch facility, it's subject to the highest standards,'" Godoy said. 
Behind the scenes, Godoy said ICE was complaining to GEO about conditions of cleanliness within the facility for three years. 
The concerns are specific to areas where ICE employees work in the Northwest Detention Center, such as the break room, but also medical facilities within the building, where detainees may seek care.
One email sent in May 2019 stated, "Unfortunately it doesn't appear that the medical rooms in [Mental Health] intake have been addressed yet […] It also looks like exam #4 and the breakroom are in pretty bad shape for an inspection on Tuesday."
The concerns equate to an unsanitary working environment, Godoy said.
"One can only imagine what that means for an environment in which somebody lives or seeks medical care," Godoy said.
While the complaints persisted for a number of years, Godoy said it appears that ICE never took any repercussions against GEO. In November 2019, ICE issued a Contract Discrepancy Report to GEO for its failure to carry out janitorial services, which included evidence of maintenance failures over three years.
The report threatened to dock 20% of the monthly payment to GEO until the situation was addressed, but, according to Godoy and the Center for Human Rights, no such action was taken. 
The documents the Center for Human Rights requested through the FOIA would have included information on whether ICE had docked pay to GEO. The documents do not show that, Godoy said.
"The fact that there are no records that speak to any kind of accountability for GEO, despite three years of cleanliness problems, suggests that, again, very little if anything is being done to enforce the terms of the contract," Godoy said.
A GEO spokesperson issued a statement rejecting the report's allegations, writing, "It is also critical to note, as it relates to sanitation at the [Northwest Detention] Center, that the Voluntary Work Program was suspended by ICE as a result of litigation brought, in part, by the state Attorney General's Office. While that litigation remains on appeal, and the program remains suspended, we have taken all necessary actions to ensure that facility sanitation levels quality are maintained at the facility in accordance with all applicable federal sanitation standards, including the federal government's Performance-Based National Detention Standards.

GEO had employed a voluntary work program for detainees, but in 2021, a federal jury ruled the company had to pay formerly detained people over $17.3 million in back pay for failing to comply with minimum wage requirements for the program. Since then, the work program has ceased and people in detention said cleaning has lacked.
In another email from April 2018, the sender wrote, "I am happy to contact the health department if you think that will cause GEO to provide the required janitorial services, that I am guessing are part of our contract."
Godoy said the Tacoma-Pierce County Health Department has been reluctant to express any jurisdiction over the Northwest Detention Center previously, but based on that email, she said it appears ICE perceives there might be the potential for the health department to take regulatory authority and improve conditions.
Legislation introduced on Jan. 20 is attempting to codify that local health departments have oversight over private facilities. 
Rep. Lillian Ortiz-Self, a Democrat from the 21st district, is the primary sponsor of House Bill 1470, which will go to public hearing in the House Committee on Community Safety, Justice, & Reentry on Feb. 7. 
The bill makes a handful of amendments and additions to state law governing how private detention facilities operate. One is that the health department in the same county as the facility should have jurisdiction and inspection rights over that facility and will investigate complaints. The bill also outlines minimum hygiene requirements for private detention facilities, including the regular laundering of clothes and the daily cleaning and sanitizing of bathrooms.
Referring to the Northwest Detention Center in Tacoma, Ortiz-Self said it, "continues to have numerous abuses that we continue to hear about, and they only continue to get worse. This is the time to say, 'If you're going to do business with the state of Washington for any private facility, we want some certain standards to be upheld.'"
The lawmakers have designated the health department to have oversight because of hygiene concerns ranging from cleanliness to food, but Ortiz-Self said lawmakers are willing to designate other oversight entities if need be.
"We just want to make sure that we have state agencies with their eyes on this issue," Ortiz-Self said.
The state has the right to set standards for how businesses operate, regardless of the contractor, Ortiz-Self said. 
"So that's what we are intending to do, we have a right to say that we're not going to allow a business to do business in our state, and in our borders, that continues to abuse people," Ortiz-Self said.
The push to regulate private facilities in the state is in part a reaction to the Ninth Circuit Court decision in California to overturn its legislation banning private immigration detention in the state. Washington lawmakers and advocates worry the same will happen in Washington.
Ortiz-Self said while there has been community outcry, legislative action and advocacy groups calling attention to the abuse ongoing at the Northwest Detention Center, she still worries about what's going on behind closed doors as allegations of abuse keep coming.
"I don't know what it's going to take for them to get the message that we don't do business in Washington this way and that we value all humanity," Ortiz-Self said. "But we are going to continue to push, and I think our communities have said, 'Enough.'"