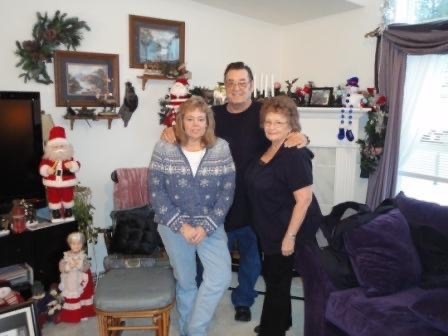 The case for palliative care
Before her parents started receiving palliative care in 2021, Shelley Bull said it could feel impossible to get answers from, or coordinate care with her father's multiple doctors, including a cardiologist, sleep specialist and neurologist. Things like medication interactions caused problems that were difficult to resolve without trained help.
"I was getting very frustrated because I couldn't get results," she said. "We'd have somebody tell us that, 'Well, the BiPap machine isn't working.' Come to find out that actually had to do with a medication that he was on for his heart. It was all of this stuff that just got so complicated."
Bull, her parents' only daughter, lives just next door to them. But despite her best efforts, she lacked the time and expertise to easily navigate the different providers, medications and treatments for her parents.
Getting enough time with doctors also proved a challenge, she said. Many have too many patients to spend a long time with any one individual.
"They want to give you as much time as they can," Bull said. "They just can't. They're just too booked up."
Once Bull started her parents on palliative care, the team made it easier to coordinate care among specialists, Bull said, and also helped secure her father's VA benefits for a wheelchair, which his doctors were unable to help with.
"It is so difficult to get through to the VA," she said. "It took us a little bit, but boy, we tag teamed it, and it was incredible. I couldn't have done it without them."
Though it's often mistaken with hospice, which serves patients expected to live six months or less, Anna Engle, a palliative care nurse at Pullman Regional Hospital, said her work serves a different role.
"I could be diagnosed with diabetes tomorrow and ask for a palliative care consult, because I was overwhelmed, and I knew it would change my life significantly," she said. "Maybe I wouldn't need palliative care longer than six months, maybe I'd say, 'OK, I've got this handled. I just needed that extra support.'"
The help they offer with symptom management often results in fewer visits to the emergency room, Engle said. If patients don't end up in the ER, they also have someone local who's familiar with their medical conditions and needs.
At Pullman Regional, the palliative care clinic includes a physician's assistant, a licensed independent clinical social worker, and Engle. The Pullman clinic currently does not provide in-home palliative care though another local provider does.
While goals vary person-to person, Engle said, palliative care can provide medical expertise to patients with questions, a local contact for people who have to travel for care, and relay important medical information and patient goals to various providers.
Some of the common diseases her palliative care patients have include cancer, COPD and congestive heart failure, Engle said.
"We have served pediatric patients with multiple chronic conditions. We've had patients with diabetes. We've had patients that just have a lot of what some would consider mild conditions, but when there's a lot of them stacked up against them, they need a lot of extra support and care," she said.
Many palliative care services, though not all, are often covered by insurance. Bull, whose father has insurance and VA benefits, said her parents did not have out-of-pocket expenses.
Engle said good candidates for palliative care include people who feel their condition isn't being managed, or people struggling to balance multiple providers. Although palliative care adds an extra set of providers, they're meant to simplify the process for the patient.
"Our goal, really, is to make things easier," she said.
This report is made possible by the cooperative agreement with NWPB, the Lewiston Tribune and the Moscow-Pullman Daily News.