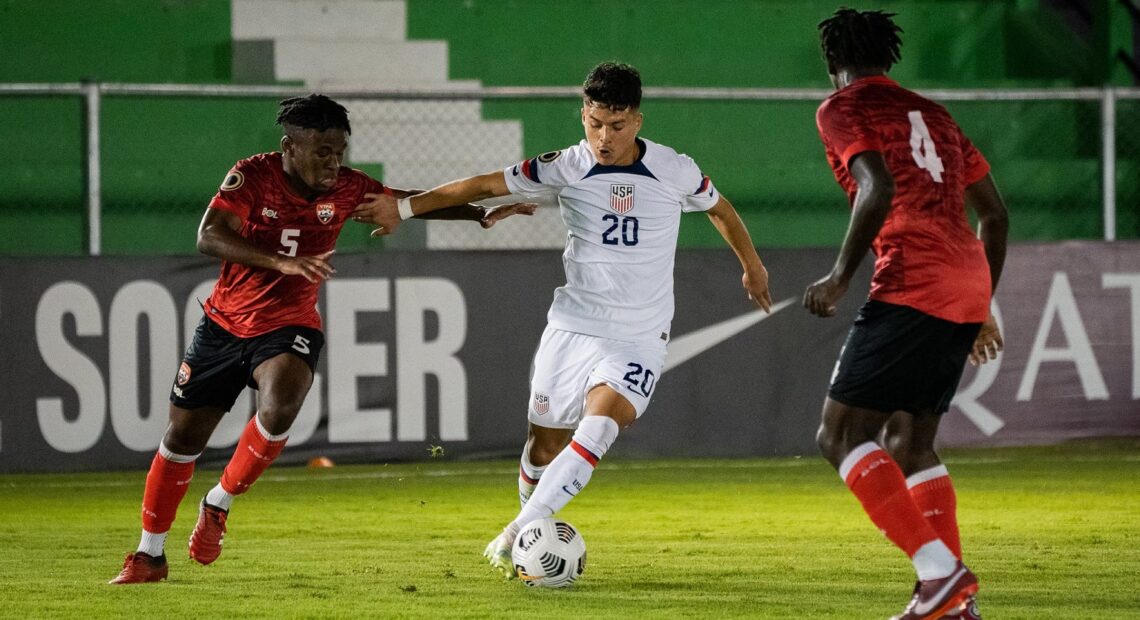 Pasco's Pride: Midfielder Chris Aquino helps U.S. National Team qualify for U-17 FIFA World Cup
Chris Aquino is a midfield soccer player from Pasco. A source of pride among family and friends in the Tri-Cities, Aquino recently helped the Under-17 Men's Youth National Team qualify for the FIFA U-17 World Cup, bringing an example of Pasco's talented soccer community to a national stage.
Enrique Aquino looked excited as he watched his son Christopher Aquino playing soccer on TV.
"I feel like my heart is exploding," Enrique Aquino said in his native language, Spanish.
He said he feels the same every game, like several weeks ago when his son scored twice. That was the match in which the U.S. U-17 team beat the Dominican Republic at the regional CONFACAF championship.
"I didn't know whether to hug his friends also out of happiness," Enrique Aquino added.
The U.S. went on to face Canada, before going up against Enrique's beloved Mexico in the championship final.
"I am going to support the United States, because my child is there. I have to support him," he said.
Liliana Aquino is Christopher Aquino's mother. She is very quiet when she watches the matches.
"I am very happy, excited for him, because he is following his dreams," she said in Spanish.
Christopher Aquino, or "Chris" as he prefers to be called, although his family and friends call him "People," started playing soccer at age five with the youth leagues of Pasco.
Then, at age 12, he joined the Sounders Soccer FC Discovery Program in Seattle, before recently signing with Tacoma Defiance.
Chris Aquino said his recent international debut in CONCACAF is like a dream.
"I feel just happy and proud of myself, because I've worked so hard for this. I want to keep reaching more goals and more higher heights," he said.
Chris Aquino said his father taught him to love soccer.
"He would sign me up to play with teams. He would push me to be a better player," he said.
Edwin Aquino is Chris Aquino's brother. He said he is happy about his little brother's achievements.
"I've seen him grow since he was a little baby and just seeing him develop in the game and see his dedication and hard work, like, paying off, it makes me really proud," he said.
Edwin Aquino played with the Pasco High School and Seattle University soccer teams. His sister Maritza also played for Pasco High.
Now, they are pursuing other professional dreams, but love for soccer remains and support for their brother is a constant.
Leticia Diaz has been a friend of the Aquino family for almost a decade. She met them when her son played soccer with Chris Aquino in Pasco.
"Since he was a little boy, you could see he was very talented, very disciplined, very studious. He has everything. For me, he's the perfect child," said Diaz in Spanish.
Diaz said she is always excited to watch his games.
"I get goosebumps. I feel very happy," she said.
Diaz thinks Chris's successes mean a lot for the soccer community in Pasco.
"Parents have seen 'People' come out and they have to say, 'Well, if he could do it, maybe my kids could do it too,'" Diaz said.
"And that also helps them with discipline, so that their kids can focus on a sport instead of being on the TV, on the Xbox, or on the street," Diaz added.
For his part, Chris Aquino says there is a lot of talent in the Tri-Cities and in the future says he would like to help other players fulfill their dreams at a professional level.
He also said he hopes to be part of the U-17 team representing the U.S. in the World Cup in Peru next November.