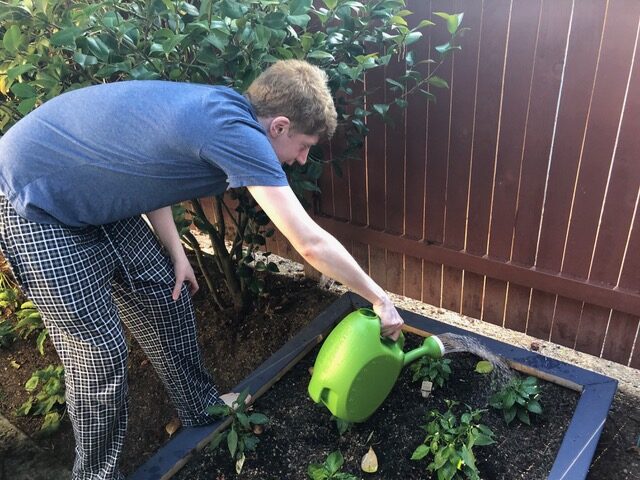 New grant to help people with developmental disabilities find housing
By Lauren Paterson and Rachel Sun
For adults with developmental disabilities in Washington, a new program could provide options for them to live independently. 
"There's 48,000 people in Washington with an intellectual disability," said Pam Blanton, founder and CEO of Partners4Housing. "70% of them live with family most of their life. And these parent-caregivers are aging, and it's getting to a crisis situation."
Blanton's organization works with families of people with intellectual or developmental disabilities to help them find housing for their loved ones outside the family home.
Kristin Adams lives in the Seattle-area and has an adult son with autism. After her son Andrew aged out of the local public school programs, Adams says she started thinking about what kind of assistance she might need.
"Partners4Housing gave us a huge kind of toolbox to start working through," she said.
The program helped Adams navigate through Section 8 vouchers, options for group homes, and other social services available for adults with developmental disabilities.
Now, her son lives in a home with another roommate, who also receives developmental disability services. 
"They basically allowed some hand holding for the parents," she said. "They got to know my son. They were able to ask questions that we didn't even know to ask."
Blanton says the organization has helped families set up 50 shared living homes, serving 115 people with disabilities. She says most of the homes have a live-in caregiver, though finding one can be a challenge.
"There's a huge need all over the nation for this type of service," Blanton said.
Partners4Housing recently received a grant from the Dan Thompson Memorial Fund. Blanton says it will allow the organization to provide free residential assessments to more than 6,000 Washington families. 
The organizations aims to expand to all 50 states. Across the border in Idaho, providers who serve people with intellectual or developmental disabilities say they could use the help.
In Idaho, help with housing for people with developmental or intellectual disabilities is supposed to be available through a Targeted Service Coordinator, or TSC.
Sarah McClure is the executive director at Milestone Decisions, an agency that provides support services for people with intellectual or developmental disabilities, in Moscow, Idaho. She says there's a problem with that model: reimbursement for those TSCs from the state isn't enough to retain staff.
"The last person I was asking about it, she makes an average of $13 an hour. And has to have a bachelor's degree," she said. "So we've seen a decline in the amount of targeted service coordinators there are."
She says Idaho doesn't accurately track people who are falling through the cracks with housing. The state counts the people certified to provide TSC services, but does not survey the clients or check how many TSCs are actively doing that work.
"Although we have so many providers that are approved to provide services, people don't have staff right now. So, they're not taking on any clients," McClure said.
For the people she works with, that means yet another hurdle on top of trying to find a rental they can pay for on Social Security — which is capped at around $2,000 a month — and paying for basic needs, such as groceries. 
One program, Idaho Home Choice, provides financial assistance. But only for people transitioning from group homes to supported living.
"So, if you haven't been in institutional care, you do not have access to that," McClure said.
McClure says she'd like to see what other states are doing to find solutions that work in Idaho. But, right now, that's hard.
"Our hands are tied, because we just don't have any time. We're trying to survive at this point," she said.
This report is made possible in part by the cooperative agreement with NWPB, the Lewiston Tribune and the Moscow-Pullman Daily News.