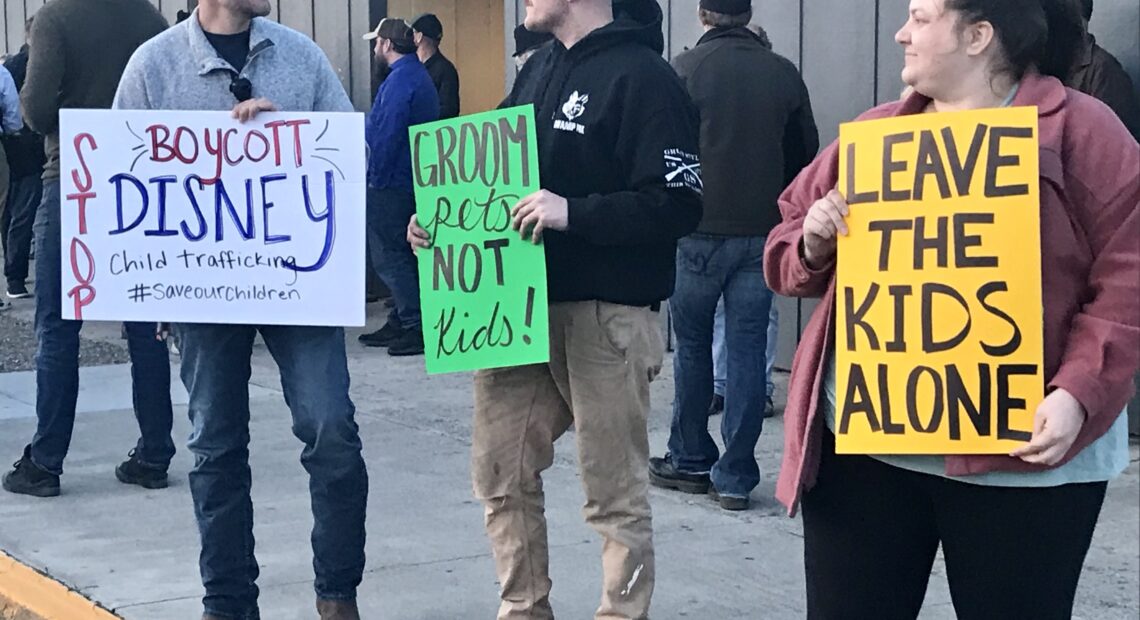 Espectáculos drag generan protestas en Tri-Cities – Primera parte
Manifestantes de Pasco y algunos ciudadanos de Richland quieren que se limite el acceso de menores a los espectáculos drag. Dueños de establecimientos y artistas defienden los espectáculos para todos los públicos.
Familias hicieron fila para entrar en Out and About, un club nocturno local de Pasco, para ver un espectáculo drag para todas las edades. Al mismo tiempo, afuera, manifestantes mostraban carteles que decían "Dejen en paz a los niños" y "El drag no es para niños".
El espectáculo, llamado "All Ages Disney Drag Extravaganza", presentaba a artistas drag que representaban a personajes de Disney. Al evento asistieron más de cien personas.
Andrea Wabaunsee organizó el show. Ella afirmó que los artistas llevan muchos años ofreciendo espectáculos para toda la familia sin problemas.
"Solemos llevar disfraces de colores brillantes y divertidos que recuerdan a los personajes de los programas de Disney; hacemos sincronización labial con música de Disney y otras canciones apropiadas para todas las edades, leemos historias apropiadas para todas las edades y hablamos de amor y aceptación", dijo Wabaunsee en inglés.
No todo el mundo está de acuerdo. Cherry Snowhite, una de las personas que protestaba, dijo que no quiere niños entre el público.
"Vamos a tener hombres disfrazados de mujeres, va a ser muy confuso para los niños. Cuando éramos niños, trepábamos a los árboles, nos divertíamos, jugábamos con nuestros amigos, pero no nos preocupaba de qué sexo era la gente, [por] exponerlos a tipos que son mujeres y pueden estar interesados en los niños", dijo Snowhite en inglés.
Connor Jennings, otro de los manifestantes, está de acuerdo.
"Si eres adulto, puedes hacer lo que quieras. Pero no creo que esté bien meter a niños en esto. Están metiendo a esos niños en un bar. Dejan entrar a cualquiera que tenga ocho años o menos. No me parece bien", dijo Jennings en inglés.
Shannon Boisoneao, asistente al espectáculo, dijo que no hay sexualidad ni política de por medio.
"A los niños que vienen aquí los traen sus padres, están supervisados por sus padres. Es un entorno seguro. No tiene nada que ver con la sexualidad. Tiene que ver con un artista que actúa y entretiene a la gente", afirmó Boisoneao en inglés.
Ahora que los debates nacionales para restringir los espectáculos de drags se plantean a nivel local, Wabaunsee afirmó que el elenco está experimentando hostilidad y acoso.
"He recibido un montón de mensajes muy, muy, muy desagradables, correos electrónicos, gente que publica videos sobre mí. He notado mucho odio", dijo Wabaunsee en inglés.
Otros gerentes de locales dicen haber sufrido el mismo acoso por programar espectáculos de drags. Tim Thornton es el gerente de The Emerald of Siam Thai, en Richland. El lugar programó un evento Drag Brunch de Pascua.
"Hemos recibido muchos mensajes con palabras de odio, muchas llamadas telefónicas, mensajes de voz. Prácticamente se trata de niveles de acoso a nuestro negocio, y está empezando a hacer que mi personal se sienta incómodo", dijo Thornton en inglés.
Los artistas no dan marcha atrás. Ellos dicen que el espectáculo continuará, sobre todo para proteger sus derechos amparados por la Primera Enmienda.
En la  próxima entrega de esta serie, NWPB informará sobre cómo se ha planteado este asunto en las reuniones de la administración local.