Reeder's Movie Reviews: Chevalier
Joseph Bologne lived a fascinating–indeed, important–life. The French aristocracy of the late eighteenth century welcomed, then disowned, him. Napoleon banned his music. History simply forgot him, until a renewed interest in the work of composers of color gained momentum in the past two decades. He's since become a significant figure of his time, and for all time. Now he's become the title character of a new feature film, Chevalier.
Canadian director Stephen Williams (Lost, Watchmen) and American screenwriter Stefani Robinson (Atlanta) have crafted an entertaining, if sometimes melodramatic, period piece, while trying to make Bologne's life relevant to contemporary audiences. They mostly succeed. This is no Amadeus, Miloš Forman's brilliant Academy Award-winning Best Picture of 1984. However, it recounts many of the highlights of the life of a major Black artist–an artist who shared a house in Paris with Mozart for a few months in 1778.
Joseph Bologne was born on the island of Guadeloupe in 1745, the son of a White French aristocrat and one of his African slaves. His father brought him to Paris as a boy of ten, after discovering Joseph's prodigious talent as a violinist. He attended an elite private school and honed his multiple talents: music, languages, fencing, marksmanship. He overwhelmed racial prejudices as his reputation grew to the point that Marie Antoinette bestowed upon him the title of Chevalier de Saint-Georges. You can sense the inherent drama in the story.
Kelvin Harrison, Jr., a gifted actor who has excelled in period roles (The Trial of the Chicago 7, Cyrano, Elvis), brings real panache and physicality to his performance here. In fact, we meet the Chevalier as a brash, accomplished adult, challenging the younger Mozart to a violin-playing duel in front of a packed theatre. In reality, Bologne and Mozart became friends. Robinson, the screenwriter, drew her inspiration for this scene from a famous incident in which Seattle native Jimi Hendrix upstaged fellow guitar virtuoso Eric Clapton at the London Polytechnic in 1966. Harrison, primarily a keyboardist who twice auditioned unsuccessfully as a singer for American Idol, trained diligently at playing the violin and fencing for this role. Even though he has no big speeches in the film, he has a dynamic physical presence and charisma that serve him well. He looks like a leading man.
Robinson and director Stephen Willliams, himself a native of Jamaica, have an ambitious agenda. The themes of music and race frequently make way for contemplations of gender equality, paternal responsibility and economic justice. Not coincidentally, most of the memorable lines of dialogue belong to the women in the Chevalier's orbit. They include the Queen, La Guimard (an aging singer with sexual designs on him), Marie-Josephine (a soprano who becomes his muse and married lover) and his mother. Marie Antoinette (Lucy Boynton) admits to the pressures of the royal court. La Guimard (Minnie Driver) conspires to maintain the racial "purity" of the aristocracy. Marie-Josephine (Samara Weaving) despairs of her loveless marriage to an arts-hating military offer, while challenging the young men of the budding revolution to include women in their bold declarations of "égalité." The Chevalier's mother (Ronke Adekoluejo), once she appears in Paris, chastises her haughty son for acting "like a White person" and behaving like a "tourist" in White society. She broaches the subject of fathers' responsibilities to their children. She becomes his conscience.
The characters who populate Chevalier are documented historical figures, although their specific relationships and the chronology have been subjected to dramatic license. (The two women singers, for example, were an actress and a dancer in real life.) Like Amadeus, this movie was shot in the Czech Republic. Williams makes effective use of natural lighting, long takes and sometimes swooping camera work to lend energy and plausibility to the narrative. 
The score incorporates selections by the Chevalier himself, Mozart and Gluck, in addition to original music by Kris Bowers (Green Book, Bridgerton). As a classical music fan, you may be disappointed by the adversarial treatment of the Chevalier's relationships with Mozart and Gluck–in fact, they remained on cordial terms–and you may notice the absence of another composer who figured prominently in Bologne's career, Joseph Haydn. As the director of the leading orchestra in the French capital at the time, he conducted the first performances of Haydn's "Paris" symphonies. No sign of the older composer here, though.
In the end, the politics of revolution overtake this tale of a strikingly gifted musician, neatly staged in a theatre where performance becomes an act of defiance to authority. In another nod to our time, we see a woman in the orchestra. French society was not yet changing that quickly, or that substantially. It was, after all, a fundamental movement for the Rights of Man, not women or persons of color.
Chevalier deserves credit for melding the genres of biopic, period piece, costume drama and fine arts narrative. It features mostly solid acting, handsome production design and an appealing soundtrack with an occasional Caribbean accent. It also speaks to us about an unjustly neglected Black man at the intersection of high art and historic social and political change. Even if you're not a devoted classical music lover, you can still appreciate how the movie's themes resonate today. When the title character proudly appears in public without his white, powdered wig, you know that history still has lessons to teach.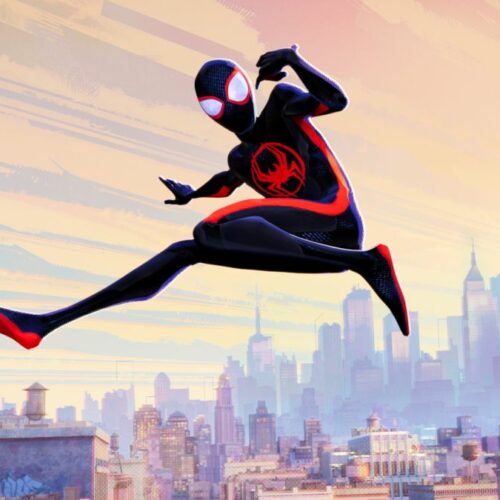 Welcome back to the Multiverse. If the most recent Academy Award winner for Best Picture, Everything Everywhere All at Once, stoked your interest in compelling alternate realities, then the latest installment in the Marvel Cinematic Universe merits your attention, too. This movie has intelligence, humor, relatable themes and dazzlingly crafted animation. Continue Reading Reeder's Movie Reviews: Spider-Man: Across the Spider-Verse