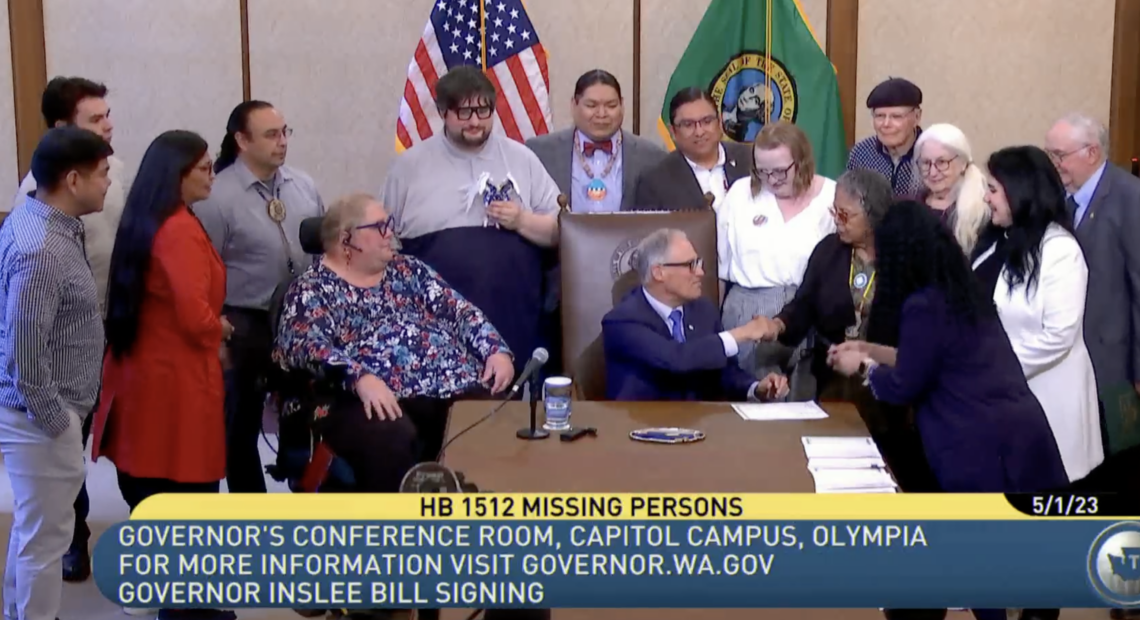 New online toolkit to provide help, comfort to families with missing loved ones
By signing into law House Bill 1512, Washington state will create an online toolkit meant to assist families and law enforcement seeking to locate and recover missing persons.
The act, known as the Missing and Murdered Indigenous Women and Persons and Lucian Act, is in part named after Lucian Munguia, who was 4 years old when he went missing in Yakima last September. His body was recovered in December.
Rep. Gina Mosbrucker, (R-Yakima) is one of the co-sponsors of the bill. She was also just one of the many people who joined the search for Lucian.
While assisting with that search, Mosbrucker said she saw firsthand the gaps that exist for loved ones during the traumatic time.
"It seemed like there was a void, and that was that the family was alone most of the time," Mosbrucker said, "on the worst day of their life, and they didn't have a tool to know what to do next."
Mosbrucker also serves on the Missing and Murdered Indigenous Women and People Task Force, which recommended a toolkit tailored to Indigenous people in its interim report from 2022.
This law will establish an easily accessible guide for families to assist with keeping track of important details and connecting with organizations and databases that can widen search efforts, Mosbrucker said.
The toolkit will be published and maintained on the Washington State Attorney General's website. The first version is set to be published Nov. 1. It will contain information on how to report a missing person, additional steps that can be taken to recover a missing person, information that is specific to reporting and recovering missing Indigenous people and guidance specific to reporting and recovering people who are particularly vulnerable because of certain demographics.
The attorney general's office launched a "Your Loved One is Missing!" toolkit in 2007 that has not been updated since and does not contain information tailored to Indigenous communities.
Rosalie Fish is a University of Washington student athlete and activist who has used her platform as a runner to shine light on the crisis of missing and murdered Indigenous people. Fish's cousin, Kaylee Nelson Jerry, went missing in 2019, and Fish said she sees the kit as a resource to provide a support system for families of loved ones.
"We're concentrating not only on the restorative part but also, with the toolkit, hopefully, prevention," Fish said.
Fish, who is from the Cowlitz, Yakama and Muckleshoot tribes, also works with Mother Nation, a Native-run, nonprofit in Seattle. In her work with MMIWP families, Fish said she often hears that families have no idea where to go when a loved one goes missing.
"By giving families step-by-step information on where they can go, it also helps them navigate this jurisdictional maze on how they can most effectively and quickly act on their missing and murdered Indigenous person," Fish said.
Mosbrucker sees the bill as a continuation of the efforts of the state to address the MMIWP crisis.
"That's why there's a series of bills, we can't fix everything at once," Mosbrucker said, "but we can fix increments and just keep at it until we have a great system."
It's a priority for Mosbrucker to keep working on this issue, she said.
"I keep seeing the images of the red dresses that tribal members get together and sew and then they hang them on overpasses, or they hang them in trees to say, 'This was our missing loved one. Can you help find, pay attention, listen to us?'" Mosbrucker said.