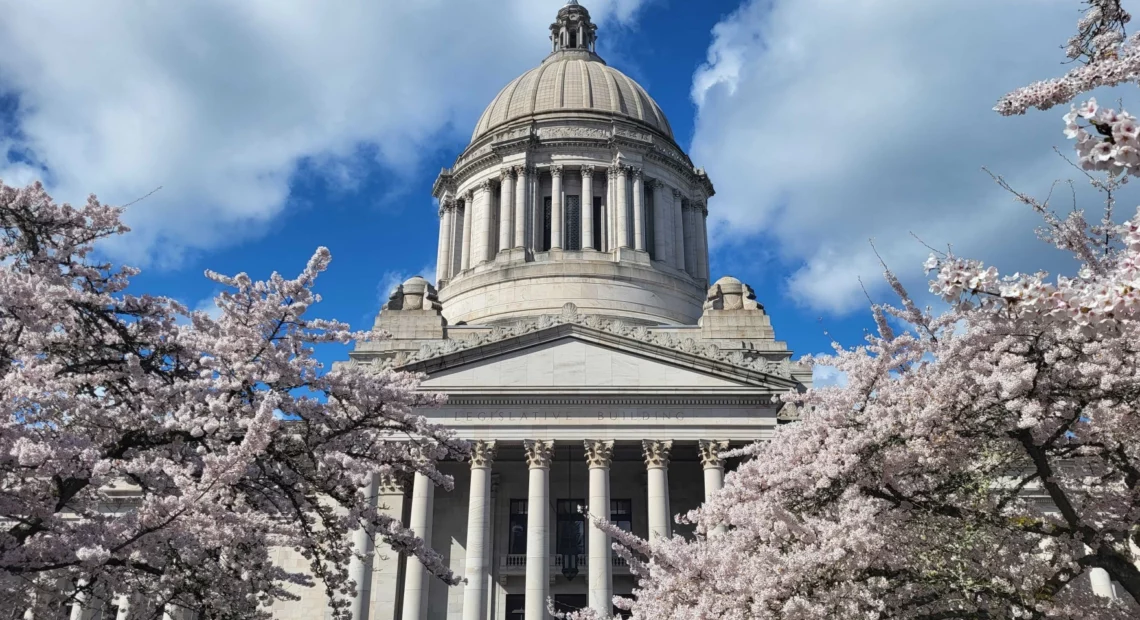 Washington's regular legislative session is over. Here are some of the highlights
By Jeanie Lindsay
Washington's legislature adjourned its 2023 regular session with a new two-year state budget, alongside dozens of policy changes focused on housing, health care and public safety – and a surprising last-minute bill failure.
It was the first session with lawmakers back in-person since the pandemic hit, and legislators talked for weeks about how collaborative the session felt as they worked on bills together in person for the first time in years.
"We're able to have more thoughtful conversations," said Rep. Joe Nguyen (D-West Seattle). "There's been a significant amount of work being done across the aisle."
But echoes of pandemic-era sessions remained, with hybrid committee hearings allowing the public to testify on bills remotely and weekly news conferences with legislative leaders held online.
Although Republicans and Democrats joined forces on plenty of key issues, some dividing lines remained throughout. And on the final day, a long-negotiated and must-pass drug possession and addiction treatment bill failed.
Housing supply
The legislature dubbed this year the "big one" for housing – with Gov. Jay Inslee repeating a favorite phrase: "Go big so people can go home." Lawmakers didn't take up the governor's multi-billion dollar bond plan. Nevertheless, the legislature delivered big changes on the policy and spending fronts, earmarking more than a billion dollars to tackle housing needs and address homelessness – including $400 million for the state's Housing Trust Fund in the state's new budget.
Some of the policies lawmakers approved would also allow for the construction of different types of homes in neighborhoods that have in the past been exclusively zoned for single family homes. House Bill 1110, commonly called the "missing middle housing" bill, would require that cities allow the construction of more duplexes and fourplexes. In larger cities, the legislation would require that sixplexes be permitted if they're close to transit stops or include affordable units.
Another bill, House Bill 1337, would make it easier for people to build or use accessory dwelling units, or ADUs – those are units people typically have in their basements, above their garage or in the backyard that are on the same lot as a single family home. Lawmakers also approved Senate Bill 5045, which incentivizes renting ADUs to low income families.
A bill to help speed up the permitting process so that construction can begin more quickly, Senate Bill 5290, also passed, and lawmakers approved a covenant homeownership bill, House Bill 1474, to address the lasting impact of racist discriminatory homeownership policies of the past.
But some housing bills died despite widespread interest in them, like Senate Bill 5466, which targeted housing development near transit centers, as well as rent stabilization legislation that aimed to slow rapidly-rising rents. Still, lawmakers have said the momentum on housing could carry over to next year's legislative session, when lawmakers bring some of those ideas back to the negotiating table.
Public health and safety
In a surprising turn of events on the final day of the regular session, lawmakers failed to pass the long-negotiated "Blake Bill," which aimed to boost addiction recovery and treatment options while also enhancing legal penalties for drug use and possession. The legislation was subject to emotional debates and back-and-forth all session long, but the final version of the bill missed the mark for progressive Democrats and Republicans.
The bill failed as it came to the floor in the final hours, much to the surprise of Democratic leaders who say they were confident it had enough votes to pass earlier in the day. But Republican leadership insists that the final deal wasn't the version they supported, and that it wouldn't have had the support in the Senate even if it had gotten a vote in that chamber.
"Folks have to believe this is workable and it wasn't," said Senate Republican Leader John Braun (R-Centralia).
After the regular session adjourned, Inslee called the legislature's failure to pass the bill "unacceptable," but at a bill signing later in the week said that lawmakers are actively discussing a deal and could return for a special session sometime in May.
Legislators also remained split this session on changes to the state's police pursuits law with Senate Bill 5352, after police reforms passed in 2021 were criticized for being too restrictive. The final bill was sent to the governor after weeks of Republicans pressing for bigger rollbacks of limits on police pursuits and resistance from Democrats who wanted to maintain the initial policy. This year's bill says police can now pursue suspects if there is "reasonable suspicion" that they committed a list of specific crimes, including vehicular assault – but it also requires that police only conduct a pursuit if safety risks caused by losing the suspect are greater than the risks of the chase itself.
Republicans say this year's bill was better than nothing, calling it a "half-step" in the right direction, but want to come back to it again next year.
There were plenty of other dividing lines drawn in the realm of public safety this session, as Democrats passed new firearm regulations signed into law by Inslee days after the session came to an end: House Bills 1240 and 1143, as well as Senate Bill 5078, which creates new legal liabilities for the firearm industry. The ban on high capacity firearms – commonly referred to as an assault weapons ban – was debated in the Senate twice after the House rejected an exemption for military members. It went into law as Inslee signed the bill, and is already facing legal challenges. The new 10-day waiting period and safety training requirements created with 1143 go into effect Jan. 1, 2024.
Lawmakers also authorized the use of speed cameras in highway construction zones with Senate Bill 5272. But a number of traffic safety bills died this session, including one that would have lowered the breathalyzer limit for someone to be charged for drunk driving.
Hotly debated health care
Washington was not exempt from fights over abortion and gender affirming care this session, as the Democratically-controlled legislature passed several measures to protect access to those services while states across the country criminalize them. There weren't enough votes in the legislature to amend the state constitution to protect abortion, but a majority of legislators voted yes on House Bill 1469 to create a new so-called "shield law." It prevents the state's courts, cops and judges from carrying out legal action against people providing or seeking abortion and gender affirming care for out-of-state charges.
The legislature also approved bills to give people more control over their health data with House Bill 1155, protect medical licenses for providers through House Bill 1340 and reduce costs for abortion services with Senate Bill 5242. And Democrats fast-tracked a bill, Senate Bill 5768, to give the state Department of Corrections the authority to distribute the abortion medication mifepristone, after the state acquired a three-year supply in response to a federal court case challenging the FDA's regulation of the drug.
Runaway youth in Washington will now have the option to defer shelters from contacting their parents if they leave home to seek gender affirming or reproductive health care under Senate Bill 5599. Republicans and parents rights advocates fiercely opposed the bill as it made progress through the legislature. Rep. Skyler Rude (R-Walla Walla) voted against it, saying on the House floor that he doesn't oppose access to gender-affirming care, but worries the bill could leave supportive parents in the dark.
"There are a lot of loving parents out there that may support their child in some of these choices down the road but might feel that it's not an appropriate time at 13 or 14 or 15 years old," he said.
But supporters say it's a vital change to ensure runaway transgender kids don't end up on the streets.
"They're going to have access to supportive services and supportive people," said Rep. Julio Cortes (D-Everett).
Workforce shortages
As the state continues grappling with the fallout of the COVID-19 pandemic, lawmakers took steps to address workforce shortages this session, notably among nurses and hospital workers. With Senate Bill 5236, the legislature struck a compromise between nurses' unions and hospitals to strengthen requirements and state oversight for hospital staffing plans. Another bill, Senate Bill 5582, also passed, to help build up the pipeline of nurses by directing the State Board for Community and Technical Colleges to develop a nurse training plan, and start a pilot program for online courses.
Lawmakers also approved House Bill 1762, to shore up protections for warehouse workers. The bill requires employers to communicate quotas and other workplace standards more clearly with employees, and to include meal and rest breaks in their quota calculations.
Another piece of legislation that passed, Senate Bill 5123, would prohibit employers from discriminating against job candidates who legally use cannabis. But the bill doesn't apply to certain jobs like firefighters, 911 dispatchers, corrections officers or airline pilots. It also doesn't apply to positions where a person's life could be at risk if they're impaired on the job.
Schools and special education
Schools, and special education in particular, were the subject of several bills this session. Following an investigation by The Seattle Times and ProPublica, the legislature approved Senate Bill 5315, which enhances the state's oversight of nonpublic schools providing services for students with disabilities, and requires that those schools maintain accessible complaint resources online for people to report violations of students' rights.
The legislature also approved bills like House Bill 1658, which would allow students in high school to earn elective credits for their work experience and another bill to eliminate fees for students earning college credit in high school.
Despite legislators scaling down the initial proposal, lawmakers still passed House Bill 1238 to provide more free school meals to students across Washington – specifically those in high-need schools.
State spending
Throughout it all, the state's next two year budget loomed in the background. Some policy proposals got slimmed down or left behind due to their initial cost as state economists predicted a slowdown in state revenue and lawmakers remained wary of COVID-19 relief funding expiring.
But Democrats notched a win when the State Supreme Court ruled in favor of the new capital gains tax – that decision came out just as Democrats began unveiling their initial budget proposals in late March.
The majority tossed around the idea of new taxes with just days left in the session – in the end, there weren't enough Democrats in the Senate on board to expand the state's Real Estate Excise Tax or to raise the cap on local property tax collections. Earlier efforts to create a universal basic income or create a new "wealth tax" also failed.
Ultimately, lawmakers passed a new $69.3 billion operating budget alongside a new construction and transportation budget. It included a big chunk of change for housing in particular, but also targeted $2.9 billion new dollars for K-12 education, $417 million of it for special education.
Legislators also decided how to spend revenue from the state's new carbon emissions auctions for the first time, targeting projects for salmon recovery, wildfire protections, energy efficiency and carbon emissions reductions. Lawmakers set aside more than a billion dollars for behavioral health, with the state's new construction budget including another $613 million to build a new forensic hospital at Western State Hospital.
How other bills ended up
Among the policies that failed this session was the so-called "right to repair" bill that would have required tech companies to make parts and tools for repairs more widely available to businesses and people who own those devices. Rep. Mia Gregerson (D-SeaTac) said more people are warming up to it, even though it didn't have enough votes to pass through the Senate this year.
"It's really about working with Republican Senators – and Senators – to get them comfortable with this idea," she said, noting she plans to bring the bill back next session.
The legislature also didn't pass a bill to eliminate the child sex abuse statute of limitations, legislation to ramp up oversight of parent reunification spurred by the case of missing Oakley Carlson or a bill that would have banned new natural gas connections for Puget Sound Energy customers. The final weekend of the session also saw the demise of a bill that would have made clergy mandatory reporters of child abuse, when lawmakers couldn't agree on whether information heard in confessional should be subject to that reporting requirement.
Despite some fiery debates, lost legislation, and grueling compromises, lawmakers made a few lighter changes this year too. They named a new state dinosaur and put their worst cow puns on full display before passing a bill authorizing special highway permits for dairy haulers.
They also passed new limits on boaters' proximity to Southern Resident Orca Pods, approved plans to study and prepare for magic mushroom therapy in Washington, green-lit a redo of the search for a new regional airport and finalized a permanent $35 cost cap for a one-month supply of insulin.
Lawmakers also nearly unanimously approved legislation declaring January of each year as Americans of Chinese Descent History Month.
Then, after 105 days, the 2023 regular legislative session adjourned "Sine Die."