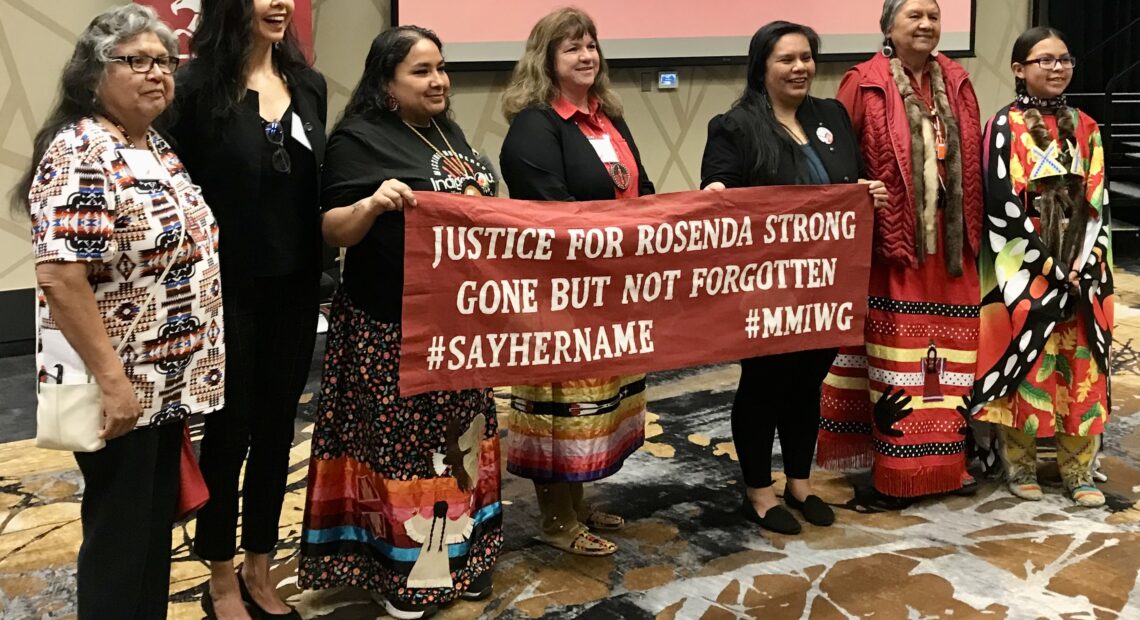 MMIWP awareness events raise Native voices in search for missing loved ones
As national Missing and Murdered Indigenous Women and People (MMIW/P) awareness month starts, families continue to call attention to the barriers and challenges they experience when addressing the MMIW/P crisis in Washington.
Organizations and Native communities are holding statewide forums, walking events and healing gatherings to advocate for the missing and murdered not to be forgotten, and to ask that those cases be solved.
In a recent community forum in Yakima, experts, families and community members discussed new approaches to the epidemic in Washington.
Shari McMahan is the president of Eastern Washington University. EWU organized the forum.
"It is my hope that today's dialogue will help us identify new approaches that will make a positive difference in the lives of our families and friends," said McMahan.
Tribal leaders, law enforcement representatives and community partners say keeping families safe, establishing trust with authorities and addressing risk factors remains critical in facing the missing Indigenous persons crisis.
Patricia Whitefoot is a Yakama Nation elder and Washington State MMIW/P task force member. She says families experience a lot when they have a family member go missing, and talking with law enforcement members is a matter of building trust.
"There has not always been a positive relationship with law enforcement over the years, but it takes time to build trust, just like it takes with anything that you do in the community," said Whitefoot.
Cissy Strong Reyes is the sister of Rosenda Strong, who went missing in 2018. Authorities found her body a year later. Strong Reyes has advocated for better communication from law enforcement with the families.
"The challenge is keeping in contact with the families, making sure that they're getting told something, even quarterly would work," said Strong Reyes.
Rosenda Strong's case is still unsolved.
Speakers on the panel reiterated the importance of understanding jurisdiction.
Margo Hill is the director of the Small Urban, Rural and Tribal Center on Mobility at Eastern Washington University. She said jurisdictional complexity is also crucial.
"Our reservations are parceled out, and we're checker-boarded. We have tribally-owned land and then non-Indians' trust property and fee property. And this causes huge challenges for our law enforcement, both our tribal and our Washington State Patrol," said Hill.
Hill says comprehending jurisdiction is part of educating communities, law enforcement and tribal liaison work.
Panelists also said opening conversations with youth about the crisis and improving programs to address other problems related to murders and disappearances is critical to addressing the MMIW/P epidemic. The communities reiterated that the opioid crisis and domestic violence are risk factors for the communities.
The Missing and Murdered Indigenous People (MMIP) symposium, held in Toppenish and organized by Yakama Nation Behavioral Health, opened conversations around historic preservation and the need to recall the history of the boarding schools through the voices of Indigenous communities.
Kelly Jackson, a Native musician from the Lac du Flambeau in Wisconsin, talked about the historical trauma, the violence against Indigenous people and the importance of empowering young generations to make change.
"I want to give you the power to tell your story and create your own change and create your own action plan," said Jackson.
Jackson says people need to know and care about what is happening. She says nobody has enough awareness, not even within their own communities.
The symposium explored the role of art and music as healing instruments and tools for change. Art pieces and their symbolism were presented through the War Cry podcast, which was live-streamed during the symposium. The podcast focuses on cases of missing and murdered Indigenous people.
Yakima, King and Pierce counties have the highest numbers of missing Indigenous people in Washington. According to the Washington State Patrol 142 people are still missing. There are 40 reports from Yakima, 24 from King and 20 from Pierce County.