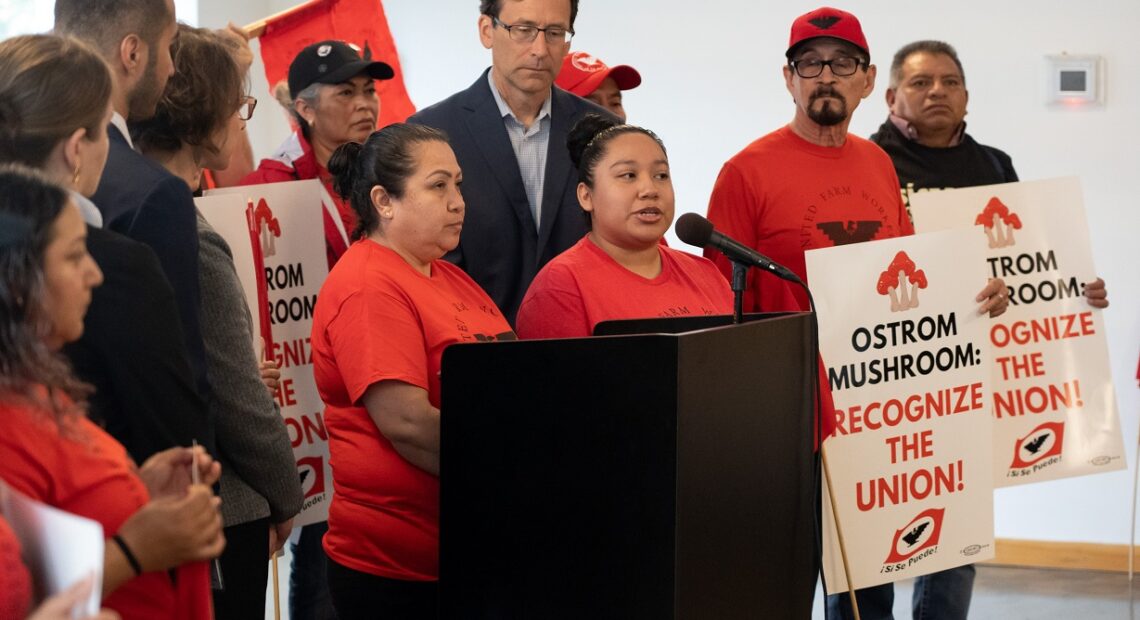 Ostrom Mushroom Farms to pay $3.4 million for discrimination
Ostrom Mushroom Farm must pay $3.4 million for discriminating against its workers.
Washington State Attorney General Bob Ferguson said Ostrom's settlement with the state resolved the civil rights lawsuit against the company for its unfair, deceptive and discriminatory actions against female farmworkers and Washington-based workers.
According to the attorney general's office, Ostrom replaced its female workforce with H-2A temporary agricultural male workers, in violation of the Washington Law Against Discrimination.
Ferguson said his office has secured an important victory for farmworkers.
"It's clear that Ostrom engaged in systemic, blatant discrimination calculated to force out female employees so they could replace them with guest workers, who they believed they could better control and require to work longer hours with fewer rights," said Ferguson.
Teri Healy, Assistant Attorney General, said the investigation revealed that the company began systematically terminating employees in April 2022.
"Because they [Ostrom] were terminating staff, they then used [permanent] labor contractors to make up the difference in employees, but Ostrom books itself looks like they had a deficit of the number of workers at the facility," Healy said.
Court documents show that from early 2021 until May 2022, the company terminated approximately 79% of its domestic workforce, including 85% of its female pickers.
Ferguson says the settlement money will pay about 170 farmworkers affected by Ostrom's illegal conduct.
Ostrom sold its Sunnyside facility to Windmill Farms while the lawsuit was still in process.
The court order also requires Windmill Farms to implement reforms to ensure this discrimination never happens again, said Ferguson.
The court order specifically prohibits Windmill Farms from misrepresenting, to current and prospective employees, the terms and conditions of employment. It also forbids applying more stringent requirements to domestic employees than to H-2A workers, and forbids any discrimination, harassment and retaliation against workers.
Roman Castillo Avila spoke on behalf of former and current workers.
"We have achieved a step forward, we have made our voices heard to end discrimination and harassment at Ostrom Farms," said Castillo Avila in Spanish.
Gisela Cabrera, who worked for Ostrom Farms and is a current employee of Windmill Farms, encouraged her coworkers not to be afraid.
"I urge my colleagues who are currently working at Windmill Farms to defend ourselves as workers, and our rights, and to continue defending ourselves as essential workers," said Cabrera in Spanish.
One of the female workers fired by the company is Jovita Bustamante. She says the fight is not over.
Bustamante says they will continue until the Sunnyside mushroom workers get the union contract they have been demanding.