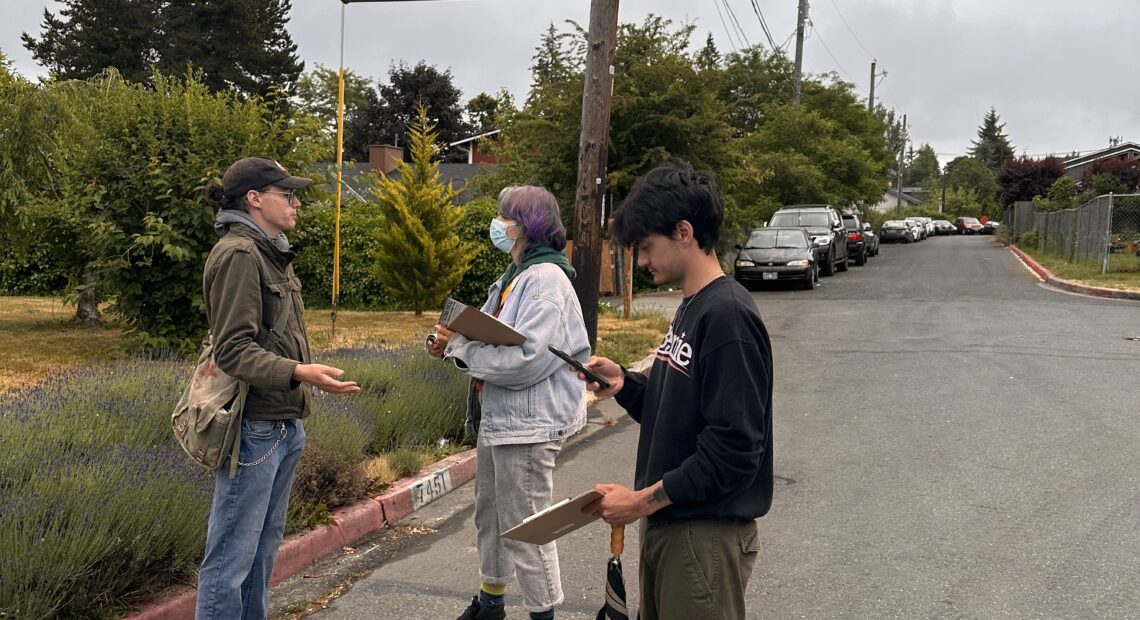 Final push to include Tacoma Tenant Bill of Rights on the ballot
With the deadline looming to secure enough signatures to get their initiative on the ballot, volunteers with Tacoma For All canvassed across Tacoma on Friday, May 9.
Zev Cook, field manager for the campaign, led a group of eight volunteers in the late afternoon around a South Tacoma neighborhood.
"You've got to reach people face to face. You've got to knock on their door, and that's how you know you win campaigns — talk to the most people," Cook said, as she walked around an apartment complex, knocking on doors and urging people to sign the initiative.
Tacoma For All, an organization looking to secure more protections for renters in the city, has been canvassing for the initiative, a Tenant Bill of Rights, since March. The deadline to turn in those signatures is June 16.
The proposal would introduce protections that include capping late fees at $10 a month, notices of rent increases six and three months in advance, and, in some cases, relocation assistance for rent hikes over 5%.
The group has been working to spread information about its goals, Cook said, adding that she works seven days a week canvassing.
The volunteers were canvassing Friday in an economically burdened part of the city. Over 50% of tenants in South Tacoma pay more than 30% of their income for rent. A little under 20% of residents earn less than the Federal Poverty Limit. For a family of four, that means earning $30,000 a year or less. This information comes from the City of Tacoma Equity Index map, which analyzes neighborhoods on various factors, including livability, accessibility and economy.
Timothy Vega, one of the volunteer canvassers, said he got a lot of support on Friday for the initiative. Supporters were excited about the eviction protections, relocation assistance and advance notice of rent increase that the initiative proposes, he said.
Those specific provisions were not included in a recent city proposal.
The city's Community Vitality and Safety Committee heard proposed changes to the Rental Housing Code in May. City staff has been working on these updates since 2021. During that process, staff has engaged in conversations with a variety of stakeholders, including Tacoma For All. The city's proposal and the initiative touch on some of the same issues but also differ in many ways.
For example, the Tacoma For All initiative has a policy on no-winter evictions, whereas the city proposed changes do not include that.
"Cold weather evictions … that is something that gets to people," Vega said. "It's scary to have to look for a house in the middle of winter, and if you're pretty close to the poverty line, you don't want to be out in the streets in the middle of winter."
In the May presentation, city staff recommended studying provisions about cold-weather eviction for fixed or low-income folks.