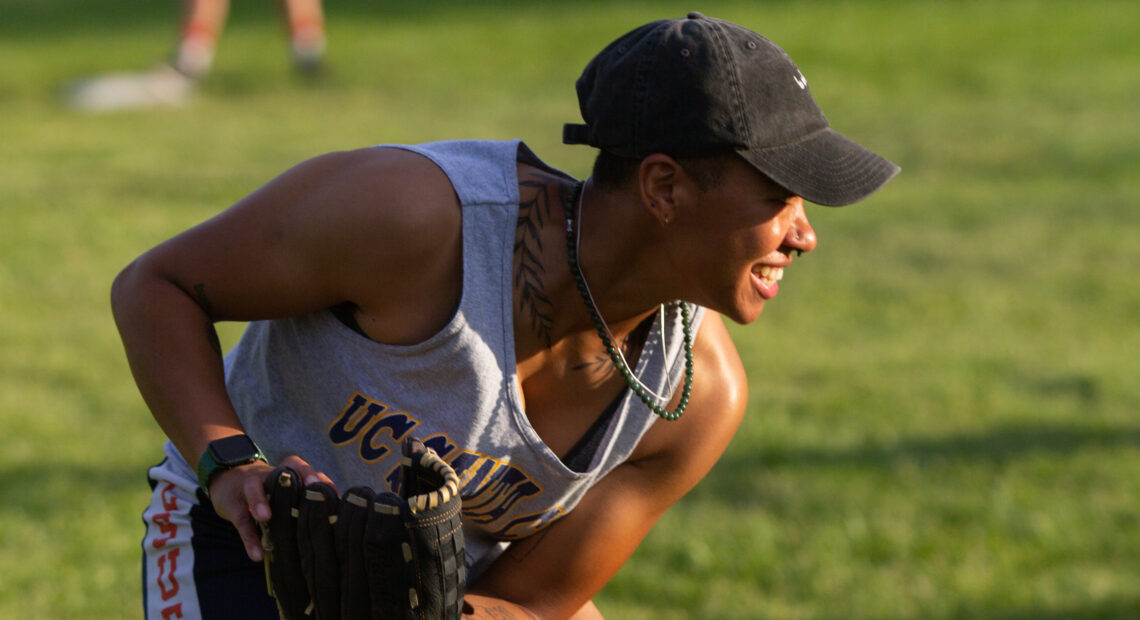 Palouse Gay Baseball: A queer space of one's own
Editor's note: Several sources in this article use gender-neutral pronouns. Sources' pronouns have been noted in parentheticals next to their name upon first reference.
It's a Sunday on the Palouse, and a crowd of about 30 people gather in a small grass clearing to play baseball.
There's yellow, late afternoon sunlight dappling through trees on the outer edge of the field, and at a table near the entrance, three friends assemble hot dogs and buns. On the other end of the lawn, a bat hits a ball with a resonant clack, and a cheer erupts from a boisterous, if small, crowd. "Go, go, go," and "two points!"
Taylor Rose (she/they) is a founding member of the group known as Palouse Gay Baseball. Three years ago, she said, the team formed when about six friends decided to make something regular out of a game of catch they were playing at the river.
"I don't know if we knew what to expect last week at spring training," Rose said. "But when 32 people showed up, and there were multiple cars from Spokane, it was like, 'Oh, this is something now.'"
Baseball, with all its rituals, has a sort of spirituality to it, Rose said. For the team of LGBTQ+ players, it's a bit like church.
"Sunday night, we're playing baseball," she said. "I think people throw the word community around, but it isn't always there. And here, there's an opportunity to meet someone and realize, 'Oh, I've never met you before, but you're my neighbor.' "
'Breathing air for the first time'
Team player Marcia Darling, (she/they), who grew up on the Palouse, came out as transgender a little over a year ago.
Realizing she was transgender, they said, came out of an accumulation of experiences that led to a "lightbulb" moment. Before coming out, she'd spent two years deconstructing her deeply religious upbringing that was unsupportive of queer people.
"Jan. 25 was the day that I realized it. Then March 1 was the first day that I came out to somebody who I actually knew," she said.
At the time, Darling was living with and working for her parents so she could save money. They were unsupportive of queer people, she said.
"I kept on like, dropping little hints. And every single time the hint would drop, there would be a really negative reaction. So I'd be like, 'No, I better not do that,' " they said.
When she came out, Darling's parents asked her to leave. Most of her straight friends stopped talking to her, she said.
That isolation is a common experience for many LGBTQ+ people. Now that she's out, people ask Darling if she's happier, she said. That question misses the mark.
"It's feeling like my whole life, I had my head underwater and was breathing through a straw and then coming up and breathing air for the first time," Darling said. "The best way to describe that is not necessarily that I'm happier but that I am able to feel happiness."
Darling wouldn't go back for anything, she said. But finding spaces where it's safe to be herself is hard. A growing rise in anti-trans rhetoric and legislation targeting LGBTQ+ people also hasn't helped.
On June 6, the Human Rights Campaign declared a "State of Emergency" for LGBTQ+ Americans and issued a safety guidebook for residents and travelers.
According to the organization, in 2023 there were more than 525 bills introduced in 41 states, including Idaho, targeting LGBTQ+ people. More than 220 of those specifically targeted transgender people, and over 76 were signed into law. They included gender-affirming care bans, bathroom bans, and sports bans.
For Darling, all that means she often feels the need to keep her guard up.
"When I'm in an unfamiliar environment, and I start seeing, you know, Trump flags everywhere, or 'Jesus saves' flags everywhere," they said, "I start to get a lot more on edge than I ever used to. The kind of abuse that I suffered from even my own family, under the name of religion, really puts me on guard."
In those spaces, she said, conforming to gender roles becomes important not only to be seen for who she is but for safety.
When it comes to baseball, Darling said, they don't have to present a certain way to prove themself. She can be loud, and athletic, and unashamed. She doesn't have to perform a certain way to be seen for who she is or feel safe.
Darling first joined Palouse Gay Baseball last year after hearing about the group from her doctor.
"I was like, 'Well, I like baseball, and I'm gay. So let's do that,'" she said. "It was one of the first spaces that I had that I felt like I could really express myself."
Coalition-building through baseball
Rural communities like the ones in Eastern Washington can have a reputation for being less inclusive. But Coach Sanders, (she/her) who asked to not use her first name for safety reasons as a queer community organizer, said lessons learned from small-town life were a driving force for what made the group work.
"Every time you go to the post office, every time you go to the store, every time you walk down the street, there's somebody who knows you by name," she said. "I think when you bring that mentality into queer culture, it becomes something greater."
For this group, baseball isn't just baseball, Rose said. Baseball isn't even the most important part of what they do.
For them, baseball has become a sort of coalition-building. It's a place where queer people are not only free to be themselves without fear but can build relationships and community.
The word "community" comes up a lot in conversations with team members. What it is, and what it is not. For Sanders, community expands beyond more than just a circle of friends.
"To really be in community, you have to be around people that maybe you wouldn't always hang out with in your day-to-day life," she said. "All these people I've never met before, and all these people that are older or younger than I am, now that we're all gathered together, we're actually in community with each other."
Diamond Fields (they/them) joined this year. They said the mix of people of all ages, experiences and abilities has meant everyone has something to contribute, and everyone has something they can learn.
"I think having that kind of open range of people, ages, genders, that kind of like, tossed salad makes a well-rounded group," Fields said. "It's kind of just like, wherever you fall, you can support people."
'Unashamed of who we are'

Rose said people in their generation have been part of a movement toward widespread assimilation at institutional levels. As another backlash against LGBTQ+ people happens, one that's happened before and failed, she said, they're trying to take a note from queer organizers who came before them.


Creating spaces where queer people can support each other is important, Rose said. Part of that support process for their team has been giving players of all abilities, especially queer and trans players, a place to overcome sports-related trauma. 

Many intramural sports are heavily gendered, Rose said, barring implicitly and explicitly the inclusion of trans and nonbinary athletes.


"When you hit the ball with the bat, no matter what your gender or sexuality is, like, that's an affirming moment for you," she said. "I think that's everything for people when they come to gay baseball."
"You get to break those gender stereotypes, and everyone's OK with it. That's really fun. Being gender nonconforming feels really good," she said. "How many spaces are there for queer people to be loud and boisterous and be unashamed of who we are?"
Baseball just happened to be the key 

Community-building doesn't have one look, Rose said. None of them can offer a guidebook. When their group of friends started Gay Baseball, they just wanted something fun to do together.
"Sometimes when people want to do something good or important, they think it has to look like what it's going to look like at the end," she said. "It really doesn't. We just kind of kept showing up." 
Since they started, the community among their patchwork group of players has become the envy of friends living in larger cities, Sanders said.
"They look to our space in the middle of the prairie, and they get jealous," she said. "There's no magical city that's going to save you, that's going to be a safe space, that is going to be everything you need. What's going to save you is other people, and having each other, and being able to support each other."
The baseball isn't what's made the team so important to the people who play in it, Sanders said. She said she believes there's always an opportunity to organize people to make a space for themselves.
"Maybe it's baseball for us. Maybe it's something else for someone in another town," she said.
Players say finding that space was pure joy.
"A lot of people stop making friends once they're past a certain age," Darling said. "It feels like right now, these are the best friends that I've ever had in my life. I made them in my 30s. How often do you hear things like that?"
This report is made in partnership with Northwest Public Broadcasting, the Lewiston Tribune, and the Moscow-Pullman Daily News.