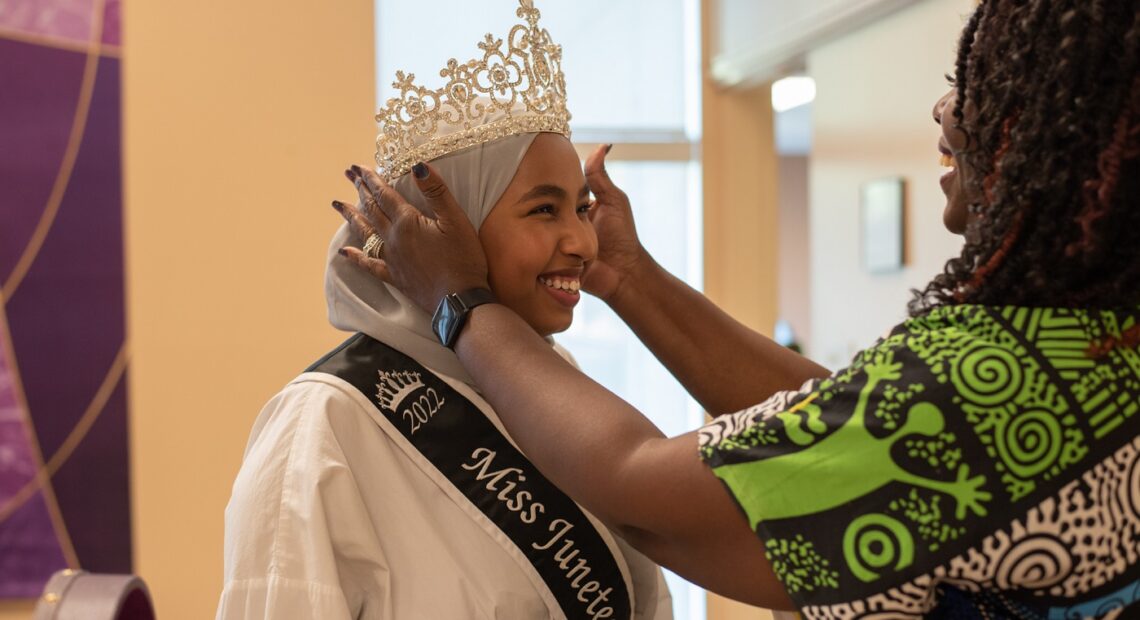 Miss Juneteenth in the Tri-Cities celebrates young Black girls' leadership
For over two decades, Tri-Cities has held the only Miss Juneteenth Scholarship Program pageant in Washington state. This evening, seven candidates compete for the crown and the scholarship to celebrate the leadership of young African American women.
When Elouise Sparks started the Miss Juneteenth Scholarship Program in Tri-Cities 21 years ago, she was inspired by her daughter.
"She was really young, and she didn't have a lot of self-esteem. She always didn't feel like she was enough," said Sparks.
Sparks wanted to boost her daughter's confidence and signed her up for a pageant.
"She ended up walking in a room of 130 little girls, and they were all white girls. And she turned around to walk out, and she said: 'Mom, I can't do this. No one in there looks like me,'" Sparks recalled.
But, Sparks encouraged her daughter not to give up, and it paid off; she ended up with a top model award.
That was the beginning of Sparks' journey to inspire more young Black girls like her daughter, a mission the pageant has kept to this day.
"I want them to be inspired. I want them to be encouraged to go to school, go beyond here, go beyond high school and get an education, so they can get those jobs that everybody said they're not capable of getting," said Sparks.
Sparks said Miss Juneteenth Scholarship Program is not a beauty-focused pageant.
She said it's more an opportunity for the candidates to feel good about themselves and recognize how far they can go.
Razan Osman, the 2022-2023 Miss Juneteenth queen, said participating in the contest made her grow in many ways, especially because she's often the only Black person in the room.
"Now that I have this title, now I go into and be like: 'OK, I'm representing the Black people. I need to like, be a good example for people.', And that's one thing that this pushes me to do," said Osman.
Micah Milliner is competing for Miss Juneteenth this year. She says participating in the pageant is allowing her to be more involved with the community.
"I came to the pageant because I wanted to learn about, integrate into, and become the representation of the Black community of the Tri Cities because I'm new here," said Milliner.
Aissata Jallon,16, is also participating in the contest this year.
"I did this pageant to embrace my community more, and the experience and be able to educate about Juneteenth," said Jallon.
Osman said the contest also celebrates freedom and makes others more aware of the Juneteenth commemoration, when enslaved people in Texas learned they had been freed–more than two years after President Lincoln signed the Emancipation Proclamation. Juneteenth is now a federal holiday.
"Not all people know about Juneteenth. I know a lot of people celebrate Lincoln, and that's a good thing. But it's also, like, you have to know the struggles that it took to actually get his act into action," said Osman.
Sparks said the pageant path has not been free of criticism in the Tri-Cities. However, organizers remain focused on supporting talented young African American girls.
"We're making a difference. If we just helped two or three of these girls, we made a difference. And we've helped 20 of them or more."
Sparks said more than 100 contestants have participated in the 21 years that the contests has been carried out.
Also, little girls can get the Junior Princess sash, which is awarded to the most successful girl promoting the event tickets. The Junior Princess goes with Miss Juneteenth to events. Sparks said it motivates the girls to participate in the program when they grow up.
After handing over her crown, Osman says she will keep inspiring other Black youth in her community.
"I have to, like, encourage people and just let them know that they can get through this because, like, being Black, we have a history of resilience and just perseverance that I just want to carry on. Let people know like: 'you've got this, you can do this,'" said Osman.
Sparks estimates that at least 300 people attend the event yearly. She thinks the Miss Juneteenth Scholarship Program is leaving a mark on the community.
For years, Miss Juneteenth in Tri-Cities was the only pageant of its kind in Washington state, said Sparks.
Now, Tacoma will follow suit and have its first Miss Juneteenth pageant next week.