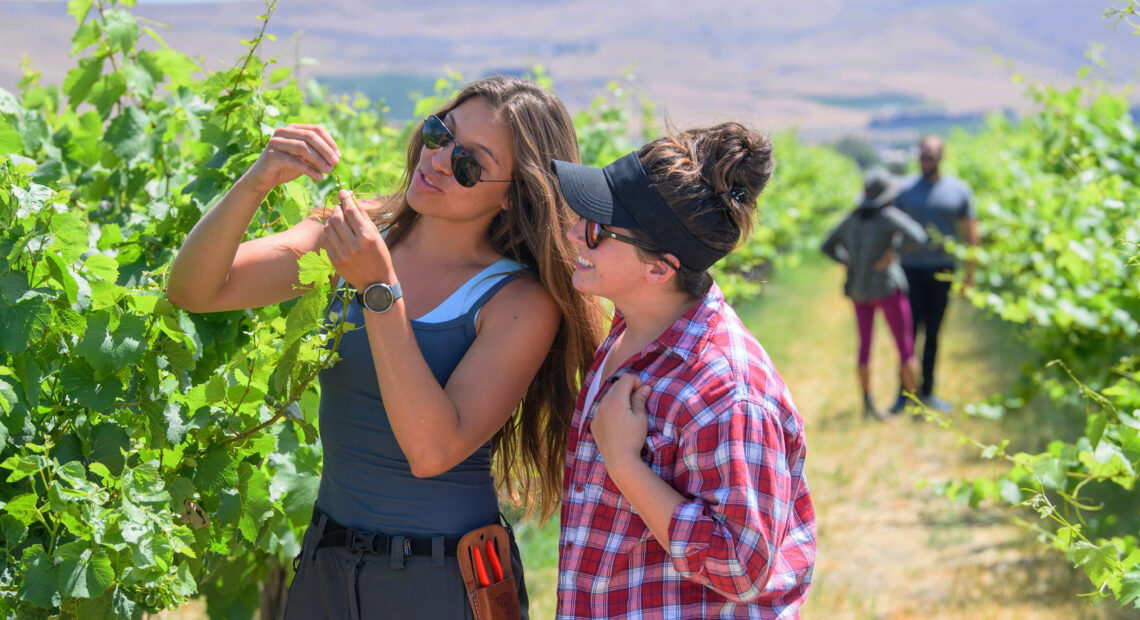 European fruit, American roots: The science of better wine grapes
More than 1,000 wineries cover Washington state, from the coastal hills to the arid deserts, and wine is big business in the Evergreen State. A 2020 data report found Washington's wine industry had an $8.4 billion economic impact statewide, including wine production, distribution, sales and wine tourism. 
Almost everywhere else in the world, vineyard managers use European grape plants that are grafted onto North American rootstocks, because the rootstocks from North America are more resistant to disease. 
"The beauty is we learned about 100 years ago you can take a European grape, and you can put it on an American root. And if you do that, those European grapes do really well," said Michelle Moyer, a professor of viticulture at Washington State University. 
Now, many in Washington are adopting that practice of using European grapes with North American rootstocks.
"Rootstocks allow for grape varieties to be resistant to current pest pressure we're facing along with climate change," said Monique Ortiz, a viticulturist for North Slope Management in Walla Walla. 
Rather than being grown for a season, wine grape vineyards are managed for forty years. That means needing to make sure the vines are ready for the long haul. Moyer says using stronger and heartier rootstocks may allow more culturally or environmentally sustainable pest management practices, like using plants to deter harmful insects. 
Bernadette Gagnier studies parasitic nematodes, a worm pest that chews on vines, and researches how to make vineyards more resistant to pests. Now that so many vines across the Northwest are aging out and need to be replaced, the new plants are vulnerable, Gagnier said. 
"If you try to plop a baby vine in soil that has a really high parasitic nematode pressure, it's just not going to do well. It may take longer to establish, and you might be looking at replacing a bunch of vines that didn't survive," said Gagnier. 
That's why the latest rootstock science is so helpful to growers. If new plants have heartier rootstocks, it leads to healthier vines and more fruit, said Gagnier.
Researchers are also breeding for selective traits like vines that do better in high pH or sandy soil. This allows growers to shop for plants with specific strengths.
After replanting 20 acres of their vineyards with rootstocks, Ortiz said the vines are now thriving. "I think switching to rootstocks is incredibly important for the survival of Washington vineyards and continuous quality of wine," said Ortiz. "Depending on the type of rootstock you select, you can see increase in crop yield, vigor, cold heartiness, drought tolerance … It's pretty impressive to see the list of modifications rootstocks can offer you."
When Washington first came on the wine scene in the 1950s and '60's, early growers planted well-known red and white varieties like Cabernet Sauvignon, Chardonnay and Merlot. 
"What we're seeing in Washington now is a renewal of vines that are getting old, or suffering from disease," said Kevin Judkins, the owner of Inland Desert Nursery, which supplies rootstocks to multiple vineyards throughout the United States and Canada. 
Judkins also owns several vineyards, and said while it's usually easy to sell wine grapes, "it can be a challenge to sell a truckload of Cabernet Sauvignon right now."
That's partly because newer generations have different tastes when it comes to wine. 
Gagnier says younger wine drinkers now prefer more Rhône variety reds like Grenache, Cinsaut, Counoise.
Judkins added that white wine preferences are changing too, with wine drinkers preferring Albariño and other, "unique whites that are not your typical buttery, oaky flavor," said Judkins. "People now want more of a crisp, refreshing taste."
Judkins said these new trends speak to the natural evolution of the Washington wine industry, as growers discover that just about every variety thrives in the state.
"Tasting rooms are having more luck when they have more to offer than the usual wines," said Judkins. 
Trent Ball is the Agriculture Department Chair at Yakima Valley Community College. He looks at grape growing trends every year as part of his research.
"The major varieties still dominate in total purchases, but we're definitely seeing a trend in sparkling wine," said Ball, who added that the trend first trickled out of Italy, started by Prosecco and Moscato. The latest data from the Wine Institute shows an uptick of 8% in sparkling wine production in the U.S. 
Along with new flavors and different wine styles, social responsibility is important in purchasing decisions for Gen Z and Millennials. That's according to Kristina Kelley, executive director of the Washington State Wine Commission.  
"They are more likely to purchase products that are social and environmentally sustainable," said Kelley. "Younger consumers want to know where the wines come from, how it is grown and what you are doing to make your community and the world a better place."
Sustainability is a key aspect of the Washington wine industry. The Sustainable WA program, launched last year, allows grape growers to become certified and earn a label for their wines through the Washington State Wine Commission after meeting stringent requirements like low-impact farming and using water conservatively.
The newer grapes favored by younger wine drinkers are causing some small planting changes across the state. "But the plantings represent an exploration of varietals in what we can do, and what we can do well in Washington," said Ball.
While the interest in new varieties continues to grow, sturdier rootstocks means saving growers money and helping young vines survive.
"This could help expand and improve the repertoire of wine grapes grown in Washington state," said Gagnier.