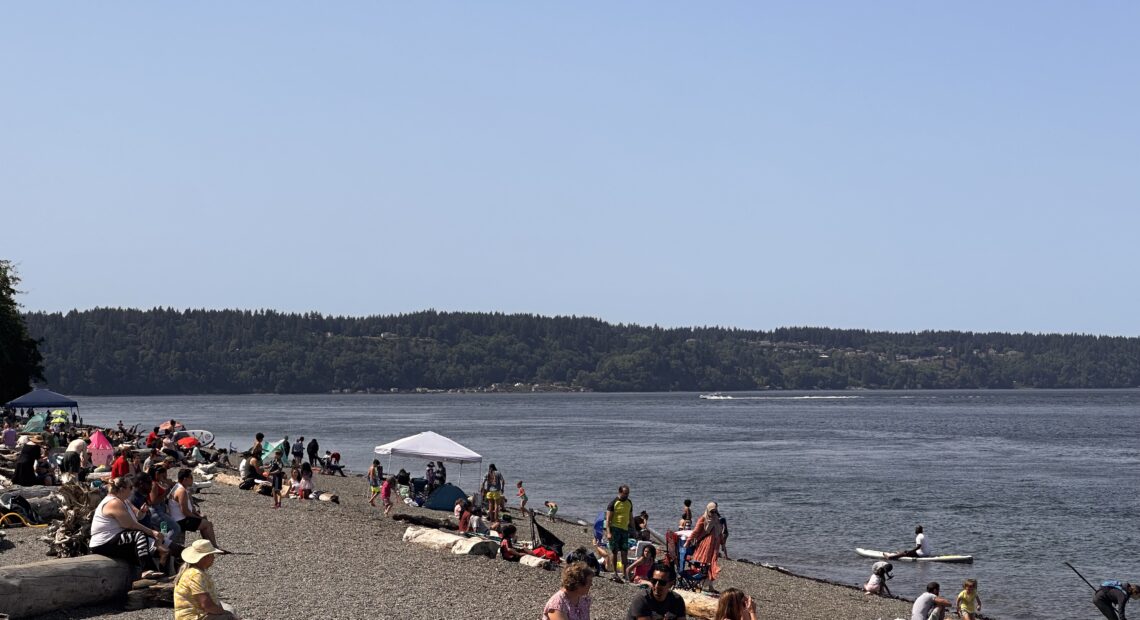 Get ready for the heat, west-siders!
Just in time for the Fourth of July holiday, the west side of Washington is going to see some sunny, hot weather. The daytime highs of 80- and 90-plus degrees being predicted might still seem abnormal to those who call the Puget Sound basin home, but those temperatures are on trend with the hotter summers climatologists have been tracking.
Historically, Western Washington would get one or two days of 90-plus degrees in the summer. But, now, that's happening about twice as often, said Nick Bond, the Washington state climatologist and a research scientist with the University of Washington.
In 2022, SeaTac International Airport recorded 13 days of 90-plus daytime highs.
It's when temperatures reach above 90 degrees that heat becomes a health concern for most folks, Bond said. 
"We don't want to have the same sort of loss of life that we had in 2021, when those really extreme events come along," Bond said, referring to an excessive, prolonged heat event from June 26 to July 2, 2021. During that time period, there were 126 heat-related deaths in Washington state, according to the Washington State Department of Health.
New research from the University of Washington found 441 more people than expected, based on previous years, died during that time period, leading researchers to believe that heat played an indirect role in these excess deaths. 
While this week's event is likely to be only a moderate heat wave that won't last long, Bond said climatologists know the state's west-side summers are getting warmer. That means people have to be more prepared for the heat, such as staying hydrated and in cooler indoor areas during the heat of the day. 
Katharine Flug is an emergency preparedness coordinator at the Tacoma Pierce County Health Department. She said there are a few things folks can do to stay cool, such as taking cool showers and closing curtains and blinds on windows that let in daytime sun. It's important to watch for signs of heat exhaustion during hot weather events. Excess sweating, headaches and nausea can all indicate that someone needs to cool down, Flug said. 
Heat stroke is different from heat exhaustion. It's when your body reaches excess temperatures, rising to 106 or more in 10-15 minutes, and it can manifest as confusion, a lack of sweating and dizziness. When that happens, Flug said to call 911 or go to a hospital immediately. 
Municipalities can be crucial in providing safe spaces for folks to congregate and cool off, especially here, where few people have air conditioning.
Mike Halliday is the public information officer for Pierce County Emergency Management. He said the county works with partners to open cooling centers when the National Weather Service (NWS) issues an advisory for heat. The weather service has not issued a heat advisory for Pierce County this week. Much of the area west of the Cascades is in a minor or moderate risk for heat-related impacts this week, according to the National Weather Service. 
Cooling centers in Pierce County are often in places of business, like libraries, and follow those business hours. With nighttime temperatures also historically rising, overnight cooling shelters could become a tool to keep people safe. Halliday said the overnight temperatures haven't been at a high enough temperature, for a long enough duration, to warrant this.
The Tacoma Pierce County Coalition to End Homelessness has provided hot weather resources for July, including places to cool down and to access water and heat safety information on this website.
Part of the reason why temperatures in the 90s on the west side of the state have a different impact than in other parts of the state or country, Bond said, is that people aren't acclimated to the heat. So, when hot temperatures come, it's a stark shock to what our bodies are used to. Plus, not as many places have air conditioning, and, being this far north, the days here are longer.
"Our nights are pretty short," Bond said, "and, so, eight hours later here comes the sun again, and so look out." 
This summer, Bond said the seasonal climate prediction models are forecasting a warmer summer and also likely a drier one. That's the perfect storm for fire events.
"It's really important, while people are celebrating this weekend and enjoying time with family and friends, that they're also being extra vigilant and cautious," Halliday said. 
In unincorporated Pierce County, there's an active burn ban. People can learn about burn bans where they live and play on the Washington State Department of Natural Resources' website.