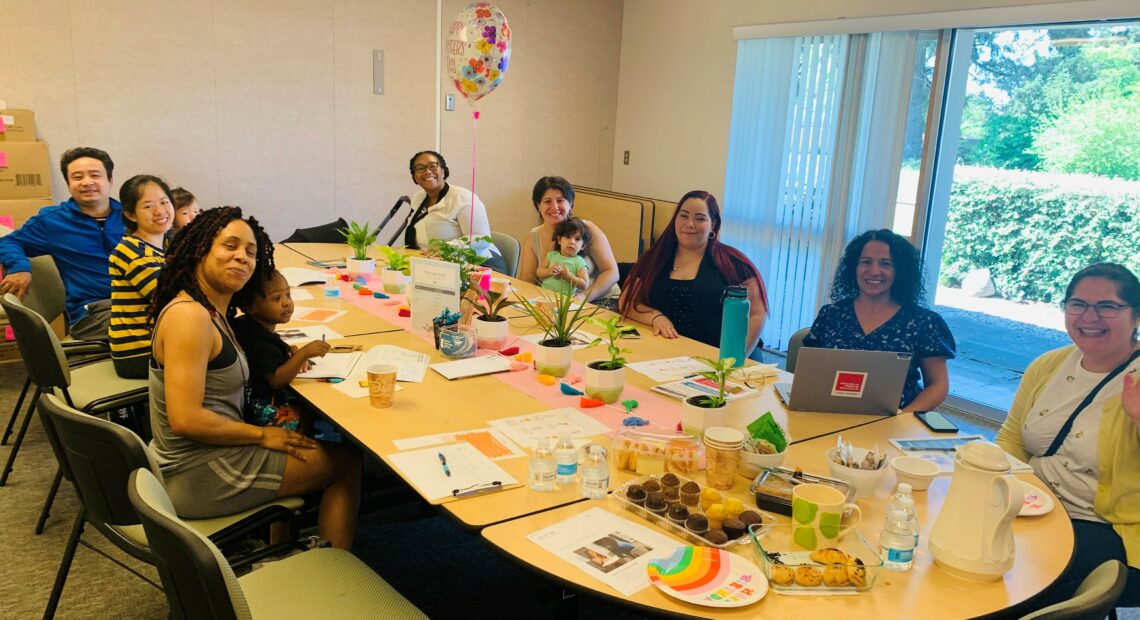 Support outside of the classroom: how one western Washington school district aims to help families
Just minutes away from busy Pacific Avenue in Pierce County the Franklin Pierce School district administration office sits inside a nondescript, gray building. Inside, a group of women are gathered in a conference room Thursday morning, eating brightly-colored Pan Dulce, laughing and sharing their trials and tribulations. Blanca Sagastizado, a family resource navigator for the district, floats around the group of moms – hugging them, catching up and offering tea and coffee.
Sagastizado started the group as a place for parents to share their struggles with other parents. In her day-to-day job, Sagastizado connects families with resources like housing, the federal Supplemental Nutrition Assistance Program (SNAP) for food assistance and even a parenting class she teaches herself.
One mother she helped at the center shared with her how difficult it was to be separated from her family in the Tigray region of Ethiopia where ongoing conflict has created a dire situation for many, and that she had not been able to communicate with them for two years. Sagastizado asked her if she would feel comfortable sharing that with other parents.
The woman, Meaza Wasihun, said she would. That marked the beginning of Pan con Café. It's a monthly meeting named for the sweets and coffee always shared along with the struggles.
"I'm glad I found Blanca," Wasihun said. "It was a big thing for me to have someone just to hear my voice and when I cry, she hugs me and she talks like 'it's gonna be better, it's gonna be better,' you know, all that stuff."
Wasihun said she believes moms specifically should gather to share what they are going through and establish social connections. She said it is a way to not only care for themselves but their children, too.
"The families that come in to pick up diapers, they're young families and they are hungry to connect with other community members," Sagastizado said.
When those families come in, staff often find they can help them with other needs like clothing, food and housing. Sagastizado said they help families fill out applications for things like the REACH Center which helps youth from 12-24 find housing.
"A lot of the families don't own a laptop," Sagastizado said. "So they can come in and we sit here and navigate through or find resources."
The district, which serves students in unincorporated Pierce County, has become a connector to resources far beyond the classroom.
"Our schools often act as the hub for a lot of community center-related stuff," said Claudia Miller, director of family and community partnerships for the district.
The Family Resource Center also houses one of 11 diaper banks in the county. In June 2023 the center distributed 3,678 diapers and submitted four SNAP applications.
Nejla Yber is another mom and Pan con Café attendee who found out about the group after using the diaper bank.
Yber is from Turkey and she said the group has helped her establish a sense of community and family for her.
"I am so thankful for everything," Yber said.
The district opened the Family Resource Center in collaboration with the Tacoma-Pierce County Health Department in 2021. It also houses a food pantry.
"We really tried to structure the main district building to become just the hub for the public," Miller said.
She said parents come in to enroll their child or fill out other documentation and might unexpectedly find other resources the district provides.
So, what is the need in the area?
The Franklin Pierce district serves Pierce County where 8.2% of families live in poverty, according to July 2022 Census data. The official estimate for the number of homeless people in Pierce County is 4,300.
At the end of May 512 children in the district were eligible for the federal McKinney-Vento program, meaning they are either homeless, unaccompanied or foster children.
Miller said they serve a lot of "doubled-up" families who might be living with relatives or friends to try to stay in the community as the area becomes less affordable.
In June the center served 125 families, five of whom were duplicates that accessed the center twice. Of those families, 92 were returning.
The schools are trying to fill gaps for families. Miller said the district works to connect families with any service they might need to ensure their children can engage and thrive at school.
Franklin Pierce has a resource request system where school counselors identify families that need more support. Following that, there is a needs assessment. Needs range from hygiene supplies to clothing to sleeping bags.
"It really is to eliminate any potential barrier for a child not feeling confident and wanting to come to school and be able to access their education and have the same experience as any of their peers in school," Miller said.