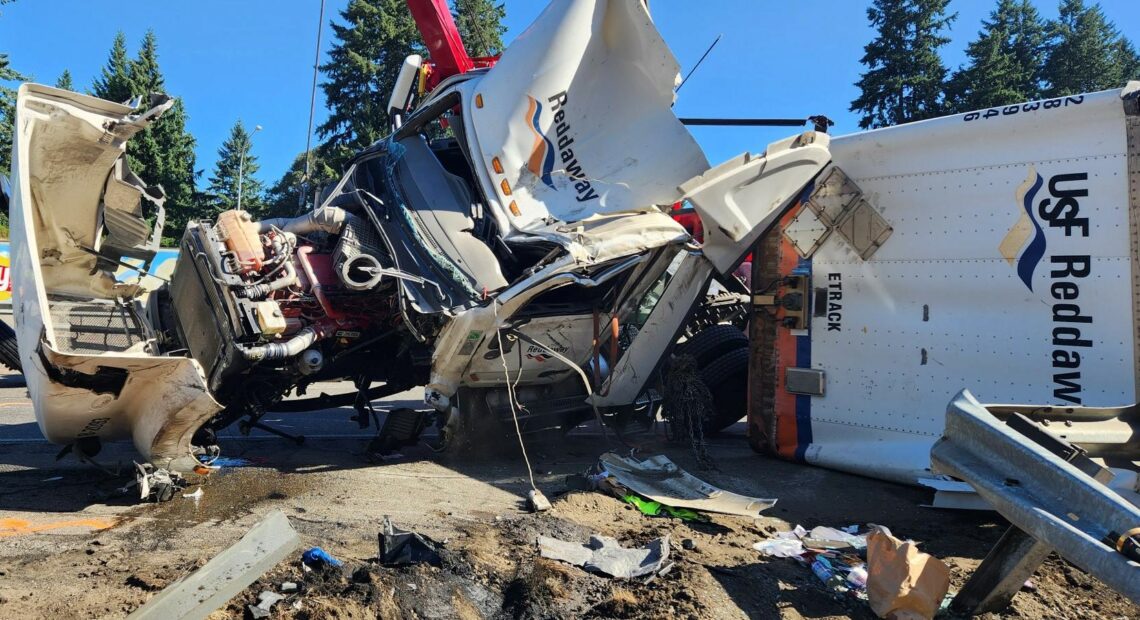 Collision on northbound I-5 causes massive back-ups
A major collision on northbound Interstate 5 Wednesday morning caused day-long backups across much of Thurston County.
The incident, between a semi-truck and passenger vehicle, closed all but one of the northbound lanes just past the exit to Mounts Road in DuPont, as crews worked to investigate the collision and then clear the debris and vehicles.
Drivers like Linda King, who lives in Roy, were stuck, biding their time in their vehicles for hours. King was on her way home from a morning walk in Yelm when she took one look at the intersection, and realized she wouldn't be getting anywhere fast.
"As far as you could see, the traffic was just bumper to bumper," King said. "So then I thought, 'Well, I'll let it kind of settle down a little more.'" 
King joined throngs of other drivers in line at local coffee shops to get a drink and waste a little time before trying to get to their destination, in the hopes that the roads would clear soon. King said the first coffee shop she went to was so busy with others doing the same thing as her, she left for another one across the street.
"I guess it just teaches you that, you know, you just have to take a deep breath and just let it be because there's nothing I can do to change it or for all these other people out here," King said. "And so we'll just call chalk this day up to taking it very slow." 
For King, the incident and trouble it caused for traffic in the area, were a sign of a bigger problem — the lack of multiple roads to travel around rural Thurston County.
"This shows you that if there's ever a disaster or something how awful it would be because I can only get home one way," King said. 
The clearing and reopening of the interstate took some time because special equipment needed to be brought in to remove the semi-truck.
Cara Mitchell is a communications manager for the Washington State Department of Transportation. She said the special equipment needed to remove the semi-truck included a crane and a large, low-boy trailer. 
"That semi was loaded with hardware and bags of concrete," Mitchell said. "It was very heavy. And so it took a while for crews to get all of that removed."
Mitchell said it could take hours to clear the backups caused by this crash. At 2 p.m, the collision was cleared and all lanes were reopened but traffic had backed up 13 miles from the Mounts Road exit in DuPont to U.S. Highway 101 in Olympia.
Washington State Patrol reports that the driver of the passenger vehicle, a small SUV, was transported in critical condition. The driver of the semi-truck was also transported with possible injuries.
King made it home to Roy a little after 3:30pm, after driving for nearly four hours, a trip that would normally take her less than 20 minutes.
UPDATE 7/20 4:00PM 
Washington State Patrol reported Thursday afternoon that the driver of the SUV has been released from the hospital, and the semi-truck driver is recovering in the hospital.