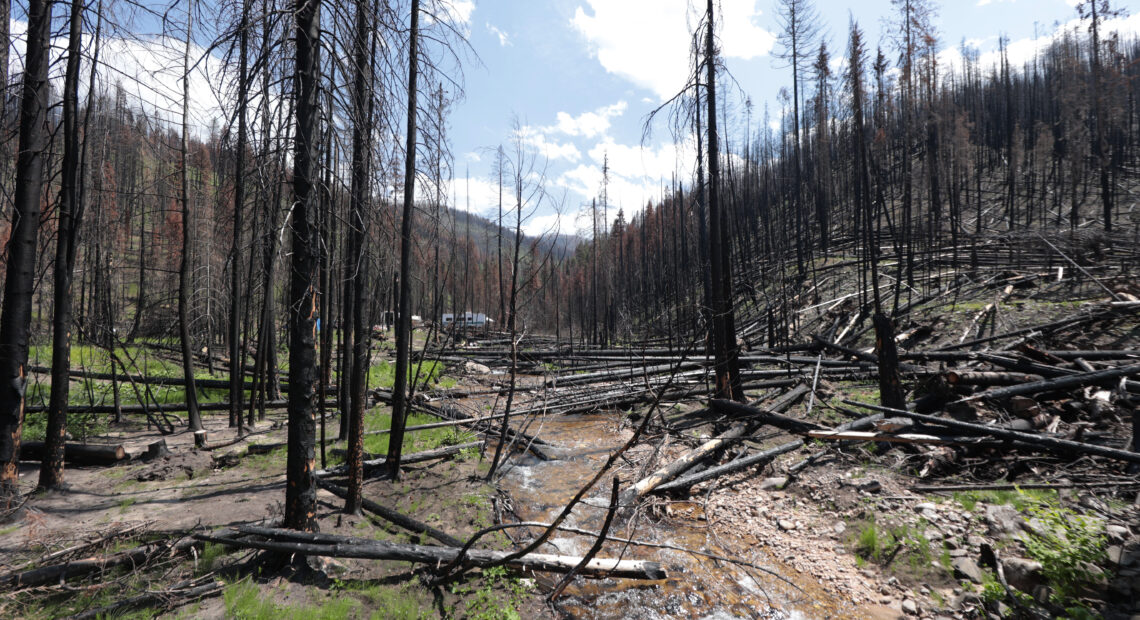 Millions in wildfire funding coming to the West, projects already underway
In remote northern Idaho, barely more than 100 people live in the little town of Elk City. The Nez Perce-Clearwater National Forests span four million acres of canyons, rivers and rocky mountains, and Elk City is right in the heart of it all. 
"We're the only gas within 50 miles, so we pretty much serve all of the little towns like Orogrande or Dixie," said Daniel Wauer. She owns and runs the Elk Creek Station & Cafe. They serve breakfast, coffee, ice cream and even have car supplies on hand, like engine oil.
Sparked by lightning, the Williams Creek Fire last summer in nearby Orogrande burned just over 16,000 acres, raging through the Gospel-Hump Wilderness. 
"It was smokey everywhere. Some of the elderly folks were having a hard time breathing," said Wauer. "[We were] watching the fire grow so quickly. It was like thousands of acres just quickly overnight, bigger and bigger …"
Forest Service staff, locals and nonprofit groups met at the burn site in Orogrande, talking about the Williams Creek Fire response: What worked and what could have been done better. 
Robin Hunt lives in Orogrande, just about 12 miles from Elk City. She was there when the fire crested over the mountain near her home. 
"Basically, the evacuation, they do it in the stages," said Hunt. "Stage One: Kinda, you know, get ready, it's possible [you'll have to leave.] Stage Two: It's gonna happen. And Stage Three is: Get the heck out of dodge."
It's in those moments people decide what's most important to them, Hunt said. 
"I grabbed the family history that I had, the genealogy. I grabbed the weapons, jewelry, furs … and everything else got left," she said. 
Hunt is hopeful the Forest Service will prioritize keeping remote forest roads better maintained so firefighters can get to the fires more easily. 
Craig Roach is the Fire Management Officer for the Red River Ranger District. A few years back, crews thinned and trimmed trees around Orogrande to reduce the risk of wildfires spreading, he said. 
"We did a lot of prescribed burning and fuels work. With those treatments, the fire came down to the ground level, the flame lengths were greatly reduced and [firefighters] were able to get in and protect homes," said Roach.
Projects like this are part of a new 10-year wildfire crisis strategy.
Launched last January, the goal is for the Forest Service to work with tribes, states, local communities and private landowners to protect places at risk of burning. 
Ten landscapes across Washington, Oregon, Idaho, California, Montana, Colorado, New Mexico and Arizona have received $131 million for fuels reduction, paying for projects like the one in Orogrande.
Robyn Smith is the District Ranger for the Red River Ranger District. "I think it's important for people to understand that the wildfire crisis strategy landscape has been designated because of ongoing efforts in our area and across the United States to reduce fire hazards, reduce risks to communities and enhance forest health," she said.
The program is a tool to help speed up processes and planning, Smith said.
"We can actually get on the ground and implement projects, even projects that maybe didn't pencil previously," she said.
In early 2023, the Forest Service approved funds for 11 more landscapes to address wildfire risk in rural places, and several are located in the Northwest. The Nez-Perce Clearwater National Forest in Idaho, Mount Hood National Forest in Oregon and the Colville National Forest in Washington. 
For those living in the West, no one's a stranger to smoke-filled skies. However, this summer, folks back in the East might be thinking more about fire policy, said Mike Blinn, the Wildfire Crisis Strategy Landscape Lead for the region.
"Wildfire smoke from Canada definitely inundated the East Coast just like we get from our local fires," said Blinn. "So it probably allows for a little more sympathy and maybe more of an understanding of what we're putting up with as well."
As the group finishes their discussion under the blazing summer sun, someone asks Roach about the rest of this year's fire season, and what to expect.
"This year we have over 100% snowpack. We had some good spring rains. But the snow did come off a little quicker than some of us thought," he said. "The next couple of weeks are going to be telling as the temperatures start warming up into the 90s and 100s. And when and where we get lightning strikes," he said. 
Despite the black trees and skeletonized forest around Orogrande, the birds are singing. Wildflowers are now growing up from the forest floor.