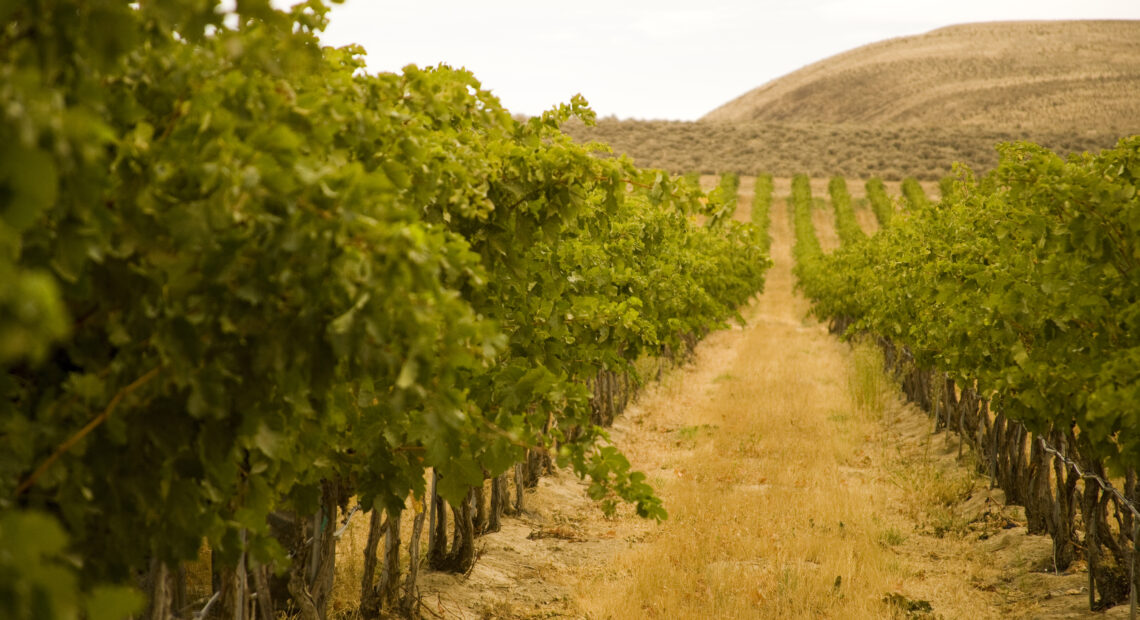 Northwest wine behemoth – Ste. Michelle Wine Estates – may be listing
The massive Northwest wine beast Ste. Michelle Wine Estates has announced to its Washington wine grape growers that it's not taking nearly half of its contracted fruit this fall.
Ste. Michelle Wine Estates makes up around half of Washington's wine industry. Ste. Michelle said it is taking in 40 percent less grapes in Washington contracts but so far Oregon's wine industry – whose largest producer is also Ste. Michelle Estates with brands like A to Z and Erath – hasn't faced the same blow.
Ste. Michelle owns, and mainly contracts, more than 30,000 acres of grapes in Washington, according to a Sycamore Partners press release.
Washington growers were told their fruit didn't have a home about a month from harvest.
"We have started conversations with our grower partners in eastern Washington to adjust our grape supply to better align with demand and enable us to focus on crafting the highest quality premium wines from Washington," Ste. Michelle Wine Estates said in a statement. "Our long-term relationships with our growers are extremely important to us, and while this is a difficult process, these proactive measures are necessary for the ongoing health of our business as well as the health of the overall Washington wine industry."
The massive wine company won't take any fruit from some growers and just cut down percentages for others.
Waiting out the summer rain and lightning in vineyards in early August, some growers had a few brief moments to talk during the busy walk-up to harvest which starts at the end of the month. However, many growers we spoke with told us they are afraid to go on record for fear of any possible partial-deal being cut with Ste. Michelle.
"The industry has a long history of being creative, collaborative and resilient and we will continue to work together to find new ways to reach the next generation of consumers," said Kristina Kelley, executive director of the Washington State Wine Commission, in a statement.
"We have experience adjusting our budget and will remain agile to prioritize work that drives the growth of Washington wine," she said.
The ripples could be far-reaching: This huge cut means that the Washington Wine Commission and the Washington Winegrowers Association will likely be curtailed. Representatives from WSU's Viticulture and Enology program – which draws a lot of support from Ste. Michelle and even has a wine science center building named for Ste. Michelle in Richland – didn't say much about the wine giant's major cut back.
"We have appreciated that Chateau Ste. Michelle named the Wine Science Center and anticipates that our student learning opportunities will continue," said Sandra Haynes, chancellor of Washington State University Tri-Cities.
Many growers are scrambling after they expanded vineyards around a dozen years ago following calls to increase acreage from Ste. Michelle. Growers said they are trying to find possible homes for grapes and negotiating with their bankers on what to do.
Ste. Michelle formed the base of many state vineyards' portfolios. For example, Ste. Michelle might have taken 60 percent of the fruit from a vineyard, so now, with Ste. Michelle gone, smaller wineries might also lose out if the vineyards can't sustain the hit of so much unsold fruit.
Ste. Michelle Wine Estates has been operating in the Northwest since 1934. It was recently acquired by a New York firm called Sycamore Partners. Ste. Michelle Wine Estates had been the largest wine company in the Northwest and the third largest premium wine company in the United States, according to a Sycamore Partners press release from 2021.
Some larger Northwest winery companies might sop up some of the juice. However, many of these grapes have been managed for larger-production use – using mechanized thinning, hedging and harvesting. They wouldn't likely all be purchased by small boutique wineries who, many times, do these processes with more-expensive hand labor.
Ste. Michelle Wine Estates owns 2,400 acres in Washington and 190 acres in Oregon, according to an email from Brandyn Hull, with Ste. Michelle. Still, the outfit contracts with outside growers for most of its operation.
Some real estate brokers are also reportedly swirling and sniffing around the Northwest. This spilled Ste. Michelle juice could mean vineyards might sell or go out of business.
This continues the woe for Ste. Michelle which recently sold its Napa jewel, Stagg's Leap Wine Cellars. It also lost a convenient connection to the East Coast with the closing of a major rail facility in Wallula, near where the wine company stores most of its inventory. The wine industry has been facing an overall slowdown over the past year. Ste. Michelle now has stiff competition in its value-wine category nudged by craft beer, spirits, hard seltzers and ready-to-drink cocktails. There has been pressure from European imports, too.
There are upcoming individual meetings for Ste. Michelle's contract growers. Many told us they will know more after they have talked to their colleagues at the upcoming multi-day Auction of Washington Wines event. It is set for this weekend at Chateau Ste. Michelle in Woodinville. The benefit supports Seattle Children's, WSU's wine program and healthcare for farmworkers. One of the main events will toast Ted Baseler – former CEO of Ste. Michelle Wine Estates.