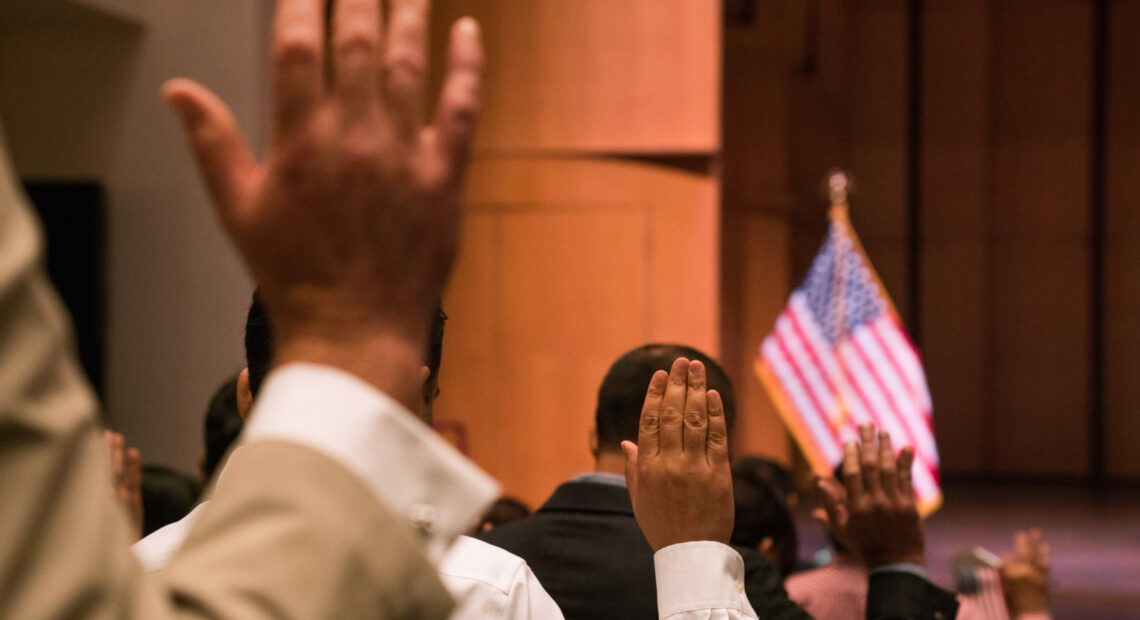 In Central Washington, legal clinic helps with citizenship application
Becoming a U.S. citizen is the goal of some immigrants. Sometimes, doing it without help can be difficult. However, in Central Washington, there are citizenship legal clinics to help applicants with their naturalization processes.
Brenda Guevara is a new U.S. citizen living in Yakima.
"I wanted to better myself, to learn English. I decided to take the GED [high school equivalency test] first and then study for citizenship," she said.
Guevara went to La Casa Hogar's citizenship legal clinic in Yakima earlier this year and a couple of months ago became a U.S. citizen.
Citizenship legal clinics offer events where attorneys and representatives accredited by the Department of Justice help people eligible to naturalize.
Eilish Villa is the director of La Casa Hogar's Citizenship Legal Services. The organization schedules citizenship clinics every quarter.
"We open the doors to fill out citizenship applications, to evaluate the cases, to make sure everyone who comes in is eligible and to get their applications in," Villa said.
For Guevara, having organizations that support these processes is important.
"It's not the same [doing it] on your own. They solve all your doubts and besides, they give you a lot of information, they inform you very well," said Guevara.
Yadira Chavez lives in Moxee and, with the help of the same organization, applied for naturalization a couple of weeks ago.
Chavez said she was already looking for information on how to prepare and signed up for citizenship classes with the same organization.
"They give you the opportunity to keep practicing and when you feel ready, they tell you to sign up to fill out your application," Chavez said.
How do you know if you are ready?
"To become a citizen, you have to be a permanent resident. And if you got your residency through all the regular channels you are going to have to have had residency for 5 years," Villa said.
Villa explained that if the applicant is married to a U.S. citizen, he/she/them must have been a lawful permanent resident for three years.
Villa says to become a citizen, you must be a lawful permanent resident and maintain residence within the United States for 5 years.
Villa also says other ways to prepare are to understand a basic level of English and study the civics questions for the interview.
The U.S. Citizenship and Immigration Services (USCIS) provides some exceptions and accommodations to the civics requirements based on the applicant's age or years of permanent residence.
What information should you have when you go to the citizenship clinic?
Villa said it is important to be prepared to get the most out of the visit to the legal clinic.
"We have to know what has happened in your past. Have some knowledge, have thought about that data. It's not necessarily going to impact your case, but we are going to want to know," Villa explained.
Villa mentioned that the naturalization application is 20 pages long and there is a lot of information to gather.
Sofia Acosta works as a community liaison for Citizenship at La Casa Hogar.
"The most important documents are the MICA or permanent resident card, ID or license, social security and passport," Acosta said.
Additionally, the names of those applying and their children, dates of birth, places of birth, addresses of residence, immigration history and travel information (in and out of the United States), during the last five years are required.
Acosta said it is also important to have dates of birth of each spouse the applicant has had; current addresses, if married at the time, and information on each spouse's place of employment.
"And when they get married, a lot of people forget that," Acosta said.
Acosta explained it is not necessary to have birth or marriage certificates, but it is necessary to know the dates.
What if you have a record?
Villa said when people have some kind of criminal record or something to check from the past they are concerned about the naturalization application.
"We have the ability to look at your record and assess whether it's going to be a problem or not. That's something [we] take time and are very careful about," Villa said. "The goal for us is to make sure that you're going to be OK and you're going to be successful in your paperwork."
Villa advises, if possible, people with these circumstances go to the local court to request a record.
"That helps us a lot to know if your case has problems or there is something we need to include in the application," Villa explained.
One of the concerns some people express has to do with drunk driving cases or DUI. Villa said those cases are more common than people think.
"A DUI is not a crime that is going to make you deportable," Villa said.
Villa added that, in general, DUIs also do not bring problems with applying for citizenship, but they could if the incident occurred within the last five years. It will depend on each case to determine if people can qualify for naturalization.
Villa emphasized that it is important to be honest and transparent throughout the naturalization process.
Is there a fee?
USCIS stipulates a fee of $725 to apply for naturalization. This can be paid by card, money order or check but there are some exceptions, Villa explained.
"If someone receives food stamps or medical insurance from the state they don't have to pay. But we do need proof, the eligibility letter in English," said Villa.
People who do not have those benefits must pay the fee required by USCIS.
Also, $10 is given to La Casa Hogar's Citizenship Clinic for mailing of the application envelope.
Villa said that La Casa Hogar is a non-profit organization, so resources are collected to maintain the program. Therefore, some people may pay a fee to go through the process with the help of La Casa Hogar staff.
"If you receive stamps or health insurance from the state and you have your benefit letter, you won't pay [at] La Casa either. But if you don't receive you also have to pay 100 for La Casa," Villa said.
Villa said this is a minor contribution, since La Casa Hogar follows up on each case, from the beginning of the application until applicants receive their naturalization certificate. Villa said these contributions also allow them to continue contributing to the community.
Other legal clinics in Central WA
Washington New Americans, a partnership between One America and the State of Washington, is another non-profit helping people in Central Washington through citizenship legal clinics.
Rosana Donoso is the Senior Manager of the New Americans Program.
"They will live with an application ready to file," said Donoso.
Donoso said during the legal clinics, pro-bono attorneys, paralegals, nonprofit representatives and other volunteers will help people to fill out the application for naturalization. Then, applicants can continue the process by themselves.
"They will go ahead and mail it, and then they themselves are responsible to follow throughout the process to make sure they don't miss any appointments," Donoso said.
Donoso said the organization gives applicants follow up calls to see how the naturalization process is going. If there are issues, the organization can provide information about other non-profits or lawyers who can support them depending on each case.
The Washington New Americans program next clinic will be offered in Pasco, Renton and Sunnyside on September 30th.