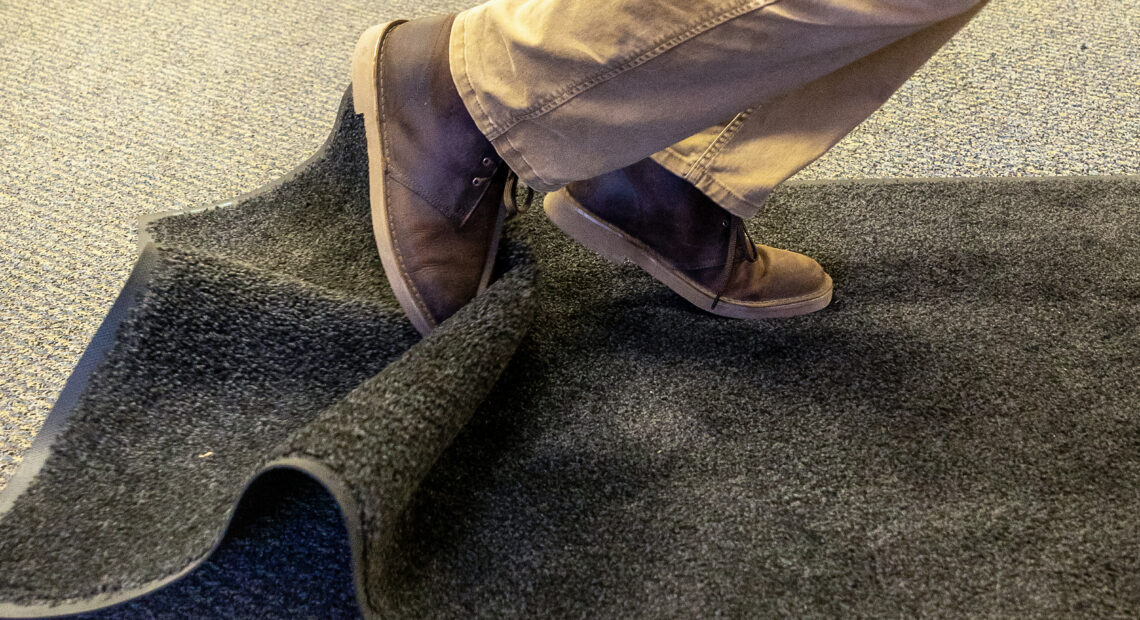 Fall prevention: Stay fit and fall-free
It's one of the leading causes of preventable injuries in the United States, and the top cause of traumatic brain injuries across all ages. 20% cause serious injury, and nationally, it affects a quarter of adults, 65 and older, at least once a year. In Idaho, that number is one in three.
Falling, it turns out, is a major public health issue, says Erin Olsen, program specialist with the Idaho Commission on Aging, and the founder of the Falls Prevention Coalition of Idaho.
Fall effects
Often, Olsen said, people who fall don't tell family or doctors out of embarrassment or worry they'll lose independence. But addressing falls early is important.
"The number one reason that older people have serious injuries, or even die, are from falls," she said. "You need to tell people that you're having the issue, so that we can help you resolve the issues so that you don't have any of those negative outcomes."
Roughly 95% of hip injuries are due to falls, and falls are the number one cause of traumatic brain injury.
Falls can also have a range of long-lasting negative health effects, Olsen said, including reduced hydration and nutritional intake, reduced joint and bone stability after fractures, decreased mobility and physical activity, and less ability to care for oneself.
Having fallen also increases Fear of Falling (FoF.) FoF leads to a vicious cycle, Olsen said, where older adults may avoid activities to avoid falling, and in doing so become less active and even more prone to falls.
"The next thing that happens is, 'Well, I'm not gonna go out and take care of my patio garden as much as I used to, because I don't want to fall again,'" she said. "So I'm getting less physical activity."
That reduction in activity can also lead to increased loneliness and depression, Olsen said, along with loss of independence, early institutionalization and premature death.
Health checks and exercise
One of the best ways to prevent falls is by training strength and mobility. Kate Wilson is the Fit and Fall Proof coordinator for Idaho's North Central Health District. The district has over a dozen peer-led classes that run between 45 minutes to an hour in towns including Lewiston, Deary, Orofino and Winchester.
Classes focus on both dynamic and static flexibility, Wilson said, and exercises can be scaled to the individual's needs.
"Many of the people, leaders and participants say that if they encountered some instance where they were out in the yard and tripped over a hose, they recovered quickly. And they credit their time working on their strength in their balance in the classes," she said.
Classes are listed online, though Wilson said she encourages people interested to call ahead at 208-799-3100. Available classes are dependent on where there is a voiced need, available space and someone willing to lead classes, Wilson said.
"When those pieces all come together, then we end up with a class in that area," she said.
Though in-person classes are preferred to allow for feedback and socializing, Wilson said the district does have DVDs for people who are homebound. Some exercises, such as balancing on one leg while holding onto a counter, can help improve stability.
"Even if you're standing at the sink, and say, washing hands or washing dishes, you can try balancing on one foot and increase the number of seconds that you're doing that," she said.
Some medications, or combinations of medications, can increase fall risk by making a person sleepy or dizzy. Checking medications with a doctor to see if they could increase fall risk, or doing a fall risk assessment that includes a medication check, can be a valuable tool to reduce risk, Olsen said.
In other cases, she said, certain medical conditions can increase risk. Diabetic neuropathy can lead to reduced sensation in the feet and loss of senses like sight or hearing can also increase risk. Wilson recommends regular vision checks for this reason, she said.
Home safety
Most falls will occur in a person's home. Wilson said one step loved ones can take to help senior family members is to proactively look for, and offer to help with, home maintenance. Fixing uneven surfaces, and removing tripping hazards such as clutter, charging cords in walking paths and unsecured rugs, can all help.
"If family can just kind of notice and offer to help with those things, without even correlating it, I think that can be an easy way to be helpful," she said.
Installing adequate lighting, installing grab bars and traction mats in bathrooms, using motion-sensing lights and positioning bedroom furniture with clear access to the bathroom can also reduce risk.
Todd Holcomb, director of the Area Agency on Aging, said his staff who do home checks have encountered seniors who were left stranded for more than a day after falling. One way families can support senior loved ones, without being overbearing, Holcomb said, is to put safety measures in place to either check in with senior family members in person, or find other ways to stay in contact.
"There have been calls where we show up and somebody has fallen. And because they're alone, they laid there for a day or two," he said. "If you literally can't get up, then your own bedroom becomes a hazard … That's what I think [helps,] is just being aware, just checking in."
Talking about it
Olsen encourages everyone, not just those who are older, to understand fall prevention strategies, she said.
"We really want everybody to do that. Not just older people, not just their caregivers. We want our politicians and our mayors and our county commissioners and our planning boards to be aware of this too," she said. "We talked about risk factors at home. But we need safe communities as well."
When talking to senior loved ones about fall risk, Wilson said, tools like the Centers for Disease Control and Prevention's "Fall Risk Factors" checklist can be helpful in those conversations, as can the National Council on Aging's "6 Fall Prevention Steps to Help Your Older Loved Ones."
During September, the Falls Prevention Coalition of Idaho will also host several free fall prevention seminars and screenings, several of which are available over Zoom.
"Many people who fall and have serious injuries, especially those that need to go into extended care, end up passing away within a year or two, when they otherwise were healthy," Olsen said. "That's the scary thing. And people don't always like to hear the scary thing, but again: all falls are preventable."
Seminars
*Please note all seminars require online registration*
Register here: www.aging.idaho.gov/falls
Stay Informed: Why Falls Matter and how to Prevent Them
1-2:30 p.m. Pacific Time | Tuesday, Sept. 5
Expert panelists: Dr. Caitlyn Kinahan, Kaitlyn Gaines, DPT
Stay Safe: Recognize and Remove Trip Hazards at Home
10-11 a.m. Pacific Time | Tuesday, Sept. 12.
Expert facilitators: Erin A. Olsen, FPC-ID and James Clovis, Habitat for Humanity
Stay Healthy: Simple Steps to Improve Balance & Prevent Falls
9-10 a.m. Pacific Time | Tuesday, Sept. 19
Expert facilitators: Michelle Butterfield and Kate Wilson, Fit & Fall Proof coordinator
Stay Informed: Falls Risk Assessment as a Matter of Practice
[Seminar for health care students and practicing professionals]
11 a.m. – Noon Pacific Time | Wednesday, Sept. 20
Held in cooperation with the Idaho College of Osteopathic Medicine (ICOM) and the Internal Medicine Student Association
Expert presenters: Dr. Rodney Bates (ICOM), Tobie Strong (St. Luke's), Erin A. Olsen (ICOA).