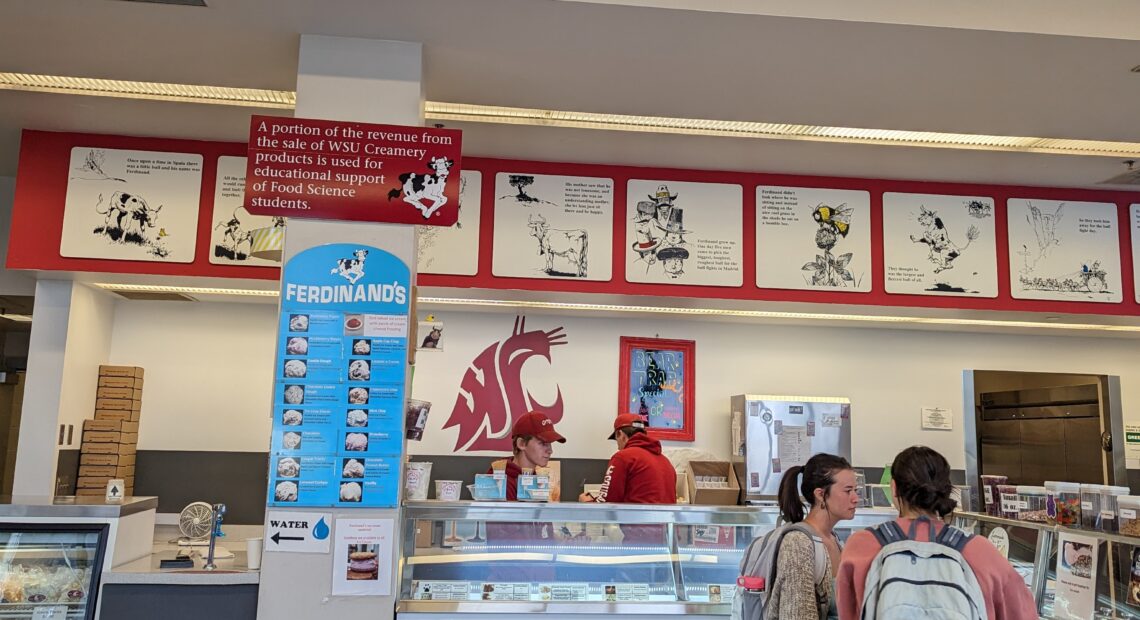 We all scream for ice cream, and cheese! It's the 75th anniversary of the WSU Creamery
Known for its student-made ice cream and cheese, Washington State University is planning a celebration for the 75th anniversary of the campus creamery.
"We're going to be distributing free ice cream scoops to the first 75 customers," said Sarah Beale, the assistant manager of the WSU Creamery. "We also released our crack pepper chive cheese, our anniversary cheese."
WSU student Reanna Liebl decided to try the new red velvet ice cream, created for the anniversary celebration. The crimson-colored ice cream has swirls of white cream cheese.
"I'm usually a cappuccino chip girl, but I've tried most of the other flavors," she said. It's a tradition to come here every Friday with her roommate, Christina Flynn. 
"I came here with my grandparents when I was a little kid, and we would always watch the cheese and ice cream being made," said Flynn, a WSU student who grew up in Spokane. 
One of her favorite parts about Pullman culture is how Ferdinand's fills up on game days, said Liebl.
"Everyone tailgates in the parking lot right across the street, and everyone comes in here and they have sausages too," said Liebl. "This place is like, packed on game day."
The anniversary event for the WSU Creamery is happening on game day, Saturday, September 23, at Ferdinand's Ice Cream Shoppe. The party starts at noon, a few hours before the WSU and Oregon State University football kickoff. 
Ahead of the big celebration, Beale said the creamery is already prepping for holiday orders of Cougar cheese. 
"We make around 250,000 cans of cheese a year, and we pretty much sell out every year, or real close to it," said Beale. "It gets a little crazy."
In the 1930s, the WSU Creamery started looking at different ways to store cheese. Plastic wasn't invented, and wax often cracked, spoiling the cheese. 
By the 1940s, the US government and the American Can Company gave WSU funding to figure out how to keep cheese in tin cans. Named for researcher Dr. N.S. Golding, "Cougar Gold" was created and cheeses made at the creamery have been sold in cans ever since.