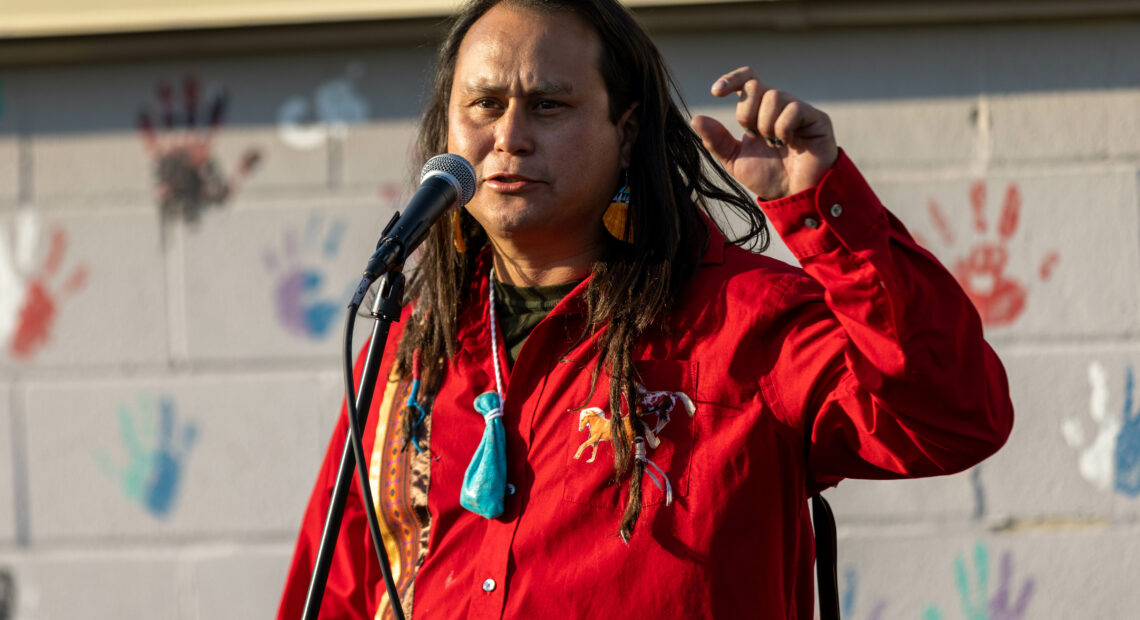 Spokane-based Indigenous activist shot at protest in New Mexico
Jacob Johns is an artist and community organizer living in Washington. He recently finished painting a "Free the Vote" mural in Spokane to raise awareness for a new law restoring voting rights to Washingtonians with prior felonies.
As an artist and activist, Johns often travels to attend protests and political events. On September 28, Johns was shot in the chest while at a rally in Española, New Mexico. He was airlifted to a hospital in Albuquerque, according to a statement from the New Mexico State Police (NMSP).
23-year-old Ryan Martinez was arrested and charged with attempted murder and aggravated assault after allegedly shooting Johns at the rally, according to NMSP.
Demonstrators had gathered to protest the installation of a statue of Juan De Oñate, the first European to colonize New Mexico. Oñate became the first colonial governor of the state and is known for his 'excessive cruelty' against Native Americans.
Martinez was at the site of the statue and was, "attempting to disrupt the peaceful protest," according to the statement from NMSP. After jumping over a short wall to confront the protestors, "Martinez then brandished a firearm from his waistband and discharged one round."
Pojoaque Tribal Police took Martinez into custody a short time after the shooting, after pulling him over for a traffic stop.
Jeff Ferguson is a photographer, documentary filmmaker and Spokane Tribal member. Ferguson said Johns is his best friend. He drove to New Mexico to see Johns in the hospital in Albuquerque.
"I want to be able to help him," said Ferguson. "I know he has a lot to get done and that is weighing heavy on his heart. We just want to be there for him, talk with him and tell him he has a lot of people rooting for him, praying for him," said Ferguson.
Johns is Hopi and O'odham, and Ferguson said they met while selling photography and paintings at the Gathering at the Falls Powwow in Spokane over a decade ago.
"[Johns] and I have been planning a trip to the Global Climate Summit in Dubai," said Ferguson. They also went to Standing Rock to protest the Dakota Access Pipeline together.
As Indigenous activists, he said they have faced trouble at protests before. Ferguson recalled getting hit with rubber bullets and cold water in freezing temperatures at Standing Rock and police siccing dogs on protestors.
"He's an extraordinary person. He's dedicated his life to humanity, to making the earth a clean and safe place for future generations," said Ferguson. "For him to get shot is absurd."
Johns is loved by his community here and around the world, said Cam Sorrozua, the cofounder and legal director of The Way to Justice, a nonprofit law firm in Spokane. "He was commissioned by my organization to paint portraits of Breonna Taylor, Tamir Rice, and George Floyd that are displayed in our lobby with his, "Say Their Names" painting," said Sorrozua. "Jacob has inspired me and so many others. He is an incredible spirit."
Kurtis Robinson is the president of the Spokane chapter of the National Association for the Advancement of Colored People (NAACP.) Johns has been a longtime friend since Robinson first got involved in social work, he said.
"It is no surprise that such paramount leadership and authenticity to the work represented itself in this way because he has always put himself between us and some of our consequences," said Robinson. "When we think about how exhaustive this work can be, it must now be contemplated: Jacob took a bullet for this work and the people. "
Johns is a single parent, said Naghmana Sherazi, the Climate Justice Program director of The Lands Council in Spokane. "The aspect of Jacob's personality which I find most endearing is his love for his daughter and his Indigenous identity and community," said Sherazi.
Sherazi first met Johns when they convened the Spokane Coalition of Color. "I would often run into him lobbying in Olympia, Seattle, and of course Spokane, as we continued our activism on many BIPOC issues." While Johns is looking out for his community, no one is looking out for him and his little girl, said Sherazi.
A GoFundMe online fundraiser set up for Johns has raised more than $200,000. "We don't know what his medical bills will be, or what the outcome is going to be," said Ferguson. "People should be praying for him, for humanity, for mankind to become better as a whole."
Johns recently worked on this mural highlighting a new Washington law.
As of January 2022, people convicted of a felony can have their voting rights restored automatically after serving their sentence.
The Washington Voting Rights Restoration Coalition advocated for the new legislation, which restored voting rights to about 26,000 Washingtonians, said Abigail Leong, a communications manager for progressive advocacy organization Fuse Washington.
Once the legislation passed, the organization wanted to do something celebratory and joyful, said Leong. "What better way than commissioning art?"
Murals to raise awareness for the new law were commissioned in Tacoma, Yakima and Spokane by the coalition, said Leong. Johns painted the Spokane mural at the Howard Street Underpass.
"This whole project began with Jacob," said Leong. "He brought this idea to us. We were really excited to see his art on the wall in Spokane."
Johns was incarcerated for eight years before finding a new path.
"Justice for people impacted by the legal system is a very important cause to [Johns] and to the community at large in Spokane, because a lot of people are disenfranchised, particularly Indigenous folks [who] are incarcerated at higher rates than their white counterparts," said Leong.
To see someone who's been through the legal system working toward restoration rights for people who were incarcerated is something special, said Leong. "He's an incredible person. We're hopeful he'll recover very soon."
Ferguson said Johns is in a lot of pain but, "is in good spirits."
The case is still under investigation by the New Mexico State Police Investigations Bureau.