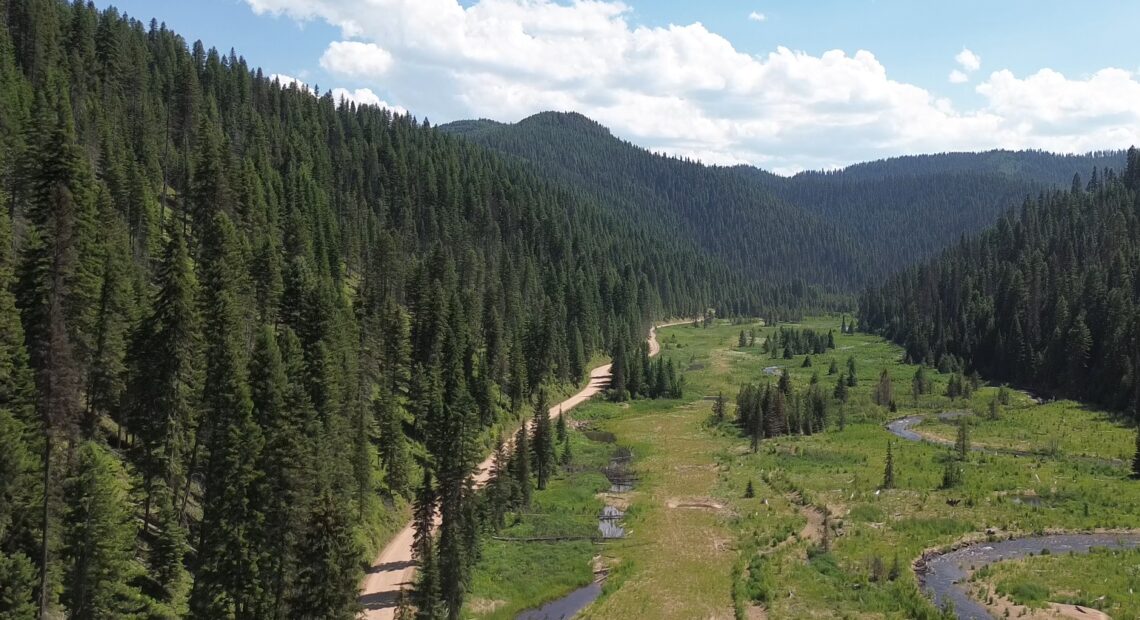 Missing: What to do when someone disappears
Five years ago this month, Terrence Woods went missing in the Idaho wilderness while filming a TV show. He has not been seen since.
Idaho is known for its wild lands — more than 60% of the state is federally-managed public land and the Nez Perce-Clearwater National Forest, located in the northern pandhandle of Idaho, spans 4 million acres of wilderness. Given the number of perilous mountains and seemingly endless forests, missing persons cases are not unusual. NWPB's Lauren Paterson spoke with experts about Woods' case: what went wrong and what the trends in missing persons cases can tell us about staying safe in the wilderness.
One of the worst places to go missing
"We have a lot of missing persons cases [in Idaho]," said Mathew Gamette, Laboratory Systems Director for the Idaho State Police Forensic Services. "A lot of remains are often found by hunters and hikers."
The Idaho State Police lab can test remains or pieces of found clothing for DNA to identify people who have been reported missing.
No remains of Woods have ever been found. At the time of his disappearance, Woods and his crew were filming for the Discovery show "Gold Rush" near abandoned mines in Idaho County.
At the time, Idaho County Sheriff's officers, Forest Service personnel and volunteers searched for days using ATVs, dogs and helicopters to scour the remote wilderness outside Orogrande.
"He wasn't prepared for the weather," said Idaho Missing Persons Clearinghouse Manager Tanea Parmentor. When he went missing, Woods was wearing a sweatshirt and cargo pants.
"Idaho County is one of the worst places to go missing. We have a lot of our missing persons from that area," said Parmeter. The forested mountains are roamed by predators like cougars, bears and wolves.
Woods' missing persons case remains open to this day.
Changing trends in missing persons cases since the COVID-19 pandemic began
Adults in Idaho are most likely to go missing in the summer or fall when they're out hiking or hunting, said Parmentor.
Before the COVID-19 pandemic, more children went missing than adults. But the trend reversed, said Parmentor.
"After COVID hit and everybody was sent home from school and stayed home, our juvenile [missing persons] decreased by half, if not more, and our [missing] adults doubled," said Parmentor. There are still more missing adults than children in Idaho to this day.
True Crime is big business in the U.S. and Parmentor said crime-focused TV shows and podcasts often lead people to believe they have to wait 24 hours to report a missing person. That's not true, said Parmentor.
"The longer you take to wait to report a missing person, the less chance for us to find them quickly and safely," she said.
It takes a while to get law enforcement involved, or issue a notice like an Amber Alert to the public, said Parmentor.
"We would rather show up on scene and help find that juvenile rather than being two or three hours behind the ballgame," said Parmentor.
About 200 people are reported missing every month in Idaho, but Parmentor said close to the same number are usually found. Technology can sometimes help.
If you're out in the woods and find clothing or items that look out of place, Parmentor said one of the best things you can do is drop a Google pin where you found it.
"Take a photo of the item, drop a pin and call the local sheriff's office after getting back into service," said Parmentor. Local law enforcement will be able to investigate and see if the items match to someone who might be missing.
Folks who find something out in the woods in Idaho can also email [email protected] to get the information to the Missing Persons Clearinghouse so it can be sent to the proper investigating agency, said Parmentor.