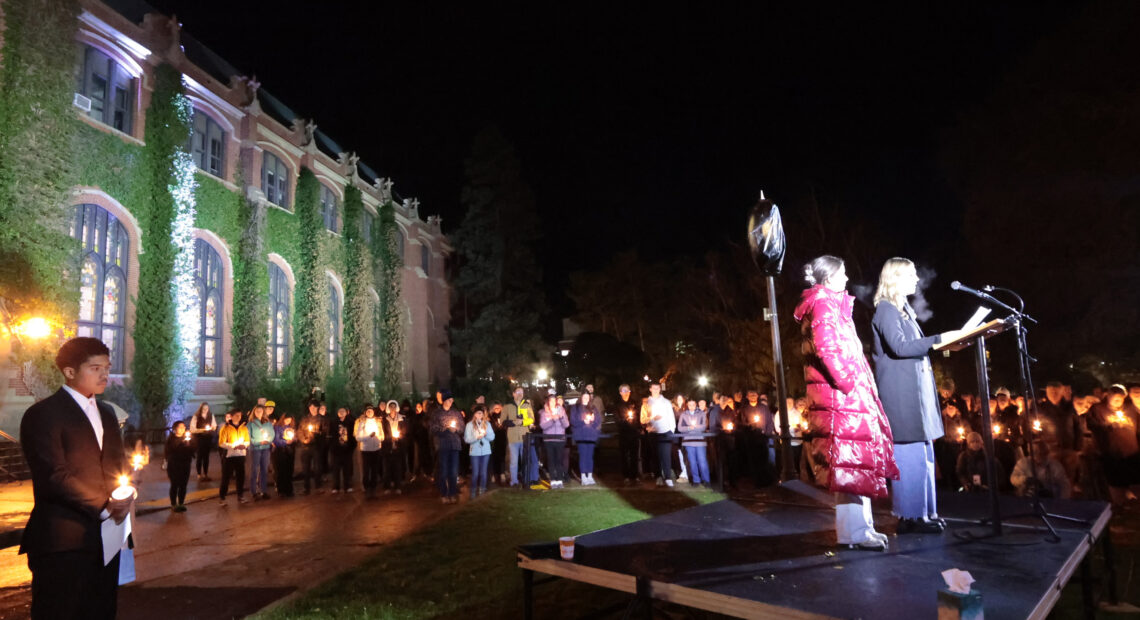 Hundreds gather for vigil to honor slain University of Idaho students as community finds ways to heal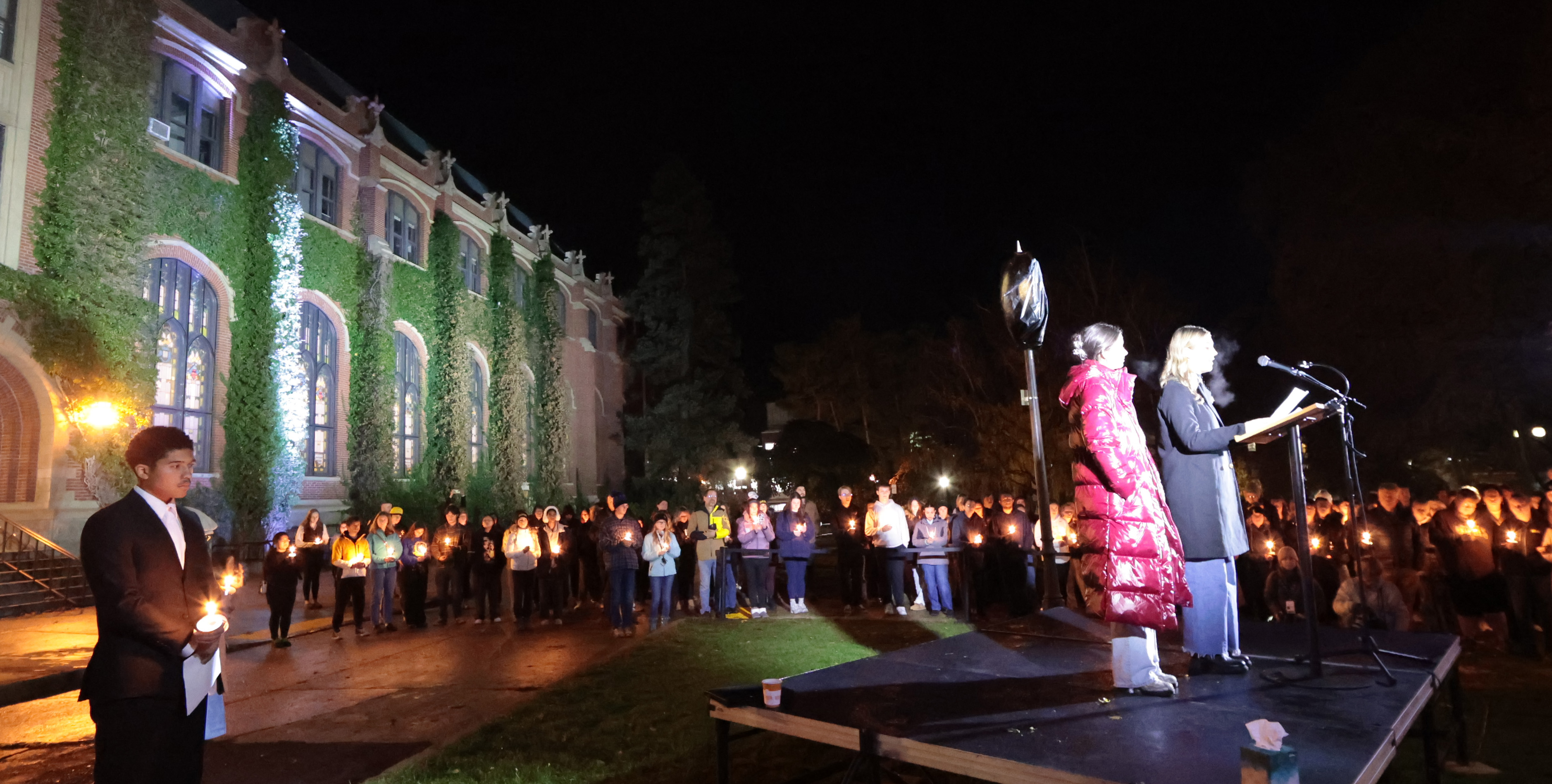 Hundreds of students and community members gathered on the University of Idaho campus Monday night, marking one year to the day that four students were killed. U of I students gave speeches about the four victims: Kaylee Goncalves, Madison Mogen, Xana Kernodle, and Ethan Chapin.
"I know these four meant so much to so many people, and seeing all the lives they touched brings me as much joy as it does sadness," said Heather Blaschka, who talked about Madison. She said Madison was a bright person who was kind and outgoing. 
The touching tributes from the students – many of whom were in the same sororities and fraternity as the victims – also painted a picture of pain and confusion as they tried to piece together what happened in November 2022. 
"I still remember waking up that Sunday," said Zanna Miller, who was in the Pi Beta Phi sorority with Xana Kernodle.
"My phone was blowing up [on November 13], 27 missed calls from multiple people and messages. I walked downstairs to find a majority of my upperclassmen in tears on the living room floor," said Miller.
One year later, people held candles at the vigil, while U of I student body president Tanner McClain encouraged people to stay strong. 
"Remember the light these four individuals brought to the world," said McClain. "Together, our Vandal family will carry on as we remember the extraordinary impact Xana, Ethan, Kaylee and Maddie had on our community."
The crime sent shockwaves through the small college town of Moscow, Idaho. The case gained international attention. 
Many of the students mentioned November 13th will stay with them for the rest of their lives.
Students and community members are still working on ways to heal. 
Even on a weekday morning, the Breakfast Club, a downtown Moscow restaurant, was bustling with customers – the four victims still on some of their minds. They were drinking coffee and eating things like potato pancakes. 
"We really wanted to help memorialize the students whose lives were so tragically taken a year ago," said Dalia Dempster, a junior at the U of I studying advertising and marketing. She helps the restaurant with outreach on social media. 
Dempster is a member of the Alpha Phi sorority, just like Kaylee Goncalves was. She knew all four of the victims.
"They were all part of the Greek system," she said. "Greek life is really small. We're all a big family."
The University of Idaho is a tight-knit school, she said.
"This event has honestly brought a lot of the students closer to each other. It definitely has left a lot of us with heartache and sadness," said Dempster.
Despite the hardship over the past year, many of the faculty at the university have been understanding and supportive, she said.
"It's hard that a tragedy had to bring us closer but it has."
She worked with the owner of the Breakfast Club to design sweatshirts and t-shirts in honor of Kaylee, Madison, Xana and Ethan. 
During University of Idaho Parent's Weekend earlier this month, Dempster said the restaurant did a sweatshirt and t-shirt sale in honor of the victims.
"We sold out, I think, in the first two hours of all the sweatshirts," said Dempster.
All proceeds will be donated to the Vandal Healing Garden and Memorial. It's being designed by university students in the Art & Architecture program. Students who knew the victims have been sharing ideas for the designs.
Dempster says she's thankful for all the funds raised so far.
"None of us will ever forget what happened," she said. "That's why we just want to continue to grow the community with the healing garden. Not just the people we lost, but every Vandal we've ever lost…"
As the one year mark of the tragedy passes, Dempster said it's still a lot for the students to carry.
"This is such a huge thing that our community is going through, and definitely the support from everyone has made it a little bit easier," she said. "I just want to thank everyone."
Sweatshirts and t-shirts to benefit the garden can be purchased online through November 21.
Bryan Kohberger, the 28-year-old charged with four counts of first-degree murder, is still being held at the Latah County Courthouse – accused of killing the four students. He was a graduate student studying criminology at nearby Washington State University when he was arrested for the crime last December. A trial date has not been set.
As attention around the case continues, many people have been watching it develop from afar.
Danielle Slakoff is an assistant professor of Criminal Justice at Sacramento State University. Her research focuses on the media portrayal of crimes and victimization. She was recently interviewed by Vice for a documentary about Facebook groups that pop up around high profile crimes.
"We discussed specifically the Facebook group around this case and how it got so big," she said. 
Social media attention surged around the case as investigators searched for a suspect, said Slakoff, who also has a degree in journalism.
"During that initial search there was so much social media attention, which was really fascinating to see the lengths that everyday people were going to try to crack the case," said Slakoff.
The rumors and speculation surrounding the case of the four students, early on, caused the Moscow Police Department to have a rumor control section on its website. Slakoff has used it as an example in her criminology classes this semester, she said.
"I think it was the right move because the speculation was running rampant," said Slakoff. "I think that may actually end up being the beginning of that trend for police departments."
People are so connected via social media. These groups that spring up from cases like this are likely to continue, said Slakoff.
Slakoff recently published an article about the portrayal of grief in true crime. "Making meaning" is the sixth and newest stage of grief, she said. 
"Family members of these victims often feel like they want to do something to remember their loved ones and to try to change the world," said Slakoff.
Scholarships have been created in honor of the University of Idaho student victims, and Ethan Chapin's family created the Ethan's Smile Foundation last spring. 
This year on November 13th, Ethan's parents hosted a black-tie gala fundraiser to raise money for the foundation, which will focus on giving scholarships to Northwest students.
"The evening raised an astonishing $35,000," said Stacy Chapin on Instagram.
More of the criminological and victimology literature is going to show that making meaning is a key part of grieving for family members of victims, said Slakoff, "Especially when they receive so much attention."
For people who want to keep following the story in a way that respects the victims, "Specifically try to engage with media that is including the families as much as possible," said Slakoff.
As she continues her research, Slakoff said the true crime ecosystem has to change, and will change. 
"I do think there are better days ahead," she said. "But part of that is figuring out how we can make this less painful for the victim's families."