Hydroplane Crew Chief

"Can't You Go Faster?" Tri-Cities First Female Hydroplane Crew Chief Leads Nationally Ranked Team
By Kate Tsao
Cindy Shirley's interest in hydroplane racing started in her childhood. Her dad was a racecar driver and took her on a hydroplane, where she proceeded to ask, 'can't you go any faster?'
From there she knew a love of racing was in her genes.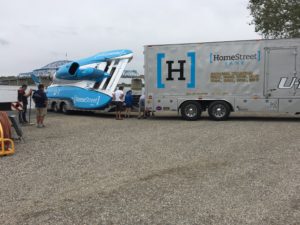 Hydroplane racing is not for the faint of heart, which new crew chief Cindy Shirley definitely is not. The Miss HomeStreet Hydroplane has been an H1 unlimited national championship-winning crew for years and recently saw a change to the key position of crew chief.
Previous crew chief Dan Hoover died in February, leaving the Miss HomeStreet team at a loss for a leader, an engineer and someone who was like family. It was a difficult loss for the entire crew, but Shirley remained strong for the team by carrying on and still conducting day-to-day duties for the crew, trying to make the transition as smooth as possible.
"It's a tough blow for the team losing the crew chief," said Miss HomeStreet driver Jimmy Shane. "The racing community is a family, and it's hard to lose someone in your family."
Shirley's transition to crew chief started in May 2017 when Hoover said he wanted her to take responsibility of the boat and be the boat chief. She accepted and filled that role for the 2017 season, making sure the boat is in the correct condition before races. After Hoove died, the team was looking for someone to fill the critical job of leading the team.
They agreed Shirley was the perfect fit.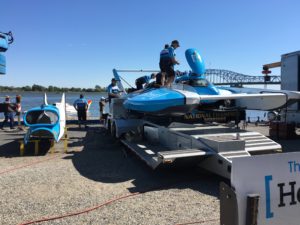 Shirley says she was hesitant to take the job because she was not an engineer like Hoover. Since accepting the role she has continuously been a part of everything related to the boat and races. Taking the position also made her the first female hydroplane crew chief in history of the eleven teams that compete in the H1 unlimited racing series.
As crew chief, Shirley's job is to make sure everything is organized, the boat is in order and everything is ready for testing and races. Essentially, she's the boss, and final decisions about the boat are up to her.
During a recent test run, Shirley was working on the boat along with the rest of the crew, getting her hands dirty and helping install the engine.
Shane, the boat's driver, said Shirley is the team's new leader and has been a part of the sport for nearly 20 years, calling her "the perfect person for the job."
This team has been working closely together for years and has brought on younger crew members who have potential to spread the word about the sport and keep it alive. Shirley says she's excited to work with "the kid" of the team, Trey Holt, because she can't wait to see what Holt can bring to the sport with his skills working on the boat.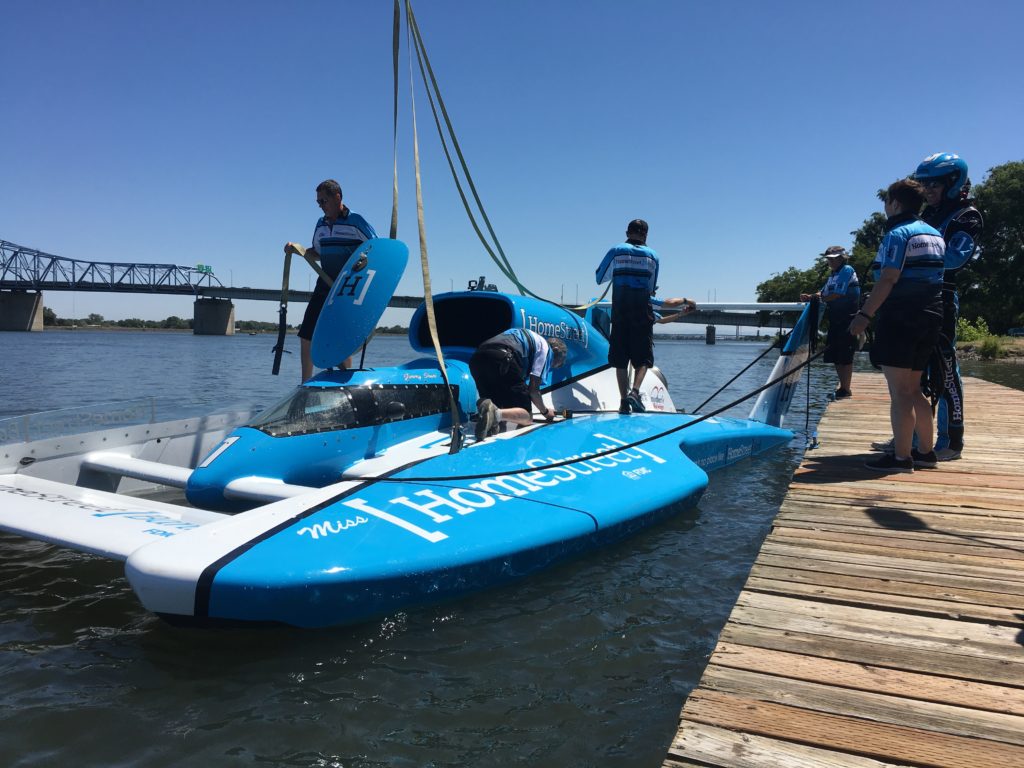 Shirley's love of hydroplane racing began in her childhood and has grown as she has kept up with the sport. She admires all her crew members, fully aware that the team wouldn't be as successful as they are without each other.
The Miss HomeStreet crew Shirley now leads is preparing for races this summer in the Tri-Cities, WA and two further afield in Madison, IN and San Diego, CA. They're also getting ready to debut a new boat, which means significant work for the crew chief — and the team she leads.
Always trying to add miles per hour. Always trying to go faster. Tweaking the boat here, motors, gearbox, propellors, skid fence, it's all a combination that you're trying to find the best, fastest, safest way around the course. I used to in Evansville Indiana, my first race, I remember standing up on a wall, it's a two story wall that you look down over the pit area and watching all of the crews work. And I thought, "Wow, I'd like to be down there doing that."
[Host] And Cindy did exactly that by becoming the first female crew chief for a nationally ranked unlimited hydroplane team.
Our team is definitely unique, we definitely have a different team dynamic compared to most teams.
Cindy is our new leader on the team, she's our crew chief. But a lot of people know she's been doing this for over 20 years now and she was the perfect person for the job.
I don't fit the typical mold of a crew chief. I cannot do everything on the boat but I can organize and bring some of that to it. Luckily on my crew, everybody knows their jobs and whatever they need to do so that makes it really easy when we get to a race. There's a lot of data that you have to go through and this will be my first time going through all of it myself.
We're excited to see what's going to happen over the course of the season. The team has had a really good track record over the last 10 years and we are definitely going to continue that.
Going back to I guess my first crew chief was Mike Hanson, he had a certain way of doing things with lists and things like that and I kind of pick up that way myself. I don't want anybody to think that they can't do this or anything else they want to do. Last year I was able to talk to a mother and her daughter that were standing there watching our boat. I stopped and talked to them for a few minutes and they were really excited to see a female working on the boat. And I think her daughter was really excited about that too. Hopefully that put some ideas in her head that she can go out and do lots of things.