Lauren Paterson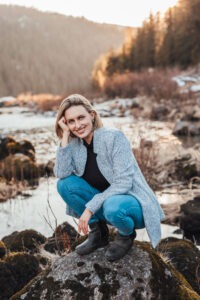 Lauren Paterson discovered the power of storytelling in 5th grade while growing up in Twin Falls, Idaho. Her homemade exercise video featuring Barbie being devoured by Tyrannosaurus Rex had her classmates howling, and she's been hooked by the power of media ever since. 
Paterson wrote for the Argonaut while attending the University of Idaho for a bachelor's in Broadcast & Digital Media. During college she worked as an on air personality, and was awarded 'Best Morning Radio Show' for 2011/2012 by the Idaho State Broadcaster's Association for her co-host work on ZFUN 106's "Rude Awakening" Top 40 morning show. 
After three years in commercial radio, she moved to Portland to pursue her master's degree in Multimedia Journalism at the University of Oregon. Paterson produced several short documentaries centered on community, history, and the working rights of women that aired on Oregon Public Broadcasting. 
Paterson married her college sweetheart in 2016 and moved to the tiny town of Kamiah, Idaho in the foothills of the Rocky Mountains, where her husband taught at the local school district. The challenges of rural education compelled her to make another short documentary about the complications of smalltown levy funding in rural America. 
For two years she worked as a writer and editor for Washington State University's College of Agricultural, Human, and Natural Resource Sciences, writing stories about the latest scientific research in biotechnology, rural economics, and wine. 
In 2022, Paterson joined Northwest Public Broadcasting and Spokane Public Radio as the Inland Northwest Regional Multimedia Journalist. Her beats follow socioeconomics, the arts, education, and the complexities of rural life.
In her free time, you'll find her paddleboarding and hiking through the rivers, forests and mountains of the pacific northwest with her husband, friends, and faithful spaniel mix, Sophie.