Episode 3 – What's A Top-Two Primary? Transcript
TRANSCRIPT: Episode 3 – What's A Top-Two Primary?
On or by August 4, Washington voters will cast their votes in the 2020 primary – one of three states to hold a "top-two" primary. What is that? In 2004, Initiative 872 approved a change to Washington's primary voting system, selecting the two candidates for each position who have the most votes to go against each other in the November general election, regardless of party preference. In short, two democrats or two republicans may run against each other in the general. Why did they make this change?
Producer: Matt Loveless
Hosts: Scott Leadingham, Matt Loveless & Hannah Whisenant.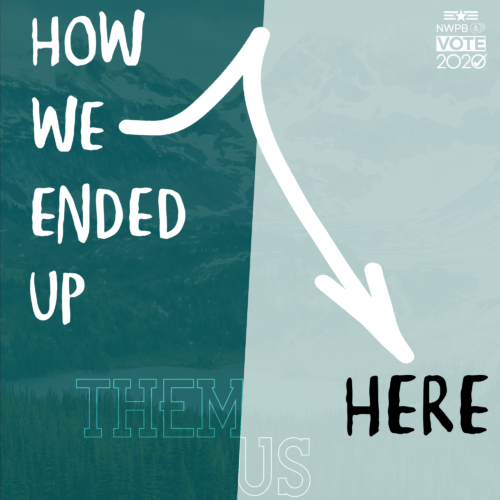 INTRO
SL: 
FROM NORTHWEST PUBLIC BROADCASTING, I'M SCOTT LEADINGHAM.
HW: I'M HANNAH WHISENANT.
ML: AND I'M MATT LOVELESS… AND THIS IS 'HOW WE ENDED UP HERE.'
SL: AND HERE… ON THE DOORSTEP OF THE WASHINGTON PRIMARY ELECTION. IF YOU'RE REGISTERED, YOU SHOULD ALREADY HAVE YOUR BALLOTS… MAYBE YOU'VE ALREADY SENT THEM BACK. THOSE BALLOTS NEED TO BE POSTMARKED BY AUGUST 4TH.
FIRST THOUGH… WE HAVE SOME NEW VOICES ON THE PODCAST… MATT, WOULD YOU LIKE TO INTRODUCE YOURSELF?
ML: SURE, THANKS SCOTT.  I'VE BEEN WORKING UP TO THE ELECTION WITH N-W-P-B'S VOTE 2020 COVERAGE, INCLUDING HOSTING VARIOUS CANDIDATE FORUMS AND HELPING PRODUCE THIS PODCAST. I'LL BE INVOLVED WITH THE RUN UP TO THE ELECTION, INCLUDING WORK ON AN ELECTION NIGHT SPECIAL IN NOVEMBER. I TEACH JOURNALISM COURSES AT WASHINGTON STATE UNIVERSITY… I'M ALSO A CURIOUS VOTER. I LAST VOTED IN A PRESIDENTIAL ELECTION IN WASHINGTON IN 2004, STILL CATCHING UP ON THE CHANGES THAT HAVE HAPPENED WHILE I WAS VOTING ELSEWHERE.
SL: ALSO JOINING US TODAY IS HANNAH WHISENANT… 
HW: I'M LOOKING FORWARD TO LEARNING MORE ABOUT WASHINGTON'S ELECTION SYSTEM. I LIVE IN IDAHO, SO I DON'T KNOW THAT MUCH ABOUT WASHINGTON STATE POLITICS… I CAN'T VOTE IN WASHINGTON… BUT I DO WORK IN WASHINGTON, SO I THINK IT'S IMPORTANT TO FIND OUT WHAT'S GOING, ESPECIALLY IN 2020. 
ML: WE WANTED TO LEARN A LITTLE MORE ABOUT WASHINGTON'S TOP 2 PRIMARY – WHAT THAT MEANS, HOW IT AFFECTS CANDIDATES, CAMPAIGNS, AND SOME OF THE INTENDED AND UNINTENDED CONSEQUENCES OF THE PROCESS.
SL: FOR THOSE WHO ARE HERE VOTING FOR THE FIRST TIME OR NEED A REFRESHER… A TOP-TWO PRIMARY SENDS THE TWO CANDIDATES WITH THE MOST VOTES ONTO THE GENERAL ELECTION BALLOT, REGARDLESS OF PARTY. IN SIMPLE TERMS… YOU COULD BE CHOOSING BETWEEN TWO DEMOCRATS OR TWO REPUBLICANS FOR THE SAME STATE OR COUNTY POSITION COME NOVEMBER. 
HW: I DIDN'T EVEN KNOW THAT WAS A THING. SOUNDS LIKE IT COULD BE A BIT CHAOTIC.
SL: WE SOUGHT OUT A LITTLE EXPERT PERSPECTIVE ON THIS TOPIC. THROUGHOUT TODAY'S EPISODE, WE'LL HEAR FROM MICHAEL RITTER… A POLITICAL SCIENTIST WHO'S AREA OF FOCUS IS POLITICAL METHODOLOGY… AND AN INSTRUCTOR AT W-S-U'S SCHOOL OF POLITICS, PHILOSOPHY, AND PUBLIC AFFAIRS.
AND HERE'S YOUR FIRST FUN FACT: WASHINGTON IS ONE OF JUST THREE STATES – ALONG WITH CALIFORNIA AND NEBRASKA – WHICH HOLDS A TOP TWO PRIMARY.
ML: MR. RITTER GAVE US SOME REALLY GOOD INFORMATION… BASICALLY BREAKING DOWN SOME OF THE KEY DIFFERENCES – NOT JUST IN THE PROCESS – BUT IN THE WAY THE CANDIDATES HAVE TO APPROACH A PRIMARY LIKE THIS.  
I'M HERE TO TRY AND BREAK THINGS DOWN INTO LAYMAN'S TERMS.
SL: WHY NOT START… TRUE THE TITLE OF THIS PODCAST… WITH HOW WE ENDED UP HERE?
ML: HOW IT USED TO BE… PRE-2000.: WE HAD A PARTISAN BLANKET PRIMARY… THIS WAS RULED UNCONSTITUTIONAL BY THE SUPREME COURT… MORE ON THAT IN A MOMENT.
RITTER BROKE DOWN HOW WE DID IT UNDER THE OLD SYSTEM.
RITTER 1: UNDER THE BLANKET PRIMARY THAT EXISTED IN WASHINGTON STATE FROM 1935 UNTIL 2000, INDIVIDUALS WOULD VOTE ON A VERY SIMILAR PRIMARY BALLOT SIMILAR TO WHAT WE HAVE TODAY, BUT THE TOP CANDIDATE FROM EACH PARTY WAS GUARANTEED A SPOT ON THE GENERAL ELECTION BALLOT. BASICALLY, THE SUPREME COURT DECIDED THAT WAS UNCONSTITUTIONAL BECAUSE IT ROBBED THE POLITICAL PARTIES OF THE ABILITY TO SELECT THEIR NOMINEES.
HW: WAIT.. WHAT? THIS SEEMS BACKWARDS… WOULDN'T THEY WANT *EACH* PARTY  TO BE REPRESENTED ON A GENERAL ELECTION BALLOT?
ML: SORT OF… AND BEAR WITH ME BECAUSE THERE ARE LAYERS TO THIS… IN MANY PRIMARY PROCESSES – AND LET'S PICK ONE MOST OF US ARE FAMILIAR WITH – THE PRESIDENTIAL PRIMARY.  THE PARTIES – WHETHER THROUGH CAUCUSES, A PRIMARY ELECTION, ALONG WITH THE NATIONAL CONVENTIONS –  MEET TO CHOOSE THE CANDIDATE WHO THEY WANT TO REPRESENT THEIR PARTY.
HW: WHICH SEEMS LIKE THE PREROGATIVE FOR THE PARTIES. 
ML: YES, BUT UNDER THE OLD SYSTEM… SOMEONE COULD SIMPLY IDENTIFY THEMSELVES AS A REPUBLICAN OR DEMOCRAT… AND WIN A PRIMARY *WITHOUT* THE BLESSING OF THE PARTY.
SL: SO YOU'RE SAYING, SOMEONE COULD RUN AS A DEMOCRAT… BUT BE ALIGNED WITH REPUBLICAN IDEOLOGIES… IN A STRANGE BUT STRATEGIC MOVE.
ML: YES, THEORETICALLY. AND WHILE I'M NOT SURE IF OR WHEN SOMEONE TRIED THIS OUT… THE STATE SUPREME COURT DECIDED IT WAS A VIOLATION OF THE "FREEDOM OF ASSOCIATION" PROVISION IN THE FIRST AMENDMENT… BY STRIPPING POWER AWAY FROM THE PARTIES.
HW: BUT THE TOP-2 PRIMARY DOESN'T SEEM TO NECESSARILY *EMPOWER* THE PARTIES… BECAUSE IT'S POSSIBLE ONE OF THE MAJOR PARTIES IS ENTIRELY SHUT OUT OF A GENERAL ELECTION.
ML: TRUE. MY SENSE IS THAT IT ACCOMPLISHES A COUPLE THINGS: 1) IT GIVES MORE WEIGHT TO THE CANDIDATE AND THE CAMPAIGN… IN FACT CAMPAIGN RHETORIC IS QUITE A BIT DIFFERENT… MORE ON THAT LATER. 
SL: IT ALSO SEEMS LIKE YOU'D HAVE A LITTLE MORE POWER AS A VOTER.
ML: DEFINITELY. AND RITTER FOUND RESEARCH THAT SHOWS VOTER TURNOUT IS HIGHER IN A TOP-TWO PRIMARY. 2ND PLACE IN A PARTY'S PRIMARY BOOTS YOU FROM MOST GENERAL ELECTION BALLOTS. IN WASHINGTON… IT COULD HELP YOU GET TO THE GENERAL. SO IF YOU'RE A VOTER OF A CERTAIN PARTY, YOU FEEL LIKE YOU HAVE A LITTLE MORE SAY.
HW: OR… IF YOU'RE A MEMBER OF AN UNDERREPRESENTED PARTY IN A COUNTY OR STATE, YOU'RE PROBABLY A LITTLE MORE MOTIVATED TO VOTE FOR YOUR CANDIDATE, BECAUSE THERE ARE NO GUARANTEES.
ML: RIGHT. AND I SHOULD NOTE – PARTIES CAN STILL NOMINATE, CAUCUS… PUT *THEIR* CANDIDATE ON THE BALLOT… BUT THIS IS A REASON YOU'LL SEE THE PHRASING "PREFERS REPUBLICAN PARTY" ON THE BALLOT AS OPPOSED TO JUST SIMPLY "REPUBLICAN."
SL: A LOT OF TALK ABOUT REPUBLICANS AND DEMOCRATS SO FAR. BUT I'VE SEEN THE BALLOT IN THE RACE FOR GOVERNOR – 36 CANDIDATES AND MORE THAN A DOZEN PARTY PREFERENCES. THIS RACE, IN PARTICULAR, DOESN'T SEEM TO MESH WELL WITH THE TOP-TWO SYSTEM.
ML: THERE'S TRUTH TO THAT… BUT A GENERAL ELECTION WITH 14 DIFFERENT CANDIDATES EACH REPRESENTING A PARTY WOULD BE A MESSY ONE.
HW: WHAT ABOUT SOME OF THE OTHERS PARTIES WE OFTEN SEE ON A BALLOT? LIKE INDEPENDENTS?
ML: THAT WILL BE THE QUESTION – FOR INDEPENDENTS, IN PARTICULAR. IN SHORT, THEY DON'T LIKE IT. YOU CAN IMAGINE WHEN TWO PARTIES HOLD ALL THE POWER – AND YOU ONLY GET , THEY FEEL SHUT OUT.
IN FACT, HERE'S PART OF A CONVERSATION I HAD WITH A LIBTERTARIAN CANDIDATE, NAMED RYAN COOPER, DURING A RECENT FORUM.
RYAN COOPER: 11:22: "IT'S A STRANGE SYSTEM, THIS TOP-TWO RULE. IT MOST STATES I WOULD BE ON THE GENERAL ELECTION BALLOT BECAUSE EACH PARTY GETS TO CHOOSE THEIR NOMINEE. ONLY IN WASHINGTON DO I HAVE TO COMPETE IN THE PRIMARY AND NOT EVEN HAVE THE CHANCE TO BE ON THE BALLOT WHEN EVERYBODY ELSE VOTES." 11:38
SL: YOU CAN HEAR THE FRUSTRATION THERE.
ML: DEFINITELY, AND ESPECIALLY ON THOSE CROWDED BALLOTS WITH 5 OR 6 FOR THE PRIMARY… SOME ARE BEGGING… JUST VOTE FOR ME NOW, SO THAT I HAVE A REAL CHANCE TO CONVINCE YOU IN THE GENERAL.
HW: ALL OF THIS IS MAKING MORE TECHNICAL SENSE… WITH SO MUCH POWER HELD BY THE TWO MAJOR PARTIES, THOUGH, IS THERE ANY REAL OPPORTUNITY FOR THIRD PARTY CANDIDATES? THE SUPPORT SYSTEM FOR BOTH REPUBLICANS AND DEMOCRATS IS SO STRONG, DOES IT MATTER?
ML: GOOD QUESTION… AND I'D FOCUS ON THE WORD "OPPORTUNITY" THERE. HERE ARE SOME NUMBERS FOR YOU. A STUDY BY RICHARD WINGER, WHO HAS ACTUALLY CHALLENGED THE TOP-TWO PRIMARY IN COURT HERE IN WASHINGTON… SAID THAT OF 718 RACES IN WASHINGTON AND CALIFORNIA – IN WHICH THERE WAS A 3RD PARTY CANDIDATE *AND* TWO MAJOR PARTY CANDIDATES… THAT 3RD PARTY CANDIDATE HAS ADVANCED TO THE GENERAL JUST TWO TIMES. OUT OF 718.
SL: DOING THE QUICK MATH THERE… THAT'S FAIRLY CLOSE TO ZERO PERCENT.
ML: MUCH CLOSER TO ZERO THAN ONE. BUT RITTER ALSO SAID… WHILE IT MAY LIMIT A 3RD PARTY CANDIDATE'S POTENTIAL TO WIN… WASHINGTON'S PRIMARY SYSTEM ALLOWS FOR MORE CANDIDATES TO AT LEAST HAVE THE CHANCE TO *APPEAR* ON THE PRIMARY BALLOT.
RITTER 2: IN ONE SENSE, BECAUSE OF THE LARGER CLOUD OF THE TWO MAJOR PARTIES, THE PRIMARY SYSTEM KIND OF FURTHER ACCENTUATES THAT BUILT IN MAJOR PARTY ADVANTAGE IN THE U.S. POLITICAL SYSTEM, BUT ON THE OTHER HAND, BECAUSE OF THE CANDIDATE FILING REQUIREMENTS IN THE STATE OF WASHINGTON AND THE ABILITY OF CANDIDATES FROM A VARIETY OF POLITICAL BACKGROUNDS TO REGISTER THEMSELVES TO BE IN CONTESTATION FOR AN ELECTION, THAT ARGUABLY OFFERS AN AVENUE OF ACCESS FOR THIRD PARTY CANDIDATES.
SL: STILL… THAT DOESN'T SEEM LIKE MUCH OF A CONSOLATION PRIZE.
ML: NO IT DOESN'T. IF YOU ASK ME, THIS EFFECTIVELY *DOES* SHUT OUT THIRD PARTY CANDIDATES… WE JUST GET BUSIER PRIMARY BALLOTS. CASE IN POINT, OUR GOVERNOR'S RACE.
HW: YOU MENTIONED EARLIER SOMETHING ABOUT CAMPAIGN STRATEGY. WITHOUT A GUARANTEE FOR THE PARTIES – *ANY* OF THE PARTIES – IT MAKES SENSE THAT YOU HAVE TO WORK A LITTLE HARDER TO APPEAL TO THE VOTERS… EVEN IF YOU *ARE* A MEMBER OF A MAJOR PARTY.
ML: LET'S JUST SAY, IT MAKES LESS SENSE TO BE ON EITHER POLITICAL EXTREME. 
SL: THAT FEELS COUNTER TO TRENDS WE'VE SEEN ON A NATIONAL LEVEL. OFTEN THE LOUDEST VOICES ARE THOSE ON THE FAR LEFT AND FAR RIGHT.
ML: LOUDER, AND THUS MORE EFFECTIVE IN SOME WAYS. WE DON'T HAVE TIME IN THIS PODCAST TO TALK ABOUT HOW THAT'S CONTRIBUTED TO POLITICAL DIVIDES… SO WE WON'T. BUT FROM AN ELECTION STRATEGY STANDPOINT, STRONGER IDEOLOGICAL MESSAGING HAS WORKED PRETTY WELL FOR CANDIDATES IN THOSE TYPES OF PRIMARIES.
RITTER 3: THEY CAN CONSTRUCT THEIR MESSAGING BASED ON – WHAT ARE THE INTERESTS OF STRONG REPUBLICANS OR DEMOCRATS IN THAT STATE, WHEREAS IN WASHINGTON STATE, A POLITICAL CANDIDATE CAN'T TAKE THAT FOR GRANTED.
ML: AND HERE'S AN EXAMPLE OF WHAT HE'S TALKING ABOUT – THE TOPIC OF DACA… AND DREAMERS. A VERY POLITCAL ONE. DACA, OF COURSE, IS DEFERRED ACTION FOR CHILDHOOD ARRIVALS – PROTECTION FOR UNDOCUMENTED IMMIGRANTS WHO CAME HERE AS CHILDREN. THIS ISSUE, WHILE COMPLICATED IN ITS OWN WAYS AMONG THE PARTIES – HAS FACED ITS STRONGEST OPPOSITION AMONG REPUBLICANS. NOTABLY, PRESIDENT TRUMP'S EFFORT TO PHASE IT OUT AND THE LEGAL CHALLENGES THAT FOLLOWED.
SO HERE'S A RHETORICAL QUESTION FOR YOU: IS IT WISE FOR A REPUBLICAN IN YAKIMA COUNTY… BENTON COUNTY… FRANKLIN COUNTY… TO RUN ON A STRONG ANTI-IMMIGRATION PLATFORM, PARTICULARLY IF THERE ARE TWO DACA-SUPPORTING DEMOCRATS ON THE BALLOT?
HW: SO, I'M GUESSING THEY'RE MORE LIKELY TO SOFTEN LANGUAGE AND RHETORIC ON TOPICS THAT TEND TO BE DEBATED MORE HOTLY.
SL: BUT WHICH ONE IS MORE AUTHENTIC?
ML: THAT'S A FAIR QUESTION… AND I'M NOT SURE AUTHENTICITY HAS OFTEN BEEN THE HALLMARK OF A POLITICAL CAMPAIGN.
HW: OKAY, THEN, I WONDER… HOW MUCH DIFFERENT *IS IT*? IS THERE ANY WAY TO QUANTIFY THE DIFFERENCE? IS THERE ANY DATA OR RESEARCH OUT THERE THAT SUGGESTS THIS IS SUBSTANTIALLY DIFFERENT THAN OTHER TYPES OF PRIMARIES?
ML: THERE ARE SEVERAL COUNTIES THAT HAVE BEEN ABLE TO ADVANCE TWO CANDIDATES.
THERE'S ONLY ONE STATEWIDE EXAMPLE IN WASHINGTON OF TWO PEOPLE FROM THE SAME PARTY – THE 2016 TREASURER'S RACE PITTED TWO REPUBLICANS AGAINST EACH OTHER – DUANE DAVIDSON AND MICHAEL WAITE. DAVIDSON WON… AND IS UP FOR RE-ELECTION AGAIN. THAT'S OUR ONLY EXAMPLE OF THE TOP-TWO FUNDAMENTALLY CHANGING THE BALLOT FOR A STATEWIDE ELECTION
HW: ADDING TO THAT, THE IDEA OF AN ELECTION IS TO BUILD AT LEAST SOME FORM OF CONSENSUS… FINDING THE CANDIDATE *MOST* PEOPLE CAN AGREE UPON. IS THAT NOT STILL THE SAME?
ML: WELL WHAT I'M HEARING IS THAT'S THE INTENT OF – NOT JUST THIS, BUT – A NUMBER OF ELECTION POLICY AND PROCESS CHANGES THAT HAVE HAPPENED HERE… JUST IN THE LAST FEW YEARS.
AS RITTER DESCRIBED IT… THE TOP TWO PRIMARY IS JUST ONE SMALL PART OF A CONTINUALLY EVOLVING ELECTION SYSTEM… THAT INCLUDES A NUMBER OF OTHER THINGS.
RITTER 4: SUCH AS REFORMS TARGETED AGAINST GERRYMANDERING OR REFORMS SUCH AS WASHINGTON STATE RECENTLY ADOPTED SAME-DAY REGISTRATION WITHIN THE LAST YEAR OR TWO. YOU HAVE TO CONSIDER THE TOP TWO PRIMARY SYSTEM IN CONJUNCTION WITH ITS IMPACT WITH THESE OTHER ELEMENTS OF THE STATE'S ELECTION ADMINISTRATION AND VOTING SYSTEM TO GET A TRUE UNDERSTANDING OF ITS IMPACT.
ML: MORE TO THE POINT, IT SEEMS A MAJORITY OF THE MAJOR PARTIES HAVE CONTINUED TO THROW THEIR SUPPORT TO A CANDIDATE. PARTY ORGANIZATIONS CONTINUE TO TRY AND GET CONSENSUS AMONG THE PARTY. AND LARGELY, THAT HAS CONTINUED TO BE MOST EFFECTIVE.
SL: SO IN THE GRAND SCHEME OF THINGS, THE EXPERTS BELIEVE PROCESSES MAY BE DIFFERENT, BUT OUTCOMES LIKELY HAVEN'T BEEN AFFECTED.
ML: HERE'S MY SPORTS ANALOGY. FOUR TEAMS GET INTO THE COLLEGE FOOTBALL PLAYOFF, AND YET WE OFTEN AGONIZE OVER THE TEAM RANKED 5TH AND 6TH. IN COLLEGE BASKETBALL… IT'S THE TEAMS DEEMED THE 68TH AND 69TH BEST TEAMS COMPRISE THAT *BUBBLE*. THE GOAL HERE IS THE FIND THE WINNER… NOT APPEASE CANDIDATES WHO MISSED THE BUBBLE. IN THE END… AS A SPORTS FANATIC… THAT'S HOW I MAKE SENSE OF IT.
HW: SO SOME OF THE PROS… BETTER VOTER TURNOUT AND FEWER HYPER-PARTISAN PRIMARIES. SOME CONS: THIRD PARTY CANDIDATES HAVE LESS OF A CHANCE, AND EVEN MAJOR PARTIES HAVE THE POTENTIAL TO BE SHUT OUT.
ML: THAT SOUNDS ABOUT RIGHT. AND I'LL JUST CUT TO ONE MORE PIECE OF ANALYSIS FROM MR. RITTER. I MENTIONED JUST TWO OTHER STATES – CALIFORNIA AND NEBRASKA – OFFER THEIR OWN VERSIONS OF TOP-TWO PRIMARIES. WHY HAVEN'T *MORE* DONE IT?
RITTER 5: "PARTIES DON'T WANT TO LOSE THE CONTROL TO SELECT NOMINEES WHO REFLECT THE PARTY'S IDEALS AND PRIORITIES."
ML: SO IT ALL BOILS DOWN TO CONTROL.
SL: THAT DOES IT FOR THIS EPISODE OF "HOW WE ENDED UP HERE." DON'T FORGET, YOU HAVE *CONTROL* OVER YOUR VOTE. BALLOTS FOR THE WASHINGTON PRIMARY NEED TO BE POSTMARKED OR RETURNED TO A COUNTY DROP BOX BY 8 PM ON TUESDAY, AUGUST 4TH. 
THANKS YOU FOR LISTENING. AND THANKS FOR JOINING US, HANNAH.
HW : THANK YOU! IT WAS FUN.
*******************************************
OUTRO / CREDITS: 
ML:  OUR THANKS TO… MICAHAEL RITTER, FROM THE W-S-U SCHOOL OF POLITICS, PHILOSOPHY, AND PUBLIC AFFAIRS. ADDITIONAL CONTRIBUTIONS THANKS TO THE HELP OF THE BENTON-FRANKLIN LEAGUE OF WOMEN VOTERS.
MORE ELECTION NEWS AND INSIGHTS ARE AT THE VOTE 20-20 PAGE OF N-W-P-B DOT ORG. 
FOR NORTHWEST PUBLIC BROADCASTING'S HOW WE ENDED UP HERE, I'M MATT LOVELESS