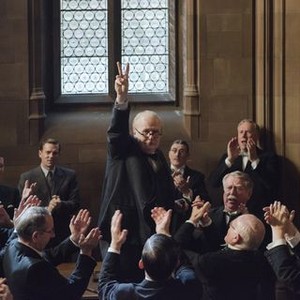 PBS Newshour: Here Are 7 Of The Best Films Of 2017
Article first published on PBSNewshour.com.
By — Patty Gorena Morales
For the year's best in filmmaking, NewsHour correspondent Jeffrey Brown sat down with Mike Sargent, chief film critic at WBAI Radio New York, and Ann Hornaday of The Washington Post. Here are their picks for 2017's film gems:
1. "Darkest Hour" (Joe Wright)
Actor Gary Oldman becomes Winston Churchill in a cinematic piece of historical fiction that follows the life of the newly-appointed British prime minister in the early days of World War II.
"I kept watching, trying to find Gary Oldman in the makeup and the performance," said Sargent. "But after a while I just gave up and I felt I was watching Winston Churchill…I loved it because it really gave me a sense of who the man was."

2. "Mudbound" (Dee Rees)
"Mudbound is being compared to a modern day 'Grapes of Wrath.'" said Sargent. "It touches upon a great many great important subjects, especially… blacks in the military… being poor, being in the South."

3. "Get Out" (Jordan Peele)
"'Get Out' is sort of transformative," said Sargent. "Because 'Get Out' reminds us what a genre film can really do. I've always thought science fiction and comedy can do something that other genres can't do, saying something about the human condition without being heavy-handed. 'Get Out' reminds us that horror films don't just have to be about scares. They can be and say something about society, and this film does in such a great way, and it also reminds us of the relationship between comedy and horror."

WATCH MORE: 'Get Out' dials up the scary side of race in America
4. "Lady Bird" (Greta Gerwig)
"It's a coming of age tale about a 17-year-old girl in Sacramento, California, played by Saoirse Ronan, the great Irish actress, and her…desperate attempts to break free," said Hornaday. "Most of which are sort of crystallized in these epic fights with her mother played in this wonderful performance by Laurie Metcalf… It's a profoundly moving story."

5. "The Post" (Steven Spielberg)
"It's about the episode in 1971 when Katharine Graham and Ben Bradley had to make a decision whether to publish the Pentagon Papers after the New York Times had been legally told not to," said Hornady, "So the stakes couldn't be higher… It's just a rousingly entertaining, very deeply meaningful movie."

WATCH MORE: Daniel Ellsberg, who leaked Pentagon Papers, talks about new memoir 'The Doomsday Machine'
6. "The Man Who Invented Christmas" (Bharat Nalluri)
"It's about how Charles Dickens came up with 'The Christmas Carol,' but I didn't know what was at stake for him," said Sargent, "He self-published the book, and Christmas was not something that was celebrated like it is today. It was something that was kind of relegated to the poor. If you were well-to-do, you didn't really even acknowledge Christmas, and it literally transformed the season and made people and society look at themselves, which is what good fiction should do."

7. "Their Finest" (Lone Scherfig)
"It's a little movie about the British propaganda office trying to get the U.S. into the war," said Hornaday. "And so, they make a propaganda film based on a couple of evacuees, boats, civilian boats that helped evacuate Dunkirk, and it's sort of about the production of narrative and myth. But there's romance, there's humor, there's a lot of poignancy. It's a terrifically atmospheric portrait of London during the blitz."