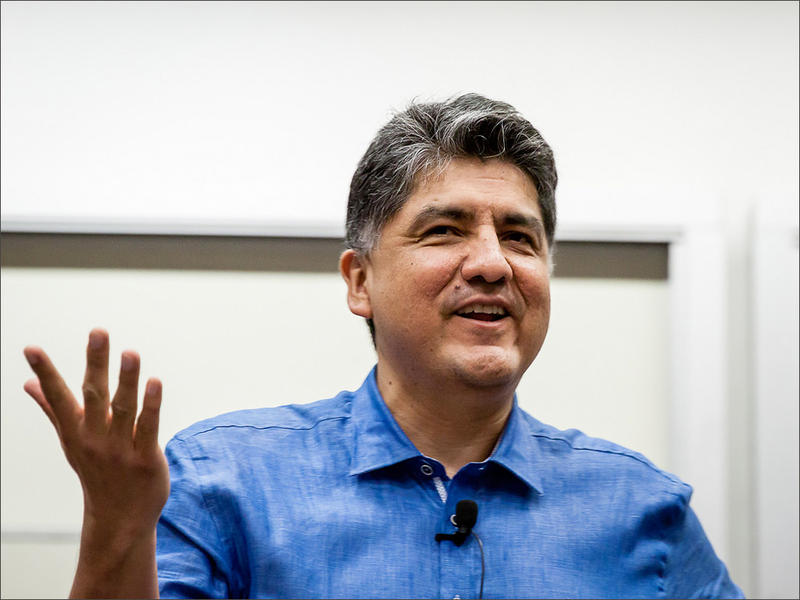 Native Community Reels From Sexual Harassment Allegations Against Famed Native Writer Sherman Alexie
In the opening scenes of the documentary film United by Water, writer Sherman Alexie reads his poem 'Powwow At The End Of The World.'
     I am told by many of you that I must forgive and so I shall
     after an Indian woman puts her shoulder to the Grand Coulee Dam
     and topples it. I am told by many of you that I must forgive
     and so I shall …
The documentary follows the tribal effort to revive an annual gathering at a waterfall along the Columbia River. It's a tradition that stopped after the Grand Coulee Dam was built in the 1940s.
Derrick LaMere shot and produced the film. He's a descendent of the Colville Tribe in Northeast Washington and a member of the Rocky Boy Band of the Chippewa Cree in Montana. The film premiered in Spokane last fall. 
On the same day LaMere learned his film had won a Native American award at a festival in Montana, he also found out about the sexual harassment allegations against Alexie.
"It's a shock, because it's very close to home. It is documented that there is a lot of sexual harassment, sexual assault, rape, missing and murdered indigenous women…" he said. "I hope everyone reflects and looks at the men in our lives – the men in power – and actually says 'you need to change,'" he said.
What began as a quiet Twitter storm came to a head February 28, when Alexie released a statement responding to the allegations of sexual harassment and assault. In it, he apologized for any actions that hurt people. He also said there are "women telling the truth" about his behavior. He added that he has "no recollection of physically or verbally threatening anybody or their careers."
On Tuesday, NPR aired interviews with three women who allege sexual harassment and abuse by Alexie.
Now, filmmaker Derrick LaMere is trying to decide whether he should remove Alexie's poem from his film entirely.
"The film focuses on a lot of the women in society and I just think that that would be more powerful just to remove that completely and put the spotlight on them," he said.
Sherman Alexie grew up on the Spokane Indian Reservation in Eastern Washington. He now lives in Seattle where he writes books and poems and makes films, but whenever he returns to Spokane, his readings are packed and venues are full of fans.
In October, Alexie claimed Washington state's top prize for best picture book for  "Thunder Boy Jr."
Shawn Vestal also won a top prize from Washington state for fiction for his debut novel "Daredevil." Vestal is also a regular columnist for the Spokesman-Review.
"Really, the shock that a lot of people like me feel is kind of inexcusable, when you think that it really boils down to just extending a kind of humanity to women…" said Vestal.
Spokane's literary community has garnered both state and national attention in recent years. Even so, Vestal says he doesn't think the reputation of the writing community on this side of the state will suffer.
"Even though [Sherman Alexie] has plenty of Spokane connections, he's not someone that I think of as a direct representative of the literary community as it exists now so much," he said. "He's very much a Seattle and national figure."
But, Vestal adds the big story isn't about whether the allegations have an impact on filmmaking and writing.
"Most of us have a lot of soul-searching to do, frankly," Vestal said of his male counterparts.
"I haven't done the kinds of things that have come out about Sherman, and that Sherman admits that he has done," Vestal said. "But that being said, I've been a guy in the cultural support system that has allowed most of this stuff to proceed as a form of normalcy."
Copyright 2018 Northwest News Network